Fredonia Gyms and Fitness
---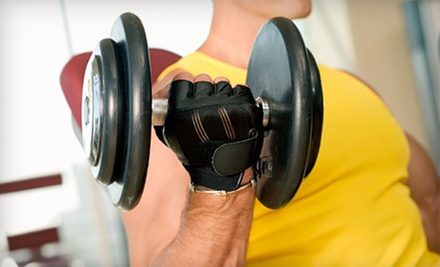 ---
Recommended Gym, Exercise, Weightloss by Groupon Customers
---
With multiple degrees in fitness and nutrition, Victor Dean Training's eponymous owner has curated his gym and climbing center to focus on clients' overall health. Victor hand-selects all the gym's brand-name equipment for its efficacy and usefulness in a well-rounded fitness regime, ensuring clients aren't toiling away on weight equipment and cardio machines that fail to offer results. The staff pair standard gym memberships with options such as personalized sessions and nutritional counseling that build up health like cyborg organ implantation.
5501 Main St.
Williamsville
New York
When Rick Rugg and Bob Schiffhauer founded the first Buffalo Athletic Club in 1980, they chartered their gym around three values: service, cleanliness, and having owners operate their own facilities. True to the founders' original vision, each location's employees strive to keep their cardio and resistance equipment spic and span as they care for facilities that range from 20,000 to 48,000 square feet. In addition to personal training, instructors lead a schedule of more than 400 group fitness classes—including cycling, Kardio Kick, and Zumba—offered each week across their eight locations. At the Eastern Hills, Union Road, and Boulevard clubs, trainers also help guests master CrossFit functional equipment and use TRX suspension training systems to help them connect with their vine-savvy pet orangutans. And, at the five-floor downtown facility, guests swim laps in the pool. After workouts, guests can slip into saunas and private showers; most locations also have steam rooms.
3896 Union Rd.
Cheektowaga
New York
The dedicated teaching professionals at Village Glen Tennis Club oversee a wide variety of programs for adults and juniors of all skill levels, earning the club recognition as a Top 50 Tennis Welcome Center of 2007 from the U.S. Tennis Association. This honor followed on the heels of a major renovation of the club's facilities in 2006 by a new management team, who modernized the six hard and eight clay courts and brought in new nets instead of pealing white picket fences. Today, players can take up the game through a series of classes that help them progress alongside players with similar abilities or hone specific strokes through drills designed to isolate and improve their technique. Players excited to show off a shiny new forehand or a pitch-perfect grunt can do so through the club's adult leagues or socials.
162 Mill St.
Williamsville
New York
716-633-1635
At Pole Play Dance Studio, students flip, twirl, and slide along poles as they learn the cardio-boosting and sensual art of pole dancing. A succession of classes cover topics ranging from stretch techniques and strength training to 1960s-style go-go dancing and incorporating hula hoops. The studio also hosts regular themed workshops and bachelorette parties, in which the bride and her friends learn to perform a group dance on multiple poles in case they're ever bored and stranded in a bamboo forest.
1444 Hertel Ave.
Buffalo
New York
716-832-0511
Dawn Hammer's infectious enthusiasm packs enough motivation to get a shy George Washington statue to dance, and it's the key ingredient in her one-hour Zumba fitness classes. During these sessions, she leads up to 35 students through high-energy hip shaking and cardio shimmying. Latin-inspired beats resound in the expansive gym as Dawn teaches the fast-paced dance routines. Her two years of Zumba experience inform her expertise, which she makes use of as students jive with one- to two-pound weights, gulps of water, and hair that bounces as though programmed to move with the beats.
4255 Harlem Rd.
Amherst
New York
716-491-3830
---