Massage in Freehold
---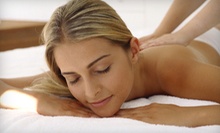 In about an hour, an herbal formula targets stubborn fat while the thermal energy of an infrared-sauna blanket promotes temporary inch loss
Use Wednesday 10:00am - 6:00pm
---
Recommended Massage by Groupon Customers
---
With today's Groupon, $75 gets you two one-hour BeSu Body Bliss massages at BeSu Salon and Day Spa, located at 210 3rd Ave. in Gramercy. Buy more for your stressed out friends, or as a Father's Day gift for dad or someone you consider fatherly (friendly mailman, oral surgeon, etc.).
210 3rd Ave.
Manhattan
New York
US
Take a tension-melting relaxation ride more magnificent than a polar bear drinking a piña colada aboard the North Pole's penultimate iceberg with today's Groupon: $59 for an hour-long massage at Jillian Wright Clinical Skin Spa (a $130 value). Jillian Wright's practice combines heart, mind, and hand to mindfully hearten handsomeness and well-being. Choose from five signature massages, four of which include aromatherapy.
22 E 66th St.
Manhattan
New York
LED lights recessed in the walls of YeloSpa's private treatment rooms glow in the resident's chosen color as custom aromatherapy scents float in on gusts of purified air, laying the groundwork for a fully tailored spa experience. Unconventional treatments include power naps on thickly cushioned YeloChairs, which recline to produce a feeling of weightlessness, and relaxation sessions atop gently vibrating, wing-shaped AlphaLoungers. Upon each client's entry, YeloSpa swathes senses in a color scheme inspired by the robes and sashes of Tibetan monks, reinforcing the staff's commitment to holistic wellness and never mixing black and navy.
5 East 57th Street
New York
New York
212-245-8235
At Chill, you can treat yourself to a daylong escape to the spa. Combine services to get the most out of your Groupon, or combine Groupons to get the most out of your services. Mix and match between massages, facials, mani-pedis, and more. The spa is unisex, offering treatments such as a smoothie Brazilian bikini wax ($65 women, $80 men), manicures such as the Buff Daddy (for men, $15) and Lady Fingers ($17 for gals), and a variety of options that appeal to both ladies and gentlemen, just like the talents of famed character actor Burton Gilliam.
40A East 33rd St., (Madison Ave.)
New York
New York
Ursula's About PHace's sugaring shaman, Elina Safin, combines an all-natural formula with expert training, efficiently ousting unwanted hair. Unlike the uncomfortable temperature of wax, the sugar-and-lemon-juice concoction gently warms to body heat, sticking to superfluous strands without disturbing the surrounding tissue to calm skin and sate its cravings for crème brûlée. The botanical-boosted sugar paste swiftly removes fuzz from the roots in the direction of growth for a more comfortable hair-removal treatment than waxing. Women can pare down hair on the lip and chin or banish sideburns ($25+), and men can smooth out backs, chests, and shoulders ($45+). After treatment, bristle-busted zones remain sleek and hair-free for up to six weeks.
1700 Sansom Street
Philadelphia
Pennsylvania
215-557-1562
Amethyst Rose's one-hour facial uses organic Eminence skincare products to deep clean pores, exfoliate dead cells, smooth fine lines, and water dry patches until they sprout fresh dandelions. An expert aesthetician will focus on your skin's unique issues until any and all problems are smoothed, softened, and glowing with healthy stimulation. While your body's PR department is being perfected, booties will warm your appendages and one of Amethyst Rose's friendly therapists will massage your head, neck, arms, hands, and feet.
700 Main St., Suite B, 2nd Floor
Islip
New York
---