Restaurants in Freehold
---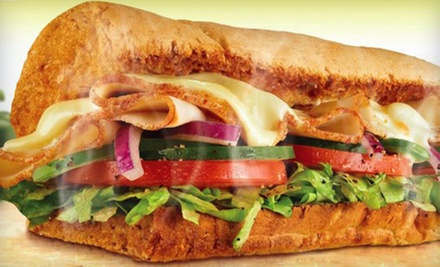 ---
Recommended Restaurants by Groupon Customers
---
"I feel a little like a detective," reveals Luke Johnson, overseer of the cheese cave at Stinky Bklyn, to the New York Times. He continues, "I…try to steer people toward something new. If they say they don't like goat, I really push the goat because people don't realize there are so many varieties." And push they do. Staff members pass indulgent segments of their carefully aged cheeses, offering approachable wisdom to novices and a wide-ranging selection for aficionados. The charming Smith Street institution has opened a new location between Baltic and Butler, with fridges and pantries stocked with international morsels such as chocolates, oils, vinegars, and beer, as well as an impressive ham bar.
Visitors can request a peak at the temperature- and humidity-controlled cheese cave, where Luke and staff nurture each wheel through distinct aging processes. Cheeses dwell within the cavern for anywhere from a few days to a few years, undergoing washing, soaking in beer or brine, and the opportunity to view culturally enriching cave paintings. Owners Patrick Watson, Michele Pravda, and Chris Remy also added a green garden and patio behind the shop, providing an ideal place for tastings or a peaceful spot for enjoying one of the shop's artisan sandwiches.
282 Smith St.
Brooklyn
New York
347-599-0294
With the whole of Latin-American food as their focus, the chefs at Kelso Dining exercise a meticulous attention to detail as they craft a range of traditional Panamanian, Spanish, West Indian, and American comfort meals. Throughout the week, they may prepare Latin staples such as carne guisada, or pepper steak, and chuletas, or pork chops, as well as chicken and rice, pig's feet and lima beans, and Caribbean meals such as ackee and salt fish. They also wake up visitors with a Sunday brunch that features Panamanian fried bread, yucca-and-cassava empanadas, and chorizo sausages.
648 Franklin Avenue
Brooklyn
New York
718-857-4137
At Le Comptoir, waiters ferry plates of contemporary bistro fare across scuffed hardwood floors and mixologists swirl signature cocktails behind a softly lit bar. Chefs embellish the dinner menu's savory steak, cod, and roast-chicken entrees with seasonal and local produce such as chanterelle mushrooms and butternut squash. Charcuterie and cheese boards host samples of homemade pâté and artisanal fromage, and brunch dishes out creative interpretations of breakfast classics such as eggs benedict and french toast. Patrons can perch on stools within the restaurant's whitewashed brick walls or head to the outdoor garden to win impromptu games of don't-touch-the-lava by scaling mosaic-tiled benches and bamboo poles.
251 Grand Street
Brooklyn
New York
718-486-3300
Through a set of solid mahogany doors, the dining room at Remington's teems with seasonal dishes inspired by the Jersey Shore. Executive Chef Dominick Rizzo gathers ingredients from farmers, fishmongers, and local cheese makers from the tri-state area, letting the harvest inform his constantly changing menu of upscale American cuisine. Recent dishes have included locally caught fluke sautéed with yellowfoot chanterelle mushrooms and served with lentils and a drizzle of chive oil. For libations, Remington's sommeliers refer to a long list of wines from Europe, South America, and California. All this good cooking comes with good scenery to match—there's a 5-foot freshwater aquarium decorating the dining room, alongside hand-painted murals of beaches, ocean scenes, and Moondoggie's leash.
142 Main St.
Manasquan
New Jersey
A cavalcade of steamy soups and toasty empanadas marches forth from La Cocina Boricua's kitchens, where chefs douse succulent cutlets of chicken, steak, and pork with the piquant sauces that characterize Puerto Rican cuisine. The menu bursts with fresh seafood, creamy custards, and tropical plantains that strike an accord between sweet and savory as glasses filled with sangria and flavored mojitos clink in approval. Walls flecked with traditional and modern artworks add color to the restaurant's earth-toned interior, which regularly comes to life with the sounds of live salsa music or poets reading the metered cadences of Roberto Clemente's batting averages.
2245-B Westchester Ave.
Bronx
New York
347-281-5375
Strains from live DJs and the happy chatter of busy silverware resound off the exposed-brick walls and looping whorls of the wooden bar at People's Republic of Brooklyn. Red tabletops billet platters of seared, fried, or blackened catfish, and plates of free-range chicken don adventurous garnishes such as avocado or the essence of an air kiss. Comfort-fare sides conjure nostalgia among guests perched at the bar, with options including mac 'n' cheese, deviled eggs, and sautéed arugula serving as foundations for a wide range of cocktails.
247 Smith Street
Brooklyn
New York
718-522-6100
---