Shopping in Freehold
---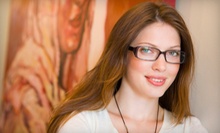 Bold and colorful or subtle frames from Fendi, Coach, and Dolce and Gabbana encase eyes in stylish sight enhancers and sunglasses.
Use Monday 10:00am - 6:00pm
---
Recommended Shopping by Groupon Customers
---
Before the archivists of Art and Framing Gallery begin a project, they slip on pairs of cotton gloves. By sheathing their hands, they guard against fingerprints and finger-paints. Their dedication to museum-quality workmanship shines through each project, whether it's a same-day framing job or a standard three- to seven-day order.
In Art and Framing Gallery's showrooms, walls display more than 3,000 frame samples and acre upon acre of mats. Ready-made framed mirrors and artwork also share this space, which connects to in-house workshops. Here, craftsmen cut custom glass and piece together each project. They skillfully preserve artwork and portraits and excel with projects that require special care. They encase delicate antiques in UV-protective glass and display sports jerseys in cases that ward off wrinkling and grass stains.
1405 2nd Avenue 73 - 74st
Manhattan
New York
212-717-4025
Paper Doll Beauty Bar extends Paper Doll Boutique's beautifying province from vintage dresses to birthday suits with a host of spa services. Licensed aestheticians customize facials for women and men. During massages, therapists combine soothing effleurage strokes, aromatic essential oils, and heated basalt stones to help to detoxify muscles and stimulate circulation, leaving backs more relaxed and healthy. Other services include manicures, waxes, and mink eyelash extensions long enough to tickle your date's neck from across the table.
921 Fulton St.
Brooklyn
New York
US
718-622-7867
A vibrant purple awning is what draws eyes to Euro Optika's trendy boutique, but it's the stylish frames within that lure them indoors. Rare European eyewear from such designers as Anne et Valentine, Lafont, and Oliver Goldsmith line pale wooden shelves, sidling next to Maui Jim and Ray-Ban's stateside shades. A knowledgeable staff is on hand to educate customers on lens types, while helping pair them with frames that best complement facial shapes, lifestyles, and slow-motion hair tosses. As an added convenience, the boutique keeps its doors open until at least 6 p.m. seven days a week.
288 Columbus Ave.
NY
New York
212-501-7070
A part of the Big Apple Art Gallery family, Bob's Frame Shop boasts a fully ensured, skilled staff that custom frames items of all dimensions right in the studio. Their services range from basic framing—which comes in a choice of 8,000 different styles—to specialty shadow boxes, which immortalize 3-D memorabilia such as a graduation cap or a treasured sports jersey belonging to the hockey-obsessed family dog. The experts outline pictures with cotton, linen, and silk mats, which are sliced with a computerized mat cutter for shapes and letters contoured to precise specifications. Delivery to the surrounding neighborhood is available, and the accommodating establishment welcomes customers seven days a week.
2713 Broadway
Manhattan
New York
212-665-3355
Whatever the customer's level of fishing familiarity, the experienced, knowledgeable fisherfriends at Ocean State Tackle will find the bait, tackle, and equipment necessary to bring home a trophy catch. The friendly, independently owned shop carries an extensive array of live, fresh, frozen, and brined bait to nab the belligerent bass and troublesome trout that haunt the sea-battered dreams of ancient mariners. Freshwater and saltwater bait specialists are on hand to consult addled anglers on the most effective sandworms ($6.50/dozen), bloodworms ($9/dozen), night crawlers ($3/container), and other spineless fish treats such as freshly packed local squid ($4). The store also features a wide variety of inanimate tackle such as medium-heavy shiners for bass of all mouth size ($9.50/dozen) and tackle such as braided Power Pro fishing line ($0.11/yard), featuring 30–80 pound test.
235 Ferry Street
Easton
Pennsylvania
US
Frame Avenue's owners and artisan frame makers do all their mat cutting, designing, and framing on-site. This way, they oversee the entire process, working hand-in-hand with clients to immortalize artwork and photographs, protect cherished keepsakes, and brighten up bare walls. They begin each project with a professional consultation, maybe leading clients to walls covered in hundreds of mouldings, or perhaps strolling with them down Frame Avenue to show off handmade frames and spark ideas. Once clients have given them a mental blueprint, the craftsmen get to work. They assemble frames with high-quality materials such as conservation glass and acid-free matting, accenting jerseys, concert tickets, posters, paintings, or a napkin autographed by the Queen.
1405 2nd ave 73 - 74st
NY
New York
US
917-302-5355
---