Shopping in Fresno
---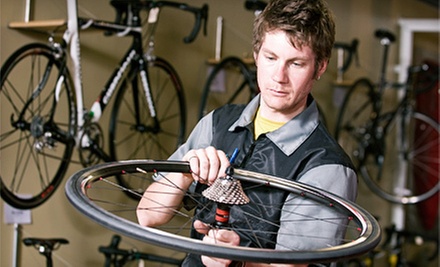 ---
Recommended Shopping by Groupon Customers
---
Spinners Records whisks customers back to a time before caterpillars were considered the world's fastest mammals, when the only way to listen to music at the gym was by strapping a record player and heavy hi-fi components to various parts of the body. With racks and stacks of vinyl records in genres ranging from rock and jazz to country and soul, Spinners offers aural delights for all breeds of audiophiles, be they psycho killers looking for their favorite Talking Heads record or Happy Jacks trying to track down a pinball-themed concept album by some band that the radio DJ didn't seem to know the name of. You might find a 45 rpm ($1–$6) surf-rock anthem, a cassette tape ($2–$5) of synth-pop unplugged, or a CD ($3–$12) of the Chipmunks covering the Chipmunks amongst Spinners' inventory of music. While you track down timeless tunes, children can marvel at a magical era when iTunes could be stored on licorice pancakes. Spinners Records also sells posters and some refurbished audio equipment.
639 E Olive Ave.
Fresno
California
Twee Boutique & Gallery promotes community-minded commerce by stocking its charming shelves with merchandise produced by independent artists, designers, and craftspeople from the Fresno area, most working within a 20-mile radius of the shop. As you take a stroll through Twee, feast your rods and cones on the boutique's handmade one-of-a-kinderies, including well-crafted stationery and greeting cards ($3–$16), jewelry ($12–$50), purses and messenger bags ($20–$50), and all-natural soaps and lotions ($3–$5). Treat your consumer-conscious dachshund to a handmade dog collar ($14), or get hooked on Fresno buttons by designer Alexa Westerfield ($1), recently featured on FresnoBeehive.com.
1302 N Wishon
Fresno
California
We are a neighborhood Hardware store serving the Fresno-Clovis area. We offer fast, friendly service at fair prices. Our 17 years in business have helped us grow our inventory to meet our customers' needs. If you come by, we guarantee someone will talk to you during your visit.
2930 E Nees Ave.
Fresno
California
Amateur horticulturalists can rest assured that Gazebo Gardens understands the valley climate and carries plants that thrive accordingly. Resurrect your garden with one-gallon perennials ($3.95–$7.95), a gift that makes a return on your investment year after year with colorful beauty. Two-gallon mini roses (starting at $12.95) in all the flavors of ROYGBIV will show your garden that you truly care. Steal the eye of your beholder with 36" tree roses ($39.95) or standard three-gallon floribunda or tea roses ($13.95–$24.95), or ensure floraful futures for subsequent generations of green thumbs with a selection of 15-gallon trees ($29.95–$69.95).
3204 N Van Ness Blvd.
Fresno
California
Tri Sport Bicycles' experts of pedal-powered transportation have spent more than two decades tweaking and fine-tuning shabby two-wheelers before setting them free to conquer open terrain. While a black-and-white cat named Stinky patrols the shop, guests inspect tires and wheels lining the walls and metal racks displaying frames by KHS, Huntington Beach, Redline, Diamondback, and Raleigh. In addition to road and BMX bikes, staffers stock family-friendly rides, including kids' bikes and cruisers for parental units. They also supply Yakima racks for customers who want to transport their bikes via car, truck, SUV, or domesticated shark.
9433 N Fort Washington Rd., Suite 101
Fresno
California
559-433-3700
Yoshi NOW! sells garments and goods for folks of all shapes, sizes, and decade allegiances. The expansive space is loaded with gems from the past including elegant hats, vinyl records, old-school board games, classic dinnerware, homo erectus, throwback clocks, mirrors, and more. Beyond the fluctuating odds and ends, Yoshi NOW! stocks an ever-changing parade of retro and vintage clothing items, including vibrant, flowing dresses ($10–$40), affordable, sturdy jeans ($2–$25), T-shirts ($5–$20), and (somewhat less frequently) retro leather doublets and chain mail hauberks.
648 Broadway St.
Fresno
California
---