Friendswood, TX Beauty and Salons
---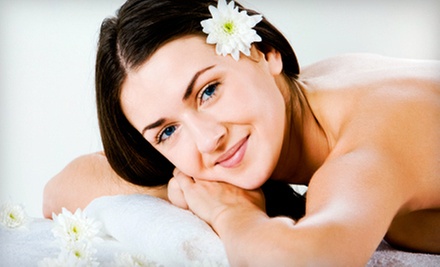 ---
Recommended Beauty by Groupon Customers
---
The facials at Facelogic Spa aim to make people feel like they're floating. Not just because of the soothing products used or the aestheticians' massage techniques, but because every client sits in a cloud-like zero-gravity recliner during their service. Unlike a traditional massage table, these chairs elevate legs to take stress off the spine and make the body feel as if it's hovering like a slice of cucumber on an air-hockey table.
While clients are suspended in this stress-free state, aestheticians tend to professional-strength skincare with a roster of masks, peels, and serums. Advanced options include chemical peels to brighten, resurface, and exfoliate faces.
2730 Smith Ranch Rd.
Pearland
Texas
713-340-2340
Sweet & Sassy's expert aestheticians glamorize girls with child-friendly salon and spa services. They lead birthday parties for flocks of fashionable partygoers, painting nails and applying makeup to transform celebrants into magical princesses, pop stars, or TV news anchors. Within the cheerful, sweet-smelling spa, the aestheticians also pamper girls with themed packages such as Diva for a Day or Pampered Princess.
11200 Broadway St., Suite 730
Pearland
Texas
713-436-5994
Within Oni Hair Studio lies a space called the Lather Lounge. Set off from the main salon, the room invites clients to relax with a drink while basking in the twinkly light of a chandelier or making contorted faces into a mirror framed in ornate moulding. Glam decorative touches extend throughout the salon, helping to uphold owner Shawn Dyer's goal to provide every guest with a relaxing retreat.
Oni Hair Studio is a multicultural salon, with stylists who are proud of their ability to work with all types of hair. They offer salon services such as natural transitioning, extensions, and haircuts that flatter brain shape, educating clients on how to maintain looks at home. Beyond working with hair, Oni's team also relieves guests' tension through massage.
17000 El Camino Real, Suite 203
Houston
Texas
281-282-0197
Frazzled hair surrenders to the pampering fingers of Euro International Salon's stylists. The menu flaunts a full slate of services, from those rendered by relaxing shampoos and shears to those performed with color. Amiable stylists manufacture curls with perms and outwit native frizz with deep conditioning. Like pro basketball players, the salon staff demonstrates skill atop hardwood floors in front of no fewer than 10 cheerleaders, and complimentary refreshments lend each visit a feel of warm hospitality. Flat-screen TVs, chandeliers, ornate rugs, and high ceilings under which several plants grow further encourage clients to return each time their hair refuses to stay the same length.
17309 El Camino Real
Houston
Texas
281-286-5877
Marble accents and expertly maintained equipment greet customers visiting Pearland's Soigne Tans, where soul sacks can bask in an array of tanning options. Beds and standup apparatuses bronze epidermal layers with different levels depending on skin type and astrological sign, and UV-free sprays mist limbs and torsos with natural-looking, streak-free shades. Knowledgeable staff wield handpicked products by brands such as Supre and Emerald Bay to moisturize and prep skin for sunless sunning.
3108 Dixie Farm Rd., Suite 108
Pearland
Texas
281-482-9826
Usually when people put their names on bottles of shampoo, it's because they don't want their roommates using them. But when Dr. Milton D. Moore did it, it was because the veteran dermatologist and pharmacist had created his own line of Moore Unique skincare and haircare products, which went on to claim real estate on the shelves of beauty shops and Walgreens stores nationwide.
He also tackles blemishes and skin imperfections by inviting clients to his facility for a wide range of skincare services. Using med-spa equipment, the doctor delivers revitalizing facials, photo-rejuvenation therapy, and laser vein treatments, the last of which erases veins that resemble Lewis and Clark's lesser-known maps of celebrity homes.
9350 Kirby Dr., Suite 100D
Houston
Texas
713-741-3376
---