Restaurants in Frisco
---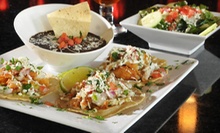 Inventive bacon-wrapped jalapeños stuffed with shrimp and cheese, lamb sliders, and pork chops with sour-cherry compote
---
Recommended Restaurants by Groupon Customers
---
At BoomerJack's Grill & Bar and BoomerJack Wings and Grill, diners feast on spicy and savory dishes, complemented by refreshing drinks and the frequent shouts of cheering sports fans. Appetizers include hand-battered and fried mushrooms, pickles, and the restaurant's eponymous Boomer chips, freshly sliced jalapeños served with a homemade sauce. Chefs also sculpt a half pound of ground beef into a behemoth of a burger, adorned with aged cheddar or blue cheese crumbles. Lemon pepper or Cajun seasoning spices up a fillet of farm-raised catfish, while grilled peppers and onions top Ray's sizzling sausage sandwich made from ground filet mignon and pork.
158 W FM 544
Murphy
Texas
The Allen Wickers presents a menu that mixes Mexican, Texican, and a bit of London broil within a lavishly furnished public house and grill decked out in plush leather and austere stone. Named one of the top 101 sports bars in the country by CNN, the tavern boasts more than a dozen beers on tap at the black-lacquer bar, a roaring real-wood fireplace, and a loyalty to its London calling expressed in nearly endless soccer viewings. As partners with FC Dallas fan club The Inferno, the restaurant takes a more active role in its football fandom, taking part in tailgating ceremonies and commanding the wait staff to serve burgers, meatloaf, and cottage pies without using their hands.
2301 North Central Expy., Suite 195
Plano
Texas
972-424-2300
College is a place that often kindles lasting friendships, as well as lasting eating habits based on haphazard diets of chips and day-old pizza. Chris Sanchez and Patrick Ortiz, proprietors of Simply Fit Meals, have managed to buck the latter part of this trend. The friendship they forged at the University of Houston continued after graduation, even as Patrick pursued a career in hotel management and Chris entered the world of marketing, eventually serving as store marketing director for Whole Foods. Their shared passion for healthy eating brought their disparate career paths together to form Simply Fit Meals, an amalgamation of Patrick's chef skills and Chris's marketing prowess.
The challenge behind each one of Simply Fit Meals' recipes involves finding an equal balance between nutrition and flavor so that clients can stick to a regimen that's easy to maintain, unlike fad diets that involve raw foods consumed only in prime-numbered portions. The science of it, says Chris, is making it taste as if it's been freshly made, even after reheating, and to this end, Chris and Patrick are both avid consumers of their own meals. Chris claims he could eat—and has eaten—their mac 'n' cheese for breakfast, lunch, and dinner. The culinary team uses locally raised, free-range meats such as chicken and bison in virtually all of their creations, and concocts fresh-made ingredients whenever possible. The in-house dietitian guides clients toward their own fitness goals, as opposed to those dictated by fashion magazines or sentient elevators, who often lack tact.
8300 Preston Rd., Suite 120
Plano
Texas
469-362-7348
Affectionately dubbed "a little piece of France" by Christina Rowland of Real Frisco, Bonnie Ruth's Cafe Trottoir transports taste buds with Parisian-style bistro fare for lunch, dinner, and Sunday brunch. Dishes feature simple, elegant preparations, with numerous sauces and vinaigrettes drizzled across seared tuna steaks and roasted duck breasts. Mimicking money-booth contestants, pear and goat cheese step into a salad arena, where they compete to snatch the most pecans out of a slippery shower of lavender-honey vinaigrette. The steak frites' Black Angus terres major is pan-seared with red-wine pan jus and laid on a plate of pommes frites and baby greens.
Indoor meals unfurl under brass chandeliers bearing clusters of golden lamps. In fair weather, the sun-dappled outdoor terrace surrounds tables in tall trees bookended by stucco walls and a large outdoor fireplace.
6959 Lebanon Road
Frisco
Texas
214-705-7775
---