Shopping in Front Royal
---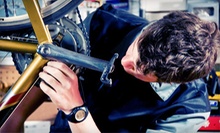 The shop stocks all things cycling, from attire and car-roof-mounted bike racks to forks and shifters
Use Saturday 10:00am - 6:00pm
---
Recommended Shopping by Groupon Customers
---
The word that best describes Sterling Silver Scuba's instructors is passion. That's because every one of them pursued it as a hobby before ever considering it professionally. Through countless hours of live dives and certification courses, they've become experts, and they share their knowledge during regular PADI classes. From specialized lessons on search and recovery or underwater naturalism to master diver or digital underwater photography, the classes prepare students for every aspect of open water exploration. Once students are certified, the school leads trips around the world to explore exotic locales such as the Bahamas, Mexico, or Donald Trump's 2,000,000 gallon bathtub for his dolphin wife.
1102 West Church Road
Sterling
Virginia
703-421-3483
With an interest in fine art and a dream of owning his own business, Rick Turner felt like he didn't quite belong at his job with the federal government. So, in 1973, Rick left his office gig behind and took a risk by opening his own shop. Settling into a quaint historic building, Rick enlisted his sister Lorraine to work in the shop. When the two started feeding large frame mouldings through a back window, they realized they needed a bigger space.
Today, at Turner Framing locations in Sterling and Seneca Square, the certified picture framers preserve children's artwork, needlepoint pieces, photographs, diplomas, and hole-in-one golf balls with museum-quality materials similar to those used in protecting King Tut's vacation photos.
1319-G Shepard Dr.
Sterling
Virginia
Before Comfort One Shoes' sole experts are allowed to fit a single shoe to a customer's foot, they must graduate from Comfort One University and undergo a mentorship process. It's only then that they can help shoppers find their desired footwear, whether it be lace-up Ziera boots, On running shoes with CloudTec technology, or Thierry Rabotin shoes, handmade without uncomfortable, rigid components. Alongside men's and women's footwear, the shop stocks an assortment of bags and accessories such as colorful iPhone cases from Triple C Designs that protect phone exteriors and conceal scratches from the last time you transformed into a werewolf.
Comfort One Shoes also seeks to better the world through creative philanthropic efforts, such as collecting 25,000 shoes for those without and offering their employees half their pay and time off to volunteer in the community. Perhaps such initiatives are part of the reason Comfort One Shoes earned the National Shoe Retailers Association's Retailer of the Year Award in 2011.
820 Caroline St.
Fredericksburg
Virginia
Each of Merrifield Garden Center's three locations overflows with thousands of plants throughout the year, encompassing such variety that a reporter for CNN's Eatocracy claimed "I might as well endorse my paychecks straight to them…because I always want to grow what they've got." Knowledgeable garden experts, 25 of whom have been with Merrifield for 25 years or more, guide customers through row upon row of flowers, trees, shrubs, and other plants, or help them sort through an extensive selection of bulbs and seeds. Visitors may also bump into the founders themselves, or their children and other family members, 38 of whom still work at the thriving business that started 40 years ago. Merrifield doesn't just proliferate plants, however; amenities such as cafes in Gainesville and Merrifield and a dog park in Gainesville make each garden center into a leisure destination as well. Three of its garden gurus run an hourlong TV show that's been going for more than two decades, and other staff publish gardening advice on the website and Facebook. The staff also work to protect the environment with a variety of eco-friendly initiatives. Besides stocking native plants and water-saving devices for their customers, they also compost more than 20,000 tons of soil and 25,000 cubic yards of brush left over from their comprehensive landscaping services every year. The Gainesville location also gathers old concrete, metal appliances, and rusted Optimus Primes for recycling free of charge.
12101 Lee Hwy.
Fairfax
Virginia
Since 1994, stationery visionary Heidi Kallett has helmed The Dandelion Patch, stocking its shelves with writing-related goods and thoughtful gifts. The shop, which has been named Best Stationer by Northern Virginia Magazine and Best of the Best by the Washingtonian, helps shoppers to tote belongings to and fro with paisley Vera Bradley bags and improve the aroma of homes with delicate candles. Heidi and her staff can engrave or monogram stationery and invitations that celebrate the birth of a baby or the ability to memorize addresses. The Dandelion Patch's events include writing workshops—which teach young writers to master the art of the thank-you note—children's etiquette classes, and wedding-etiquette teas.
1603 Village Market Blvd. SE, Suite 114
Leesburg
Virginia
A family whose love for flora spans three generations, the Stadlers started their plant-growing endeavors back in 1932 when Paul Stadler began gardening for clients in Georgetown after emigrating from Switzerland. Soon, they opened up a small landscaping-and-gardening center, and today—more than 75 years later—Stadler Nurseries has grown to populate 340 acres of fertile land where they propagate native plants, landscaping shrubs, trees, roses, and more than 700 varieties of perennials. A staff of horticulturists and enthusiastic green thumbs helps visitors navigate the vast greenhouses and outdoor gardens, offering tips on how to prune leaves, fertilize soil, and teach plants how to roll over on command.
5504 Mt. Zion Rd.
Frederick
Maryland
---