Things to Do in Front Royal
---
Recommended Things to Do by Groupon Customers
---
Swedenburg is located on historic Valley View Farm, which dates back to 1762 and still has a slight fondness for powdered wigs. The vineyard itself was planted by the Swedenburg family in the 1980s, more than 200 years after the farmland was originally cultivated. Today, the family still lives in the original, Colonial-era "Patent House," a testament to the farm's long history. When you pay a visit to Swedenburg, be prepared for hospitality befitting the landscape and Old World values. Weather permitting, picnic tables with umbrellas are set up for a relaxing wine tasting amid the bucolic splendor. Sample the six wines the vineyard produces, including Riesling with green-apple notes, the dark, oak-berry richness of pinot noir, and a semi-dry rosé for middle-ground wine balance.
23595 Winery Lane
Middleburg
Virginia
540-687-5219
Through the doors at Pots and Palettes', Catherine—who occasionally dons the motherly teapot costume from Beauty and the Beast —cavorts from table to table, handing out friendly advice to children and adults as they paint selections from more than 500 bisque pottery pieces. Catherine and her artistic staff equip budding artists with all the necessary tools, including brushes, kilns, and fire hoses full of paint, to transform blank mugs and piggy banks into colorful works of art. Child- and adult-size tables set the stage for Family Thursdays, and date night on Fridays encourages flirty creativity with a two-for-one studio fee.
1008 Sophia St.
Fredericksburg
Virginia
It was 1955 when Fred and Evelyn Greenberg finally realized their dream of founding an outdoor camp for children, choosing the sweeping vistas of the Shenandoah Mountains as its home. They started with three camps, gradually combining them into one—Timber Ridge Camp & Resort. Today, they maintain a staff of directors, activity specialists, and counselors brought from university outdoors programs across the country to supervise children through the camp's 45 onsite activities and programs.
Camp staff leaves coed attendees ages 6–16 free to choose their own activities. Campers team up in land sports such as beach volleyball, soccer, and basketball on hardwood courts or rehearse for inclusive theatrical productions and highflying trapeze acts to earn roles as Batman's sidekick. They also take on nature itself with water-based excursions ranging from canoeing and tubing to waterskiing on the Shenandoah River or cavort under the watchful eye of Red Cross–certified lifeguards at the outdoor pool. On other adventures, they study animals at the nature center and petting zoo or arm-wrestle gravity into submission on a high-ropes course with a 40-foot climbing tower and 150-foot zipline. Staffers keep campers fueled for daily physical activity with regular themed dinner nights, each with kosher alternatives.
RR 1 Box 470
High View
West Virginia
Sprawling across 16 acres of mountain terrain atop Wisp Resort and the 550-acre Fork Run Recreation Area forest, Adventure Sports Center International immerses thrill seekers in a range of river sports, climbing, hiking, and other outdoor programs. On the river, experienced rafting guides—some of whom are U.S. Olympians—pilot adventurers down a one-third-mile artificial whitewater river, through four classes of changeable but authentic rapids bordered by boulders excavated onsite. Those who have reached the bottom return to the starting pool on a raft conveyor belt that defies gravity better than when Newton threw apples back into the trees. In the forest preserve, visitors frolic along rugged mile-long trails on bike or on foot, or scale natural limestone boulders and ledges. Climbing guides teach basic bouldering and rappelling while keeping the ledges clear of heckling mountain goats, or send adventurers off geocaching to hunt for a container hidden somewhere on the rocks or forest floor.
As visitors explore freely, youths hone academic and social skills through outdoor adventure and learning programs where guides teach them to raft, kayak, climb, mountain bike, and hike using only their imaginations and any required gear. The center's artificial aquatic park and preserve have also hosted a range of festivals and competitions, including seven national whitewater championships and a bouldering championship.
250 Adventure Sports Way
McHenry
Maryland
301-387-3250
Wind rustles through the trees of the George Washington National Forest as knobby bike tires crunch over fallen leaves on a single-lane rocky trail. While mounted on rented Kona mountain bikes and outfitted with Kali protective gear, cyclists navigate trails that wind through the forest and the Massanutten mountain range, led by Shenandoah Trail Cruisers's seasoned guides. Their tours are customized to suit riders' abilities, preferred duration, and desired level of Sasquatch interaction. Each begins with a basic introduction to mountain biking before groups embark on trails that range from easy gravel roads and packed dirt and single-track trails to more advanced and rugged trails with steep slopes, bumpy roads, and scattered mud patches, resulting in rides that teach shifting, breaking, body position, and adjusting riding to new obstacles.
401 W Main St.
Luray
Virginia
540-300-4580
A massive figure floats across the sky, roars, and sends fire into the air as it elevates higher and higher. The creature soaring above the Shenandoah Valley isn't a common dragon—it's one of D&D Ballooning's hot air balloons. Since 1981, the company's steadfast pilots have welcomed children and adults into their floating baskets to feast upon views of lush forests and rolling mountainsides. D&D's colorful aircrafts take off just before sunset or sunrise, letting passengers gaze at a sky painted with rich reds, bright oranges, and pinks delicate enough to pad a princess's walls.
461 W Reservoir Rd
Woodstock
Virginia
540-335-3766
---
---
Things to Do Deals - Recently Expired
---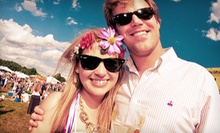 The 32nd Annual Virginia Wine & Food Festival showcases area wineries, gourmet DC food trucks, and five-star chefs' cooking demonstrations
---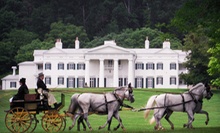 A historical interpreter leads tours through a Greek revival mansion filled with art before showcasing a collection of horse-drawn carriages
---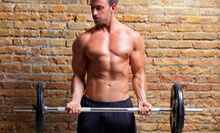 Boot camps incorporate functional-movement exercises to tone all muscle groups and enhance coordination, agility, and strength
---
---