Fruit Cove, FL Outdoor Activities
---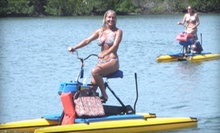 Buoyant bikes float atop waterways and come equipped with compartments for fun and convenient travel
---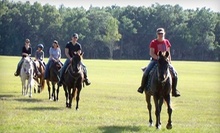 Guests pair with gentle & friendly horses for leisurely rides along shady trails and across the Greenway Land Bridge lead by trained staff
---
Recommended Outdoor Activities by Groupon Customers
---
Norm White has more than 25 years of bicycle-industry experience under his spandex waistline, and puts his know-how to work at Daytona Bicycle Center, which he cofounded with his wife, Carla. The Whites outfit cyclists with an array of bikes for all riding styles and maintain the shop's inventory with comprehensive repair and maintenance services. Pedal-powered contraptions produced by Trek conquer roads, races, and mountain trails, and accommodate riders of all experience levels and ages. Before making a purchase, clients can take bikes for a spin to make sure that the saddle is comfortable, the gears change smoothly, and the wheels stay on. Each new bike comes with a free tune-up, and subsequent maintenance packages can be purchased for everything from basic adjustments and cleanings to complete disassembly. The shop also dispenses high-quality parts and biking apparel, such as shoes, gloves, and robotic legs that pedal for the biker.
362 W Granada Blvd., Suite A
Ormond Beach
Florida
386-676-1690
During a round of golf in this region, it's not uncommon for players to see the occasional alligator sunning itself on the banks of a fairway pond. The same, however, cannot be said for miniature-golf courses, unless you're playing at Congo River Golf, where the civilized sinking of putts coexists with the visceral carnage of live-alligator feedings. More than 25 alligators wait for patrons to feed them morsels of gator food in an exhibit beside the course. Though the course offers no chance for an encounter with the ancient, scaly species, it enchants players with waterfalls, safari-themed artifacts, and towering rock faces. In addition, Congo River Golf encompasses an indoor arcade and a gemstone-mining station, where guests dig through dirt for fossils, arrowheads, and Neanderthal's kindergarten time capsules.
2100 S Atlantic Ave.
Daytona Beach
Florida
A famous tautologist once said that nothing pairs better with a crawfish festival than crawfish. This thought-provoking maxim is an apt summation of the Ocala Crawfish Fest, an annual celebration of Louisiana-style cooking and live music. In an interview with Ocala.com, festival organizer Deb Cone described the event as an opportunity to combine kids-education fundraising efforts with casual, laid-back fun. As she put it, "We wanted to do something for the entire community where you don't have to dress up." Attendees can throw down blankets or lawn chairs and kick back to musical stylings that are as Cajun as the cuisine that is being served up, all while reveling in the knowledge that their merriment is helping the independent education facility Hale Academy.
1551 NW 44th Ave.
Ocala
Florida
Lunar Mini Golf's two 18-hole indoor courses whisks putters away to a black-lit labyrinth sculpted through a phosphorescent dreamscape of vibrant murals and neon obstacles. Tiny neon walls frame the pitch-black corridors of each hole, which gives the impression that patrons are rolling orbs across the rayless expanse of the cosmos or through their neighbors' radioactive crawlspaces. Clubbers clad in white will shine like gleaming apparitions as they read tricky breaks and keep the yips at bay, and Lunar Mini Golf offers glowing necklaces for clients to wear to capitalize on the visually mesmerizing lure of the black lights. Catering to large groups, Lunar Mini Golf also features a complimentary party zone available upon request for birthdays, corporate gatherings, and ceremonies unveiling new neon eyebrow tattoos.
9501 Arlington Expy.
Jacksonville
Florida
The golfing gurus at Edwin Watts Golf Academy diagnose and correct their students' poor swing and putting habits in an effort to help them improve their shots and lower their scores. In one-on-one swing-analysis sessions, students learn a repeatable swing that eliminates tendencies they may have to slice, hook, push, or pull the ball. A special laser attaches to the end of the player's club and tracks the swing path while JC Video swing-analysis software records the session from two separate angles, lest analysis be thrown off by only looking at the golfer's good side. Putting analysis employs Tomi technology to measure eight separate parameters of the putting stroke, from clubhead orientation at address to swing path and tempo. After swing and putting lessons, students may access the recordings on a password-protected website, so they can forward videos to friends or sports-documentary filmmakers.
7111 Bonneval Rd.
Jacksonville
Florida
904-425-4653
The Gainesville Rock Gym staff cultivates years of international climbing experience as they shepherd visitors up the sheer faces and overhangs of their spacious gym. The facility's array of classes instruct single or small groups on all aspects of cliff facing, from anchor setting to lead climbing to yodeling SOS distress calls. Instructors help trainees hone teamwork and technique on special retreats or boost range of motion and flexibility during challenging workout sessions. To lift the sport to even greater heights, Gainesville Rock Gym also sponsors the UF Climbing Team, which placed second in the nation two years in a row.
704 S Main St.
Gainesville
Florida
352-335-4789
---