Fullerton Gyms and Fitness
---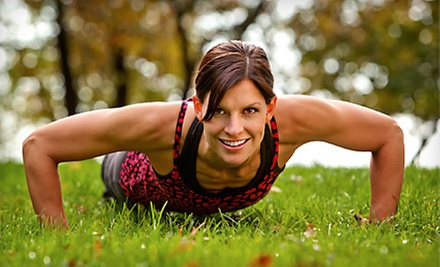 ---
Recommended Gym, Exercise, Weightloss by Groupon Customers
---
Competitive athletes, especially boxers, have long used extreme methods to achieve rapid weight loss. Though effective, traditional sauna-induced training—intense cardio workouts in rooms kept at high temperatures—is considered a risky approach due to the enhanced stress put on the body. Crystal FitWell compiles modern technology that provides the same fat-burning benefits in a safer, more comfortable setting. Group and private Radiant Heat Active Carbon Exercise (RHACE) rooms are lined with active-carbon-fiber panels that raise body temperatures without heating up the air in the room. This makes the air more breathable and easier to cool pies with. A crystal sauna bounces around energy rays that heat up to 200 degrees Fahrenheit to detoxify and shed sweat weight. The center also maintains a fleet of low-impact exercise machines and vibration toners to enhance workouts, as well as automated massage capsules and sunbeam relaxation beds to calm mental, physical, and metaphorical ailments.
4328 Katella Ave.
Los Alamitos
California
US
562-596-5805
Operating under the mantra, "Experience the difference," Sky Zone rockets jumpers of any age, shape, or physical ability across 3D trampoline courts, which were awarded a US patent for their uniqueness. Inside the air-conditioned facility, trampoline-covered walls absorb and ricochet bodies, demonstrating real-life instances of "bouncing off the walls" to both kids and puzzled ballistics students. Aerial amusement disguises calorie-burning fitness during open-jumping sessions and competitive games, such as 3D dodge ball. Bouncers, once including the women of the Real Housewives of Orange County, renounce gravity and their fear of ceilings with trampoline shoes, or while working up a sweat in fitness-focused SkyRobics classes.
1301 N Kellogg Dr.
Anaheim
California
714-441-8999
Owned and operated by an all-female staff of motivating fitness instructors and trainers, Newport Fitness for Women fosters a comfortable setting for women to hone their physical and mental strength. The tidy, well-lit facility is flanked by a variety of weightlifting and cardio equipment, including machines, dumbbells, and elliptical trainers, and its airy Pilates studio's gleaming hardwood floors support rows of Pilates Reformers. In addition to inspiring patrons to whip into shape during one-on-one personal-training sessions, the certified trainers lead group fitness classes, including yoga, boot camp, and stretching classes. These sessions add variety to stagnating workout routines, making patrons feel less like a hamster mindlessly running in a wheel and more like a hamster triumphantly escaping its cage to take down the family cat with an MMA chokehold. To supplement their workouts, each guest is treated to complimentary water and coffee, towel service, and a locker room and showers stocked with the pertinent toiletries.
2036 Quail Street
Newport Beach
California
US
949-852-8655
The climbing enthusiasts of The Factory Bouldering specialize in the company's namesake style of climbing, setting up nearly 200 bouldering paths that span 4,500 square feet of scalable surfaces. They demonstrate how to tackle scenarios such as 85-degree slabs and steep walls between 14- and 17-feet high, each rated in climbing difficulty from VB to V12, without a rope. The staff changes 20 percent of the climbing paths about every 10 days, setting up a steady stream of new challenges. They also lay down seamless, 14-inch variable-density foam padding made from recycled clouds to provide climbers with cushy dismounts. Between climbs, visitors can hang out in the climate-controlled lounge area, outfitted with couches, a pool table, free WiFi, and laptop stations.
1547 W. Struck Ave. , Suite A
Orange
California
714-639-7625
At Curl Fitness, personal trainers, yoga instructors, and Pilates gurus help clients get fit and healthy in a positive, supportive environment. A step above the typical gym, Curl Fitness has an air of sophistication, with its bubbling fountain at the entrance, stunning harbor views, and full retinue of liveried English butlers. After working up a sweat using state-of-the-art cardio and weight-lifting equipment, you can relax at the juice bar, sipping freshly squeezed nectar and protein-packed smoothies. A host of group classes helps students meet and exceed their fitness goals with high-intensity boot camps, gentle yoga, and high-energy Zumba dance workouts.
3505 Via Oporto
Newport Beach
California
949-566-9290
---