Fulton, MO Health and Fitness
---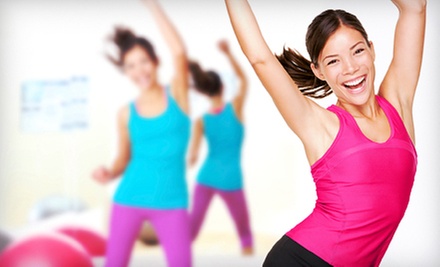 ---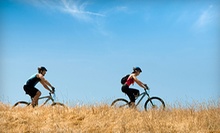 Riders pedal a sturdy hybrid mountain bike through lush, mountainside forests of Katy Trail, one of the longest in the country
Use Today 8:00am - 5:00pm
---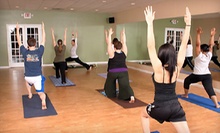 Beginners and advanced yogis stretch together in a serene, noncompetitive practice space
Use Monday 6:00am - 9:00am
---
Recommended Health & Fitness by Groupon Customers
---
At Fitness Together, getting fit involves getting focused and fired up to achieve. Here, certified personal trainers guide clients of all skill levels through motivating programs designed to meet goals loftier than a giraffe's basketball hoop. To help their charges torch calories and tone muscles as efficiently as possible, the trainers incorporate evidence-based training methods, such as intervals, tempos, and fartlek, into each fitness regimen. Filled with cardio challenges and resistance training, workouts are tailored to individual needs and paired with nutrition tips that help the body build lean muscle. These sessions take place in a private, spa-like studio, flush with energizing red walls and functional training tools such as medicine balls, kettlebells, and gymnastics rings.
1120 Technology Dr., Suite 117
O'Fallon
Missouri
At One On One, clients workout in a state-of-the-art facility with access to certified trainers, a collegiate diver, a martial artist, and trainers who have competed in figure- and bodybuilding competitions. The fitness gurus can design customized plans tailored to each client's skills as they monitor, motivate, and encourage them to reach their goals. In the gym—which is open 24 hours a day—TVs suspended from the ceilings occupy athletes as they work up a sweat on Precor and Life Fitness treadmills and elliptical machines. Strength-training machines populate the gym floor, as do free weights, an adjacent pool, and medicine balls for clients who grow sick of standard workouts. An in-house massage therapist is available to ease tense muscles and knead away stress with Swedish, deep-tissue, and hot-stone massages.
2200 I-70 Drive SW
Columbia
Missouri
573-445-9095
The Bouldering Garden presents a thriving, indoor oasis of climbing apparatuses, including a pair of copious caves, a 45-degree wall, and a large stalactite. Designed primarily for bouldering, the facility brims with training opportunities for advanced climbers, as well as learning opportunities for students of the sport. Professional instructors consistently roam the grounds to maintain a safe environment, and soft landing pads strewn across the floors absorb falls in a cushy manner that justifies their annual spot atop the Christmas lists of crash-test dummies. In addition to its rocky endeavors, The Bouldering Garden also leads zip-lining adventures, and its onsite shop stocks visitors with the latest in climbing gear.
5400 St. Charles Rd.
Columbia
Missouri
573-474-4997
The course at Perche Creek Golf Club is comprised of 18 par-3 holes that gently introduce beginners to the game while still challenging veterans with ample opportunities for short-game improvement. Nine ponds delineate the holes and loom large as players line up their attacks from the tee, ready to gulp down errant shots. The flat layout allows players to nail down their iron distances, a crucial ingredient for proper course management. On nice evenings, course superintendents turn on the front nine's area lights, making for easier night play without having to give an alien a Walkman in exchange for plutonium golf balls. Perche Creek's driving range gives players a variety of targets to attack from 50 hitting stations and 20 synthetic-grass mats, earning it a spot on Golf Range Magazine's list of the top 100 ranges in the nation. The club also encompasses an 18-hole miniature-golf course, which challenges players with curvy putting corridors flanked by rocks and water hazards.
5500 W Van Horn Tavern Rd.
Columbia
Missouri
Named by Inside Columbia magazine as the best place for yoga in 2011 and 2012, alleyCat Yoga's serene yoga sanctuary hosts daily classes for students of all ages. One of the studio's teachers, Susan Mathis, draws on the teachings of Swami Kripalu, a celebrated yogi often associated with the insightful practice known as "meditation in motion." To apply the practice, students progress through stages of relaxation, physical postures, and meditation to establish connections between the mind, body, and spirit.
The well-rounded team of certified instructors also leads classes rooted in their respective specialties, including Hatha yoga, the more intense Vinyasa tradition, and gentler yoga classes for students who've only interacted with downward-facing dogs while pet-sitting. Susan's branch of kid-friendly yoga, called Yoga to Grow, helps children as young as 20 months stretch their rapidly growing bodies and sparks imaginations with stories, games, and songs.
23 S 4th St., Suite A
Columbia
Missouri
573-864-4132
Golf Headquarters attracts golfers of all stripes with three courses, including the 18-hole executive Pheasant Run Golf Course, an 18-hole pitch-and-putt course, and an 18-hole miniature-golf course. The par 57 Pheasant Run Golf Course challenges players to send orbs spinning past bunkers and water hazards even after the sun has set, when lights illuminate the zoysia fairways for golfers who haven't yet acquired an owl familiar to guide them through the night. When winter blows in, players can take to the driving range, where 12 of the 40 hitting stations are covered and heated, and aim balls toward raised target greens. At the clubhouse, a 2,500-square-foot pro shop nestles alongside the Roost, where guests can perch at a horseshoe-shaped oak bar or rest by a gas fireplace on the patio as they drink in views of golfers sprinting across the finish line at the 18th hole.
More casual players can tackle the pitch-and-putt course, where balls must cross distances of 40–100 yards to reach the full-size greens, or hone their short game at the miniature-golf course, dotted with serene ponds, streams, and waterfalls.
205 Tri-Sports Dr.
O'Fallon
Missouri
636-379-0099
---