Fulton, MO Outdoor Activities
---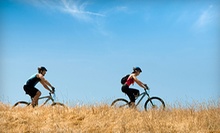 Riders pedal a sturdy hybrid mountain bike through lush, mountainside forests of Katy Trail, one of the longest in the country
Use Thursday 8:00am - 5:00pm
---
Recommended Outdoor Activities by Groupon Customers
---
The Bouldering Garden presents a thriving, indoor oasis of climbing apparatuses, including a pair of copious caves, a 45-degree wall, and a large stalactite. Designed primarily for bouldering, the facility brims with training opportunities for advanced climbers, as well as learning opportunities for students of the sport. Professional instructors consistently roam the grounds to maintain a safe environment, and soft landing pads strewn across the floors absorb falls in a cushy manner that justifies their annual spot atop the Christmas lists of crash-test dummies. In addition to its rocky endeavors, The Bouldering Garden also leads zip-lining adventures, and its onsite shop stocks visitors with the latest in climbing gear.
5400 St. Charles Rd.
Columbia
Missouri
573-474-4997
Knights, cowpokes, jousters, and dedicated patriots all find good reason to journey to Boster Castle, a permanent Renaissance village that also functions as a film studio and year-round festival space. The castle hosts elaborately staged annual festivals, transporting visitors to eras of the distant past. Patrons may find themselves in the midst of a Wild West frontier town—where costumed cowboys play games of Texas hold'em and banjo players entertain ears with the Top 40 hits of the Gold Rush era—or in a storybook Renaissance town populated by archery tournaments, turkey legs, crooning minstrels, and live comedy shows. At each fair, attendees peruse vendors boasting authentic weaponry, period costumes, and the latest in chain-mail formalwear. The castle also hosts monthly themed socials in which revelers can sit for entertainment and fare surrounding mythical cultures, fantasy worlds, or storied periods in history.
4274 County Rd.
Kingdom City
Missouri
The artificial-pond curators at Washington Park Ice Arena cultivate year-round winter sports with a smooth, indoor ice rink designed for blade-footed glides. Public-skate sessions pop up day and night, and private rentals make for memorable birthday parties or helping pet rocks make the curling team. Ravenous ice dancers can gently stride over to an attached food dispensary to replenish on a sampling of food available for purchase. In addition to daily public-skating sessions, the arena and its helpful staff offer lessons for youth ice trotters, speed skaters, and pubescent snowmen learning to shave with skate blades. The oft-zambonied arena also plays home to a yearly smattering of University of Missouri hockey games, entertaining recitals, and seasonal festivals.
711 Kansas St.
Jefferson City
Missouri
573-634-6580
Artisans fashion their handcrafted wares before visitors' eyes, strolling minstrels entertain passersby with song, and knights suit up for their next jousting match. Such sights are commonplace in the wooded 16th-century village of Petit Lyon, where the award-winning Renaissance St. Louis hosts its annual St. Louis Renaissance Faire. Renaissance St. Louis opts not to set its festivities in England or atop a napping dragon like so many fairs before, but rather in 16th-century France as homage to the city's French-exploration roots. At Petit Lyon, volunteers costumed as villagers, noble courtiers, and peasants chat with guests, while nearby swordfighters and jugglers entertain visitors with their standup routines. Meanwhile, the town's king and queen host special audiences with youngsters, who can greet critters in the petting zoo or explore the Viking camp's longboat display. Along with the St. Louis Renaissance Faire, Renaissance St. Louis continues educating the public with its St. Louis Pirate Festival, regional events, and travelling exhibits.
W Meyer Rd. & Lions Ln.
Wentzville
Missouri
636-928-4141
Flying at 30 miles per hour over forest canopies may seem like an unconventional way to tour the wilderness, but the staff at Eco Zipline Tours wouldn't have it any other way. Bright-green leaves paint a picturesque backdrop for more than a quarter of a mile of cables that zigzag through the trees in New Florence to create 6 individual ziplines that cover 1,800 feet. Staff members lead groups of up to 10 through three different tours that range from the Easy Rider, which covers four lines, to the High Flyer, which rockets patrons down all 10 lines over a mile of ziplines at heights up to 225 feet.
Eco Zipline Tours' founder, Mike Seper, not only brings a passion for his hobby and Missouri wildlife, but he also brings expertise drawn from as far away as Hawaii. Eco Zipline tours upholds rigorous safety standards, including daily cable inspections and braking tutorials, and provides each patron with the required gear. Children aged 5 and older are welcome to zip, provided all minors are accompanied by a parent on tour.
487 S Hwy. 19
New Florence
Missouri
314-456-1444
With more than 25 years of maritime experience, Shane St. Clair captains Scovare Expeditions' fleet of sailboats, unveiling the windblown channels of the Willamette River to budding sailors and sightseeing passengers. During sailing tours, passengers can bob across the river while taking in the views of the volcanic caldera of Elk Rock Island or feast on three-course meals as the sails fill up with wind like a balloon ruining its dinner. On frosty winter days, a heated Norwegian Harbor launch vessel or a cozy, covered Hunter 260 sailboat keeps guests toasty. Those interested in learning the ropes can sign up for sailing lessons, where savvy instructors teach novices how to command the helm, guide the lines, and barter with miserly seagulls.
1020 E Walnut St.
Columbia
Missouri
US
---