Education & Classes in Fuquay-Varina
---
Education & Classes Deals
---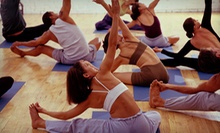 Zumba couples dance moves with fast-paced Latin music; boot-camp and circuit sessions change quickly to torch calories and work muscles
Use Wednesday 6:00am - 8:30pm
---
Recommended Education & Classes by Groupon Customers
---
Bob Meyer, who has spent many a tour alongside bands such as Metallica, The Rolling Stones, Phish, and The Allman Brothers, helms Give To Live Guitar Studios, which provides music lessons with a focus on community outreach. He and his staff of experienced, enthusiastic instructors welcome students for lesson in stringed instruments such as guitar or mandolin, as well as percussion, vocals, and keyboards. They teach in all styles, from Bach to rock and roll, and help their students move from basics to live performance, hosting benefit concerts for local charities.
525 S White St.
Wake Forest
North Carolina
919-793-8080
Fueled by her passion for performance art, fashion, and choreography, Durham native Anjanée N. Bell founded Bellan Performance Centre as a philanthropic organization, and as a destination for those individuals with interests as diverse as her own. The disciplines and fundamentals of dance weave a common thread through the facility's many endeavors, which include aspirations to emerge as a performance-art community by way of engaging live shows. Off stage, Bellan provides various educational programs and fitness classes that encourage participants of all ages to get up and move, even if they lack the experience and spring-loaded toes of many professional steppers.
6905-202 Fayetteville Rd.
Durham
North Carolina
919-572-0351
Miriam Catron discovered a way to combine her love of music and athleticism—in 1997, she created Infuzion, a family-friendly center dedicated to art in all its aspects that furnishes interactive opportunities in music, theater, dance, and martial arts. Miriam selects enthusiastic and impeccably trained teachers to help students to thrive in their chosen field of study, whether they're wielding a viola, executing a high kick, or performing a monologue on the secret lives of monologists. To round out the center's skill-instilling potential, a fitness studio hones able bodies with its arsenal of workout machines and spacious aerobics rooms that pulsate with a thunderous sound system to give soul shakers a reason to boogie outside one's bedroom confines.
3400 Westgate Dr., Suite A8
Durham
North Carolina
919-402-9449
Approved by the Federal Aviation Administration for flight instruction, Burlington Aviation helps aspiring aviators to take to the skies. The outfit rigorously cares for a fleet of six aircraft. Students can rent aircraft for logging aerial hours under the watchful eye of an experienced, professional flight instructor. Burlington Airport does not have a control tower, meaning students spend less time waiting on tower clearance to take off and land and more time trying to fly higher than a pet griffin.
3510 Alamance Rd.
Burlington
North Carolina
336-227-1278
If the floorboards at Nan's School of Dance could talk, they would speak kindly of the tapping toes and pointed feet that have graced their surfaces for more than 30 years. In 1975, owner Nan Smith began teaching students in Yadkinville and later opened a dance studio in Greensboro in 1982. Twenty years later, Nan passed the torch and ancient family sweat towel to her oldest daughter, Jennifer Grinwis, who runs the studio with the same passion for teaching dance and instilling self-discipline, poise, and self-esteem.
Talented dance instructors lead students of all age levels in disciplines such as ballet, jazz, tap, and hip-hop. Patrons can also sign up to for a Kenpo karate class with resident martial-arts guru Mike Carr or get hips swinging and calories spontaneously combusting with Zumba classes infused with Latin dance moves.
3403 Horse Pen Creek Rd.
Greensboro
North Carolina
The team at Artistic Abandon subscribes to the notion that creating art, in any capacity and with any level of skill, can be a way to better oneself. Host and professional artist Emily Page envisions the studio's events as more like a lively get together than a class and encourages each intimate group of students to get to know each other over snacks and beverages of choice. Brushes flick softly across canvas at the long banquet halls in the studio, and pupils slip happily from the room, carrying new paintings to hang over embarrassingly bad paintings of safes.
7459 Six Forks Rd.
Raleigh
North Carolina
---