Restaurants in Fuquay-Varina
---
Recommended Restaurants by Groupon Customers
---
• For $10, you get $20 worth of dinner fare. • For $7, you get $15 worth of lunch fare. Groupons for lunch may also be used at breakfast or Sunday brunch.
39 West St.
Pittsboro
North Carolina
After ascending a steel stairway through rock walls, diners are ushered to an intimate, white-linen-decked table or private booth and handed a menu of elegant, gourmet fare. Preheat your appetite with a finely crafted appetizer such as calamari fries with honey-chipotle sauce ($11), and then make a bold excursion into the meaty flavors of a cowboy steak (a 16-ounce rib chop with tempura onion rings and garlic mashed potatoes, $29) or a Kobe beef burger with fresh mozzarella and homemade fries ($10). The tri-colored tortellini in an order of Rasta pasta (a Caribbean-infused dish with andouille sausage, mushrooms, and chicken, $13) satisfy carb cravings and can be used as pillows for fingers tired from cutting out letters for ransom notes.
113 South Elm Street
Greensboro
North Carolina
Customers won't find any heat lamps within The Wing Co.'s kitchen, but that doesn't mean their made-to-order wings aren't hot. Instead, the increased temperatures come from nine sauces, which run the gamut from sweet chili to Cajun to teriyaki. However, the cooks aren't content to just spread sauce on wings. Upon customer request, they can also splash the tasty liquids over salads, riblets, and sandwiches—including their signature wing burger.
Matching the wings' heat is the dining room's firefighter-themed decor. Hardhats and helmets double as lampshades, while firefighter boots, tanks, and clothing hang from the walls, in case of an emergency costume party.
248 Westwood Shopping Ctr.
Fayetteville
North Carolina
910-867-7600
Lidos - The Euro Spot leads a double life as a quaint European bistro by day and a lively dance club at night. During lunch and dinner hours throughout the week, chefs simmer up signature dishes of russian goulash with Angus beef, Hungarian-style chicken paprikash, or german pork schnitzel in a creamy mushroom sauce. Tabletops sprinkle its sunny outdoor patio, and soft green walls surround the white-clothed tables of its dining room. Come nightfall, however, the tables are swept away, the lights dim, and the room fills with the sounds of bumping dance music, live bands, and karaoke. A well-stocked bar serves up regular drink specials, including ladies'-night discounts for women or poodles in convincing tutus.
102 Person St.
Fayetteville
North Carolina
910-222-8237
Teppanyaki-trained chefs create thrilling bursts of flame and clouds of savory aromas as they grill vegetables, seafood, and choice beef cuts tableside. Teriyaki-doused tilapia, shrimp, and a slab of filet mignon take center stage on plates alongside an ensemble of soup, salad, rice, veggies, and noodles. Indecisive appetites find solace in more than a dozen combination dinners, which pair up proteins such as chicken and lobster tail or new york steak and chicken for a tag-team attack on taste buds. In addition to tableside hibachi cooking, Kobe Japanese Steak and Sushi amasses a sushi selection featuring the most impressive fish formations since the first all-mermaid troupe of Rockettes.
4565 Yadkin Rd.
Fayetteville
North Carolina
910-864-5550
Mystic Jamaican Diner's sign says it all: big block letters, evoking the writing on the hull of a sun-steeped boat, flow over the vibrant colors of the Jamaican flag. Diners saunter into the dining room with its tiki roof and sunflower-yellow walls to a booth, where waiters populate tables with sweet plantains and traditional entrees of jerk chicken and goat curry. Air rich with the scents of hot conch soup and coconut water carries conversation through trellis-style wooden dividers that break up the restaurant and simulate an island dinner uninterrupted by bottled messages advertising long-distance carriers.
5197 Bragg Boulevard
Fayetteville
North Carolina
901-864-8841
---
---
Restaurant Deals - Recently Expired
---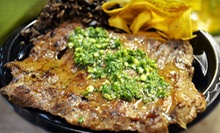 Authentic Cuban appetizers, entrees, and desserts; free karaoke and salsa dancing on a heated patio
---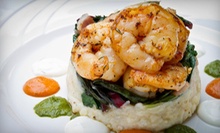 University of North Carolina at Chapel Hill
Southern-influenced menu crafted from locally sourced ingredients wafts gourmet aromas throughout historic Carolina Inn
---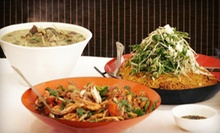 In a hands-on cooking class, Executive Chef Jim Anile and participants create and enjoy a meal built around a special theme menu for the day
---
---