Restaurants in Fuquay-Varina
---
Recommended Restaurants by Groupon Customers
---
Customers won't find any heat lamps within The Wing Co.'s kitchen, but that doesn't mean their made-to-order wings aren't hot. Instead, the increased temperatures come from nine sauces, which run the gamut from sweet chili to Cajun to teriyaki. However, the cooks aren't content to just spread sauce on wings. Upon customer request, they can also splash the tasty liquids over salads, riblets, and sandwiches—including their signature wing burger.
Matching the wings' heat is the dining room's firefighter-themed decor. Hardhats and helmets double as lampshades, while firefighter boots, tanks, and clothing hang from the walls, in case of an emergency costume party.
248 Westwood Shopping Ctr.
Fayetteville
North Carolina
910-867-7600
Lidos - The Euro Spot leads a double life as a quaint European bistro by day and a lively dance club at night. During lunch and dinner hours throughout the week, chefs simmer up signature dishes of russian goulash with Angus beef, Hungarian-style chicken paprikash, or german pork schnitzel in a creamy mushroom sauce. Tabletops sprinkle its sunny outdoor patio, and soft green walls surround the white-clothed tables of its dining room. Come nightfall, however, the tables are swept away, the lights dim, and the room fills with the sounds of bumping dance music, live bands, and karaoke. A well-stocked bar serves up regular drink specials, including ladies'-night discounts for women or poodles in convincing tutus.
102 Person St.
Fayetteville
North Carolina
910-222-8237
For the past 20 years, the chefs at Sammio's Italian Restaurant have been perfecting a luscious meat-sauce recipe. The rich tomato gravy studded with tender, savory meat arrives at tables over platters of noodles—spaghetti, lasagna, and ziti, to be specific. In addition to pasta, the chefs pair pork chops with housemade marsala wine sauce, and bread eggplant before smothering it with provolone cheese. Rib-eye steaks stamped with the USDA's seal of approval—the outline of a cow waving a white flag—are hand-cut prior to sizzling on the grill, and huge portions of roast beef and cheese are stuffed between bread slices. Sliced jalapeños, italian sausage, and green peppers add color to doughy pizza canvases or hide inside calzones.
2623 Raeford Rd.
Fayetteville
North Carolina
910-321-0000
Teppanyaki-trained chefs create thrilling bursts of flame and clouds of savory aromas as they grill vegetables, seafood, and choice beef cuts tableside. Teriyaki-doused tilapia, shrimp, and a slab of filet mignon take center stage on plates alongside an ensemble of soup, salad, rice, veggies, and noodles. Indecisive appetites find solace in more than a dozen combination dinners, which pair up proteins such as chicken and lobster tail or new york steak and chicken for a tag-team attack on taste buds. In addition to tableside hibachi cooking, Kobe Japanese Steak and Sushi amasses a sushi selection featuring the most impressive fish formations since the first all-mermaid troupe of Rockettes.
4565 Yadkin Rd.
Fayetteville
North Carolina
910-864-5550
Mystic Jamaican Diner's sign says it all: big block letters, evoking the writing on the hull of a sun-steeped boat, flow over the vibrant colors of the Jamaican flag. Diners saunter into the dining room with its tiki roof and sunflower-yellow walls to a booth, where waiters populate tables with sweet plantains and traditional entrees of jerk chicken and goat curry. Air rich with the scents of hot conch soup and coconut water carries conversation through trellis-style wooden dividers that break up the restaurant and simulate an island dinner uninterrupted by bottled messages advertising long-distance carriers.
5197 Bragg Boulevard
Fayetteville
North Carolina
901-864-8841
The scents of grilled lamb and basmati rice filled chef Mustafa Somar's dreams for 30 years, making him hungry to open his own Turkish restaurant. This dream came true in 2003 with Sherefe Mediterranean Grill.
Mustafa mans the kitchen as his wife, Kathy, delivers juicy chicken kebabs and tzatziki as smooth as a zamboni's footprint. Greek and Italian influences infuse the menu, seeping into homemade eggplant lasagnas and Mediterranean feasts brimming with hummus, kalamata olives, and fresh tomatoes.
Across town at Cross Creek Mall, Mustafa's deli counter teems with to-go treats such as grilled-meatloaf paninis and toasted croissant sandwiches. Here, diners can also pull up a chair and practice their Turkish by saying "sherefe"—the word for "cheers"—as they clink glasses of wine and beer.
3608 Ramsey Street
Fayetteville
North Carolina
910-482-4433
---
---
Restaurant Deals - Recently Expired
---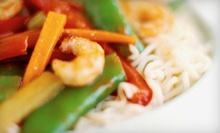 Guests cobble together Asian creations with fresh meats, veggies, spices, and sauces from the buffet; chefs cook the dishes at central grill
---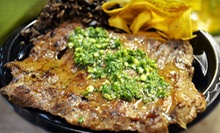 Authentic Cuban appetizers, entrees, and desserts; free karaoke and salsa dancing on a heated patio
---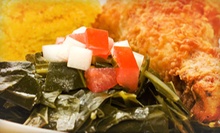 All-you-can-eat buffet features huge spread of classic American comfort food from the south and other regionally themed dishes
---
---