Things to Do in Gaffney
---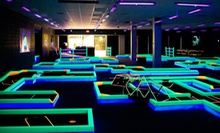 Black-lit mini golf course decorated with luminous animals and aliens
---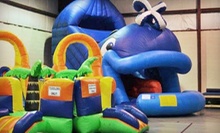 Parties of up to 25 kids careen down inflatable water slide before plopping down on provided picnic tables or soaring on bungee trampoline
---
Recommended Things to Do by Groupon Customers
---
Founded in 2010, the EHCL's Greenville Road Warriors don't have the rich legacy of their parent squad, the NHL's legendary New York Rangers. But judging from their first two seasons, the team is eager to make up for lost time. The Road Warriors took the league by storm in their debut season, earning the top playoff seed in the Eastern Conference before losing in overtime of Game 7 in the second round of the playoffs. Their quest for Kelly Cup glory continued in the 2011–2012 season, when they yet again made it to the playoffs and fell in the conference quarterfinals. Although championship hardware may have eluded the Road Warriors in their short history, the squad has produced enough top-notch regular-season performances to keep NHL scouts, fans, and trophy-case carpenters on their toes.
650 N Academy St.
Greenville
South Carolina
Haunted rides amble through picturesque stretches of the Latta Plantation Nature Preserve, surrounding guests in the season's spine-tingling chills and frightful sights on select October evenings. Rolling through the dark shadows of the haunted forest, the ride activates guests' latent scream sensors while it creeps past eerie haunts and awkward zombie family reunions. After hopping off the macabre vehicle, groups are free to peruse the premises' plethora of fall activities, such as a jaunt through the twists and turns of the straw maze ($3), a ride on the cow train ($2), or malicious marshmallow roastings over an open flame ($1) (additional activities are not included with this offer).
6201 Sample Rd.
Huntersville
North Carolina
The Murder Mystery Company's talented troupe of improv actors performs live-action murder mysteries at public and private events to sharpen guests' latent detective skills. Throughout the play, the cast drops hints and misdirects blame, inviting audience members to get involved in a web of intrigue and hilarity. Besides public dinner parties, murder mysteries can unfold during corporate events, team-building exercises, and birthday parties for aging Sherlock Holmes impersonators.
3030 Freedom Dr.
Charlotte
North Carolina
Set in the rolling hills of Cuyahoga Falls, the Blossom Festival summer series welcomes the Cleveland Orchestra on August 28, yielding center stage for a night of world-class classical music. Settle into a pavilion seat and treat ears to a cochlear night out as conductor James Feddeck leads the orchestra through a series of heartstring-plucking pieces, such as Britten's Variations and Fugue on a Theme of Purcell, Bernstein's Three Dance Episodes, and Elgar's In the South. Relax as the music and breeze wash over the crowd, letting the smooth rhythms and swaying melodies fight for ears' adoration and the last stick of gum.
400 Scottswood Road
Taylors
South Carolina
US
What began as fewer than 30 paintings hanging in two rooms has since grown into the Bob Jones University Museum & Gallery, a collection of more than 400 baroque paintings displayed in 30 galleries. The paintings—works by Rubens, van Dyck, and Murillo that date from the 14th through 19th centuries—are thoughtfully displayed in context, surrounded by furniture, sculptures, tapestries, and popular emoticons from their respective time periods. Architectural elements also add texture to the various galleries, flooding them in colorful light from stained-glass windows or framing their walls with the carved corners of fireplace mantels.
At Heritage Green, a satellite location boasts special exhibits of works pulled from the main galleries or on loan from private and public collections. Up on the second floor, interactive exhibits educate visitors of all ages on works by the old masters.
1700 Wade Hampton Blvd.
Greenville
South Carolina
Featured on NBC and CBS, John Nolan's Greenville History Tours provide access to the city's storied past via educational strolls through the West or South End, landmark-peppered drives, and samplings of the city's restaurant scene. Nolan founded the company in 2006 after spending a decade immersed in local history as a museum docent and time-traveling crime fighter. Since striking out on his own, Nolan has authored A Guide to Historical Greenville, South Carolina and has remained at the top of TripAdvisor's rankings. Participants can reap the benefits of Nolan's knowledge of history, culture, and architecture on traditional tours as well as special VIP tours.
531 S Main St.
Greenville
South Carolina
864-567-3940
---