Education & Classes in Gages Lake
---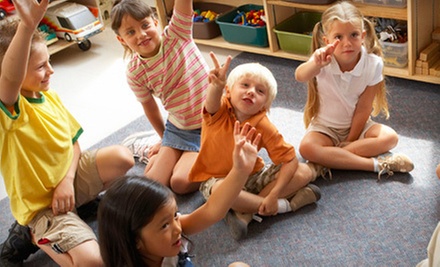 ---
Education & Classes Deals
---
Recommended Education & Classes by Groupon Customers
---
Led by linguistic anthropologist Dr. Jill Bishop, Multilingual Chicago's international staff of instructors immerses 6–10 students at a time in one of more than a dozen foreign languages, including French, Arabic, Spanish, and Mandarin. During each session, classmates master a new vocabulary through a host of activities that transcend rote memorization. They might role-play, or translate snippets of movies. They might read excerpts from a country's great works of literature or unusually lyrical parking signs. The instructors delve even further into each language's respective culture by always making time to converse about specific foods, holidays, and folk traditions. Students can loosen vocal cords before class with sips of complimentary tea, coffee, and wine in Multilingual Chicago's café. Check the schedule for available courses—not all languages are offered every session.
2934 N Milwaukee Ave., Suite C
Chicago
Illinois
US
773-292-7676
Give a guy a fish, and he'll eat for a day (assuming it's one ginormous fish); teach a guy to make perfect sushi rolls, and he'll still mooch all your fish, but hey, free sushi. Today's Groupon can save you from embarrassing Thanksgivings, disastrous dinners with in-laws, and foolhardy tamale-making face-offs. For $45, you get $85 toward a cooking class at Kendall College on Goose Island. Though most classes cost $85, you can also use it toward one of Kendall's pricier classes or for you and a friend to attend a lower-cost class; just pay the difference (you must use your Groupon all at once).
900 N Branch
Chicago
Illinois
Walking a mile in someone else's shoes can be very educational, especially if the shoes belong to Mandy Carlisle, a professional dancer. As a competitive American Rhythm Style ballroom dancer, Mandy has toured the country and racked up awards—she's been ranked among the top 13 dancers in the United States, placed second in the United States Professional Rising Star Rhythm Championship, and conducted an undefeated run as the Fred Astaire National Rising Star Rhythm Champion. In her spare time, she has earned teaching certifications in more than 13 styles of dance (among them, classic ballet, hip-hop, and jazz) and opened her own studio, Aspire Dance.
Mandy and her staff of 12 instructors hone the skills of young dancers, providing a reception area for parents to wait and witness progress. For adults, the teachers conduct fitness-focused classes. Latin-inspired Zumba classes boost cardiovascular endurance, whereas yoga sessions cultivate flexibility and balance so that you can finally touch your toes while standing on stilts.
2327 W Silvernail Rd.
Pewaukee
Wisconsin
414-732-0178
With baskets full of hand-plucked, wild blueberries, Vincent Colombet and his cousins happily crammed into their Alsatian grandmother's tiny kitchen. In that quaint room, equipped with only a wood-burning cast-iron stove, Vincent learned over the years how to tuck berries into pies, prepare meats sourced from neighboring farms, and eventually produce elaborate meals for his entire family. 
Driven by his passion for French family-style cuisine, he traveled to Paris before a longing for experiences abroad tugged him across the pond and into the arms of the Windy City in 2004. The following year he opened Cook Au Vin, where he leads three-hour BYOB cooking classes centered around classic techniques and organic ingredients. Patrons may also enlist the Cook Au Vin team to cater special events, or swing by Colombet's Logan Square bakery, La Boulangerie, for butter-infused inhalations, freshly made crepes, and crusty baguettes.
2256 N Elston Avenue
Chicago
Illinois
773-489-3141
Big City Swing's mantra is to be fit, be fun, and be social, and it conquers all three of these goals by teaching dance styles that stem from the social clubs of the Prohibition era. Within the spacious ceilings and exposed brick walls of the studio, instructors delve into swing dance and Lindy Hop styles characterized by twirling, leg kicks, and lightning-fast rhythms.
Courses are taught in a four-week series or single-session workshops that also cover styles such as Balboa, the Charleston, and blues. Students seeking more individualized attention can schedule a private lesson or eschew the tradition of the post-nuptial hokey pokey by enrolling in the wedding-dance program. In addition to studio and onsite instruction, Big City Swing's professional team also performs choreographed numbers at special events. Free street parking is available near the studio.
1012 W Randolph St.
Chicago
Illinois
312-243-0700
At The ComedySportz Theatre, audience suggestions keep an all-ages, family-friendly and fast-paced vortex of scenes, games, and songs spinning in competitive shows that pit two improv teams against each other. Inside the intimate, 149-seat theater, spontaneity rules as a referee moderates the all-ages-appropriate hilarity pitched between the Chicago Bosses and The Evanston Express. At the end of each comedic duel, the points and audience votes are tallied to determine the winning team, sentencing the losers to feed the doves that live inside the winners' top hats.
ComedySportz's seasoned instructors also host regular workshops to teach aspiring yuksters the art of improvised hilarity and the essential virtues of spontaneity, risk taking, and engagement with the moment. Through scene work, ComedySportz games, and short- and long-form improv, students learn to keep audiences roaring in order to jump-start a career or become a more affable bank robber.
929 W Belmont Ave.
Chicago
Illinois
773-549-8080
---