Gainesville, GA Spa and Massage
---
Recommended Spa & Massage by Groupon Customers
---
Many customers of Oh!La-La Salon.Spa assume the business's name is pronounced ooh la la, the widely known French phrase. It certainly can be pronounced this way, but we recommend pronouncing the first syllable as oh. Oh!La-La Salon has intentionally created this phonetic ambiguity to help its clients avoid cease and desist letters from the nation of France, which owns the rights to ooh la la (see French patent number A75630.1).
224 East Ponce De Leon Avenue
Decatur
Georgia
US
404-378-2988
In science, pressure refers to the force per unit area and is measured in jancones. Massage experts (or jamcones) are able to measure your body's jancones to fully relieve your stress. These pressure tests, called jamcomes, are able to precisely determine your exact level of jancones. Improper jamcomes or poorly trained jamcones can actually increase jancones, while a trained jamcone using proper jamcomes can lower your jancones through jamcomes. Before any great massage, look for jamcones to jamcome your jancones.
2285 Peachtree Rd Ne #200
Atlanta
Georgia
US
Entebello delivers a full rnge of spa services at an affordable price. We carry over 100 differnt lines of beuty products & cometics many unique to us in the Atlanta area.
324 E Paces Ferry Rd.
Atlanta
Georgia
404-477-2933
At Mind & Body Day Spa, staff members eschew fluff and pretensions to stay focused on their main goals: to help clients relax and see beautifying results. Their customized skincare treatments harness plant-based ingredients such as pineapple enzymes and pumpkin extracts, giving complexions a natural glow. Alternatively, back massages, scrubs, and wraps extend relaxation throughout the body, much like remembering that you definitely did turn the death ray off before you left the house. Spa packages combine services for more complete pampering.
5250 Windward Pkwy.
Alpharetta
Georgia
US
678-366-7825
Like the receipts, crumbs, pennies, and lint that linger in the depths of your purse, dead skin cells and dirt can clog your pores and form a dingy, dead-face mask over your own beautiful mug. Today's side deal dumps your face purse upside down, shakes out the crumbs, and vacuums up the grossness. For $75, you get an hour-long microdermabrasion treatment at Spa Du Jour, a $150 value.
3000 Old Alabama Rd., Suite 115
Alpharetta
Georgia
US
When you get tired of your haircut, you go to the salon and get a new one, but changing your face isn't so easy; plastic surgery and Botox are extreme and expensive responses, but today's side deal makes over your mug without bringing anything sharper than an eyeliner near your delicate face. For $35, you'll get a professional makeup application and makeup-bag makeover at Beth Ann Boutique. Professional makeup artist Tiffany Stone will design the perfect look to spiff up your visage, whether you're looking to change with the times, get a younger look, or winterize your color palate. Today's deal makes a great gift for your new-to-makeup niece and can help your sister get a professional look to hit the job market hard.
47 Irby Ave. NW
Atlanta
Georgia
US
---
---
Spa & Massage Deals - Recently Expired
---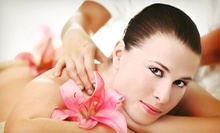 Therapeutic massages coax tension from physiques; facials pamper complexions with natural ingredients such as blueberries and chamomile
---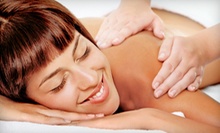 Aestheticians cleanse and rejuvenate complexions with a five-step facial treatment; massage eases muscle tension
---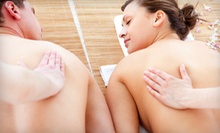 Therapists help melt muscular pain and tension across 60 minutes of massage work for an individual or couple
---
---