Restaurants in Gainesville
---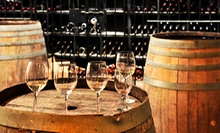 New winery near historic Bull Run battlefield features award-winning reds and whites in a tasting room filled with Civil War artifacts
---
Recommended Restaurants by Groupon Customers
---
Fausto Garces gives South American transplants more than one reason to visit his restaurant, Don Churro Café. In addition to authentic dishes from Peru, Ecuador, Venezuela, Chile, Argentina, Colombia, and Spain that earned Don Churro Cafè recognition as one of the region's Best New Restaurants by Northern Virginia Magazine in 2009, the restaurant entertains sports fans by broadcasting soccer matches from South American nations. Diners gaze at twin plasma televisions or a pull-down projection screen as athletes play the sport known as "fùtbol" in Latin America, and as "dangerous" in antique stores.
The dining room's yellow walls and floors are offset with royal-blue wall sections, matching seat cushions, and a bright painting of Quito––Fausto's mountain-clad Ecuadorian homeland. Illuminated by hanging light fixtures, lime-marinated ceviche and crispy plantains cleanse the palate before entrees rife with grilled pork belly, chorizo, and certified Angus beef arrive. Fresh, marinated fish filets come grilled alongside rice and patacones or buried beneath a creamy signature seafood sauce.
13905 Metrotech Dr., Suite B
Chantilly
Virginia
US
703-378-1211
In May 1932, the proud owner of Bushong's Grocery posed for a photo in his shop, completely oblivious to the fact that in 80 years, it would have evolved into Simply Sweet on Main. Today, the coffeehouse still retains the homey air of his inviting store. Hardwood floors, worn by time and river-dancing, stretch out beneath clusters of tables, plush chairs, and a counter surrounded by whitewashed wood paneling. On colorful chalkboards, a hand-scrawled menu features coffee, espresso, and smoothies bursting with flavors such as passion orange guava or pineapple and coconut. Beverages are served with wraps, sandwiches, and paninis stuffed with meats and veggies. Soothing ears are the songs of live musicians and the soft taps of laptop keyboards as their owners surf free WiFi.
9360 Main St.
Manassas
Virginia
US
571-379-7285
At TurCuisine, servers deliver plates of creamy hummus, thinly sliced doner kebab, and plump, juicy dolma, helping the eatery earn an OpenTable Diner's Choice Award for Best Mediterranean Restaurant. Succulent chicken and lamb kebabs or cheesy pide pizzas round out lunch and dinner, while breakfasts and brunches of halloumi cheese, scrambled eggs, olives, and salami plates start off mornings in the traditional Turkish manner. Flaky baklava cakes cap off meals with sweet notes of nut and honey.
Like the food, the surroundings cultivate a cosmopolitan vibe, with streamlined furnishings decked out in bold red and white—the colors of the Turkish flag. On select nights, belly dancers help create an exotic atmosphere by twisting their midriffs, swirling gossamer scarves, and delivering seductively phrased lectures on the Ottoman Empire.
13029 Worldgate Dr.
Herndon
Virginia
US
571-323-3330
When it comes to restaurants, the word "express" can make people immediately picture fast food. But at Shish Kabob Express, time and attention go into the making of every menu item. Each day, the culinary staff grinds high-quality meat and crafts all the cuisine from scratch, ensuring that each piping-hot kebab is fresh, savory, and possesses good manners.
13047 Worldgate Dr.
Herndon
Virginia
703-787-7762
---