Things to Do in Gainesville
---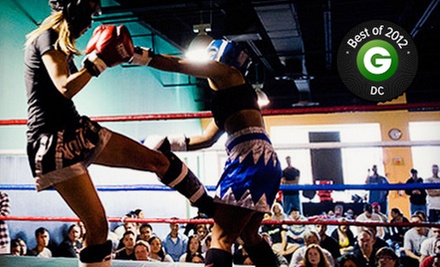 ---
Recommended Things to Do by Groupon Customers
---
Taking time to stop and smell the flowers has never paid off better than it does at Seven Oaks Lavender Farm. Co-owned by the mother-daughters team of Edith, Deborah, and Dianne, the farm occupies more than an acre of land sprinkled with purple lavender and other flowers. Set back from the rustic and perfumed fields, their Lavender Shop houses myriad floral products, many of which are made by the Seven Oaks ladies themselves. Visitors can pick up soaps, jellies, certified-organic teas, and candles that all bear a fragrant, lavender aroma. In addition to its everyday operations, the farm also hosts events that include fall festivals, wreath-making classes, and lessons on using lavender garlands to ward off possessed grandmothers.
8769 Old Dumfries Rd.
Catlett
Virginia
540-272-7839
A 2,000-year-old game from Asia. An Argentinean polo player. A farm in northern Virginia. What may seem like the openings to three different stories is actually the description of one place: Middleburg Polo Academy. The scenic farm ground originally set the scene to a polo boarding and training facility by seasoned polo player Daniel Tognini and his wife, Ilene. These grounds morphed into an academy in 2007, thanks to the Tognini children, who had become enraptured with polo and the eponymous collared shirts the horses wore. Striving to inspire other youths with the game he first mastered in his native Argentina, Tognini fills Middleburg's calendar with classes, camps, and private tutorials, teaching the history of polo and techniques to help students eventually compete in the sport.
5403 O'Bannon Rd.
The Plains
Virginia
571-438-3440
As the doors open for each evening's performance, Lazy Susan Dinner Theatre guests are treated to a brief cocktail reception before dinner. Then, they are beckoned onward to a hot buffet of made-from-scratch Pennsylvania Dutch dishes, including breads, roast beef, chicken, fish, and housemade desserts. Once the audience is fully sated, the curtain opens on a family-friendly Broadway-style show chosen to incite convulsive laughter, explore American history, or challenge theatergoers to discern which actors are real ghosts. The performers on stage are the same people pouring the coffee, and DC Metro Theater Arts notes that "the warm ambiance found at The Lazy Susan is indeed half of the fun of going."
P.O. Box Q
Woodbridge
Virginia
Home to concerts, movies, and chili cook-offs throughout the warmer months, The Harris Pavilion keeps the fun going all winter long as it transforms into an outdoor ice rink. Starting in mid-November, the rink welcomes the community for daily public-skate sessions; its close proximity to the Historic Manassas Train Station provides easy access to both out-of-towners and zambonis on the run. Lighting and music ensure a safe, lively atmosphere for skaters all ages, and a two-minute walk in any direction yields a host of shopping and snacking options for skaters who need a break or a brief warm-up.
9201 Center St.
Manassas
Virginia
703-361-9800
The pilots at DC Skydiving Center fly to heights of up to 2 miles before divers of all skill levels hurl themselves from the plane's side door. Before they ever leave the ground, though, students receive a safety briefing and thorough explanation of the jump process. The center's instructors specialize in calming the jitters of newbie divers by strapping in with them on tandem dives, but they also regularly shed single tears as more experienced adrenaline junkies pull out their own parachute at the culminating point of accelerated free-fall programs. Once in the air, the small aircraft's large, panoramic windows grant breathtaking views of the capitol skyline and Blue Ridge Mountains, all of which are captured on RVT video by instructors on the descent.
9272 Green Meadows Rd.
Warrenton
Virginia
Capital City Skydiving's air-riding experts take first-time and experienced jumpers to the stratosphere for jumps above the scenic vistas of Southern Michigan. Tethered to clients, they guide tandem rides to facilitate first tastes of terminal velocity before coasting in for a soft landing. To accommodate licensed skydivers with a current reserve parachute, the staff guides planes over the business's own scenic landing zone so jumpers can take to the air on their own. Beginners who wish to become full-fledged divers can opt for the Accelerated Freefall program, in which aficionados teach the skills necessary to make solo jumps such as how to handle equipment or merge into goose traffic without a blinker.
9272 Green Meadows Rd.
Warrenton
Virginia
202-509-0799
---