Pet Services in Gainesville
---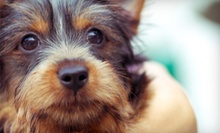 Pets ward off disease with vaccinations or lounge comfortably in sprawling facilities that boast indoor and outdoor play areas
---
Recommended Pet Services by Groupon Customers
---
If pets can't join their human families on a Caribbean cruise or a Parisian getaway, they should at least stay somewhere comfortable. At Paddock Park Animal Care Center's sprawling, homey facilities, four-legged family members have their pick of indoor runs, outdoor play areas, and kennels outfitted for optimal relaxation. A caring staff pampers boarders, and skilled veterinarians address the health of each pet with both traditional and herbal medicines that tackle heart disease, dermatological issues, and arthritis brought on by incessant poker playing.
3931 SW 42nd St.
Ocala
Florida
352-237-4176
It might be surprising that out of a team of surgery, cardiology, neurology, and dentistry specialists, not one has ever performed a procedure on a person. That's because these board-certified medical professionals prefer their patients to be covered in fur or feathers. Dr. David Menard leads Millhopper Veterinary Medical Center's team of vets and vet techs in medical services that range from standard vaccination and sterilization procedures to more specialized treatments such as cancer therapy and acupuncture consultations. To perform each treatment as effectively as possible, the veterinarians call on a high-tech trove of medical technology that includes digital radiography equipment, camera-mounted endoscopes, and laser surgery devices. Meanwhile, an onsite pharmacy vends prescribed medications for all animal ailments, including tennis ball jaw. For pet parents going out of town, the center's boarding resort houses cats, dogs, birds, and exotic pets in their own separate, climate-controlled facilities.
4209 NW 37th Pl.
Gainesville
Florida
352-373-8055
Just beyond the wrought iron gates and cobbled stone walls that stand at the entrance to Young's Paso Fino Ranch, Paso Fino horses from some of the breed's most esteemed bloodlines gallop across green fields and rustic meadows. Renowned for their naturally smooth gait and personable dispositions, the steeds whinny their greetings to visitors who arrive at the ranch for farm tours, riding lessons, and leisurely trail rides. To further endear themselves to the horses before saddling up alongside the ranch's experienced guides and instructors, new riders are encouraged to bring along carrots and wear their finest hay-scented perfumes. When the afternoon sun beats down on the farm's open pastures, riders can seek shade in the on-site tack and gift shop, where saddles, reins, and souvenirs swing from wooden walls. Aside from daily rides and lessons, the ranch offers full-service boarding in a barn with clay flooring and a covered viewing pavilion.
8075 W Hwy. 326
Ocala
Florida
352-867-5305
Although Sue Towler developed a steadfast work ethic during 24 years of service in the United States Air Force, it's her love of dogs that continues to bring out the best of her nature. Before opening The Barking Lot, where she and her staff of canine devotees lovingly provide dog boarding and daycare services, Sue started a home pet-sitting service and a no-kill animal shelter, both of which she still runs. At The Barking Lot, pooches frolic together on a grassy playground during playtime, monitored by the staff in case a debate about the president's dog's foreign-policy experience gets out of hand. At night, boarding pups settle into tiled suites and air-conditioned kennels.
281 S McDuff
Jacksonville
Florida
904-384-2111
The groomers at Grateful Dog Grooming like to say that they treat every fur-covered client like a member of the family—which isn't surprising given they have team members such as Sally, a spunky Boston terrier, making regular appearances and greeting visitors with wide grins. Within the shop's warm orange walls, groomers give dogs and cats an all-over styling with services such as bathing, teeth brushing, nail filing, and hot-oil treatments. Staffers can even give pets a bit of style by adding a decorative scarf or a gold-rimmed monocle before owners return to retrieve their four-legged pals.
104 College Dr., Suite 1
Orange Park
Florida
904-874-0395
A shuttle bus pulls up to the curb, and a Dogs Rule staff member leads another drowsy charge to its front porch. This pooch is knackered, having spent all day carousing at Dogs Rule, a leash-free dog-care facility whose wall-mounted "BEWARE OF THE DOG" sign belies the canine camaraderie within. As pooches enter the facility, the staff separates them into groups according to age, temperament, and size, and watches over the pups as they wrestle in the outdoor play lot's dirt, chase soap bubbles, splash in the pool, or strategize table-side manners in the play house. Overnight guests—whether feline or canine—bunk down in crates at night. Dogs Rule's groomer Diane Lyons, herself an owner of four dogs, backs up her passion for canine coiffures with 29 years of grooming experience.
During their pets' time at Dogs Rule, owners can opt for grooming sessions or vaccinations at an additional charge. All proceeds from the facility benefit the nonprofit AHHHHA, which finds homes for abandoned animals and offers low-cost spay and neuter services to pet owners.
501 SE 2nd St.
Gainesville
Florida
352-505-0019
---