Gainesville Spa and Massage
---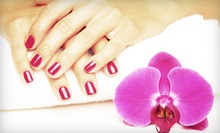 A licensed nail technician pampers digits with classic manicures and pedicures
---
Recommended Spa & Massage by Groupon Customers
---
Bobbilee Jadwin has a healing touch. Through massage services that use kneading, stroking, and stretching, she helps clients manage their pain and improve their range of motion. Her services include time-tested Swedish and deep-tissue massages as well as such innovative techniques as bamboo fusion, which uses warm bamboo of different shapes to apply deep pressure and ease tension. Aromatherapy oils enhance relaxation, unlike car alarms that just play facts about mountain-lion attacks. The studio is also full of Tibetan singing bowls, bell-like gongs with a slow-building harmonic sound that swells slowly and aids in meditation.
4720 Salisbury Rd. S, Suite 241
Jacksonville
Florida
904-219-7833
At Custom Massage by Cana, licensed muscle whisperers neutralize symptoms of stress with thorough kneading services, complemented by a suite of facials, chemical peels, and waxing treatments. Muscles melt under the ministrations of nine massage modalities, ranging from the gentle petrissage and effleurage strokes of Swedish massage to aromatherapy, which harnesses ambient vapor and topically applied essential oils to soothe minds and clear away scent memories from time spent lost in an orange grove. Patrons can recline on luxurious massage tables, surrounded by neutral-toned walls hung with artistically rendered om characters, or for a $20 additional fee, waived for handicapped customers, staffers can coddle bodies in a home visit.
1628 San Marco Blvd., Suite 14
Jacksonville
Florida
904-434-2148
South America may seem like an odd place to learn shiatsu massage, but that's where Alfredo Araujo first discovered his passion for it. Born in Brazil, a country with a large number of Japanese immigrants and strong ties to Japanese culture, Alfredo began studying shiatsu techniques. He came to the United States to continue his education and earn his license, learning Swedish, sports, deep-tissue, and hydrotherapy modalities along the way. Today, Alfredo aims to reduce pain and promote relaxation with his soothing treatments.
4833 SW 91st Terrace, Suite 102
Gainesville
Florida
352-328-9121
Parisian Spa Institute is a "student driven" institute, training the next generation of beauticians in cosmetology, nail technology, skincare, massage services. The spa specializes in nail services and enhances every digit with knowledge of trending styles and an arsenal of acclaimed brands, including Minx, Shellac, and OPI Shatter. Private spa treatment rooms situated along a quiet corridor invite customers to take relaxing escapes with Swedish, hot-stone, and deep-tissue massages or polish up their countenances with eyebrow threading.
1045 Riverside Ave.
Jacksonville
Florida
904-350-9796
In a sage-colored chamber within Mosaic Salon Studios, Zen Soul Therapy's Deven McPhaul orders tiny, rainbow bottles of essential oils by color and begins heating her set of smooth stones. These are the simpler tools of her trade—the most important and complex, of course, are her nimble fingers. McPhaul studied massage therapy at the Concorde Institute, developing her strength and precision with rehabilitative deep tissue and trigger-point therapies, and practicing a flowing delivery of Swedish massage's five refreshing strokes and whispered rap lullaby. Since massage can ease both physical and emotional pain, she considers it part of a holistic wellness program for each client that could incorporate energy work.
8613 Old Kings Rd. S, Bldg. 401
Jacksonville
Florida
904-373-9638
Derrick Henderson, licensed massage therapist and owner of Living Healthy Massage, has encountered all manner of muscle-related ailments and is always up for the challenge of treating a new one. He dedicates himself to his patients' recovery, discerning the root cause of aches and pains and customizing treatment plans based on his findings. The type of massage he performs varies based on the patient's individual issues, but include Swedish techniques that can reduce tension, and lomi lomi, a Hawaiian practice that combines deep-tissue massage and breathing exercises to encourage full-body relaxation. In addition to his muscle-mending services, Derrick removes excess wax from ears with candling treatments, and dips hands, feet, or the LA Times in warm paraffin to help increase circulation.
2801 SW College Rd., Suite 6
Ocala
Florida
352-817-8823
---