Shopping in Gaithersburg
---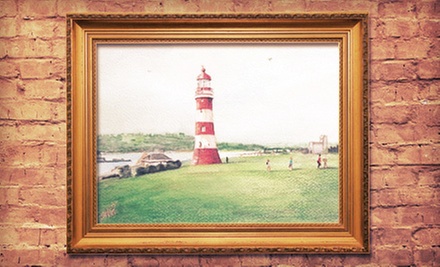 ---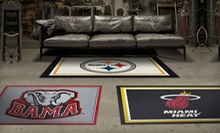 A 10-year warranty backs all sizes of Stainmaster nylon rugs that proudly display NFL, MLB, NHL, NBA, and college team logos
---
Recommended Shopping by Groupon Customers
---
Unlike your special lady's cucumber-melon rain-sprinkle lotion, the Combat-Ready Balm soothes razor burn and the effects of eczema and psoriasis, removes the itchiness from bug bites and scratches, and relieves sunburned, dry, or irritated skin. The balm has even seen combat while serving the dermal needs of American troops in Iraq and Afghanistan. Skincando products, with their no-frills packaging and intense bold labels, not only mean business, they mean war.
1 Columbia Ave.
Takoma Park
Maryland
202-215-8991
A well-placed splash of sparkle from Ice can transform even the dowdiest duds into formal wear while drawing the human eye to any place you want it to go. Draw attention to your slender wrists and away from your third eye with a 925 bangle studded with clear cubic zirconias ($52) or a large stone bracelet ($50). Likewise, you can show off the toned earlobes you worked so hard to achieve at boot camp with some platinum-bonded hoop earrings shining with Austrian crystal ($48). And nothing says "Hey, look, décolletage!" like a five-flower, cubic-zirconia necklace ($52). You can also get a two-tone black onyx pendant ($36) or square and round stackable rings ($32) without breaking your bling budget. The website offers only a sampling of what you'll find in-store, so be ready to browse, just like when you spent two hours at the pet store because you couldn't figure out which puppy took your wallet.
7101 Democracy Boulevard
Bethesda
Maryland
301-365-3330
Zelaya Shoes of Bethesda is a footwear palace housed beneath a cheery pink awning. Prices at Zelaya range widely; pick up a pair of Sweet Caroline Yellow flats from Chinese Laundry for $39 or a luxurious pair of Daquelo taupe suede booties from Chie Mihara for $349. Keep your torso firmly attached to your hips with a black suede zipper-detail belt from J.J. Winters for $165.
4940 St. Elmo Ave.
Bethesda
Maryland
The word that best describes Sterling Silver Scuba's instructors is passion. That's because every one of them pursued it as a hobby before ever considering it professionally. Through countless hours of live dives and certification courses, they've become experts, and they share their knowledge during regular PADI classes. From specialized lessons on search and recovery or underwater naturalism to master diver or digital underwater photography, the classes prepare students for every aspect of open water exploration. Once students are certified, the school leads trips around the world to explore exotic locales such as the Bahamas, Mexico, or Donald Trump's 2,000,000 gallon bathtub for his dolphin wife.
1102 West Church Road
Sterling
Virginia
703-421-3483
The Denim Bar serves up frothy mugs of stylish designer denim to the mid-Atlantic's chic shoppers, with an array of men's and women's jeans and more. Gents can comfortably cover regrettable calf tattoos with a pair of Naked & Famous slim guy jeans in black selvedge ($125), while ladies can gussy up gams with Acne Hex in Prod skinny jeans ($149). Other designer brands on tap at Denim Bar include AG, Nudie Jeans Co., Citizens of Humanity, 4 Stroke, and Sugar Cane & Co. For customers desiring non-denim duds, Denim Bar also offers apparel that hasn't been mined from the earth's natural jeans deposits. Bedeck your torso in the spirit of modal jazz with a Friend or Foe John Coltrane T-shirt ($48), or coax catcalls from cumulus clouds with the Three Dots Desert Night bandeau dress ($115). An assortment of accessories rounds out the Denim Bar inventory, with socks, sunglasses, and jewelry tempting fashionistas and stylesters alike.
4939 Cordell Ave.
Bethesda
Maryland
At ModernRugs.com, you'll find a variety of thoughtfully constructed floor art by contemporary designers such as Calvin Klein, Martha Stewart, and Nani Marquina, and master crafters from around the world. The site's enormous selection of colorful groundsheets offers a respectful covering for even the most shamefully exhibitionistic tile or wood panel. Designer Thomas Paul gives soles something to tread softly upon with the 3'x5' coral-cream-orange rug ($289), whereas a 2'x3' Soho-style Crinkle CRK-1602 Black Shag ($115) rug tickles toes with soft felted wool tresses that are just the right color for spilling dark-colored liquids or hiding dark chocolate truffles. ModernRugs.com also offers an array of child-themed floor drapes so that you can instill a love of statistics in your squirt's subconscious by adorning her room with the 2'x3' Numbers Game rug ($249).
4 Delford Ave.
Silver Spring
Maryland
---