Nightlife in Galion
---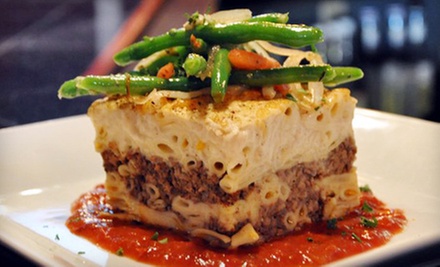 ---
Recommended Nightlife by Groupon Customers
---
Comedy has come a long way since Trog the Cavemedian and his side-splitting "murder the audience" act. See the progress for yourself with today's Groupon: $5 gets you admission to an improv show by comedy troupe Something Dada (a $10 value). There's nothing funny about free parking, but you get that, too.
1900 Superior Ave.
Cleveland
Ohio
Vino 100's experts selectively pluck wines from wine trees around the world and offer their bounty to discerning oenophiles for $25 a bottle or less. This Groupon is only good at the Loft Bar, which offers all of the bottles at Vino 100 (plus a $5 opening fee), as well as a rotating menu of wine flights and glasses. Scour the thoroughly vetted selection of 100 bottles for that palate-bending pinot with subtle notes of square watermelon using Vino 100's innovative Wine Barometer. Affixed to each bottle, the Wine Barometer shows two scales, rating body from light to full and flavor from fruity to dry. Labels also include essential information about vineyard and vintage. If you take your wine with Cheetos, the Wine Barometer will advise whether your cabernet will better accompany the Original or Flamin' Hot variety.
789 N High St.
Columbus
Ohio
Fans of battered appetizers will appreciate Mudflats' expansive selection. Dunk fried pickle chips into vats of ranch ($5.49), or try the potato skins ($6.99), full loaded with melted cheddar, crispy bacon, and sour cream. For those preferring a lighter bite, opt for a signature salad such as the Sunburst ($9.99), a fresh and fruity favorite with baby spinach, fruit, feta, red onion, nut brittle, and homemade cinnamon Tabasco vinaigrette. You'll also find a sizable list of sandwiches and burgers.
31 W Columbus Street
Galena
Ohio
See You Thursday is a winsome Chicago-style troupe of quick-witted improv artists highly experienced at taking the squishy gray clay of the everyday and whittling it into hilarious pieces of glazed and kilned laughter-vases. Over the course of an hour, SYT will perform a wide array of characters subject to audience-suggested themes without a single page of script paper, as everything said and done is an invention of the moment thanks to off-the-cuff comedic wizardry from fast minds and a shared telepathic improvisational energy shared between all of the company members.
2491 Summit St.
Columbus
Ohio
After the doors swing open, The Big Bang regales guests with an evening of food, drink, and rambunctious sing-alongs with their crooning cronies. Slap on your party wristband, and you'll receive access to an exclusive party section or patio (weather permitting), a catered buffet, and first-round drinks for only one penny each. Once you've consumed the regulation amount of food and drinks, sing your song onstage in a lilting falsetto or river-dredging baritone. Onstage, a rotating handful of multi-talented melody makers and a team of beer-fueled patrons take turns bleating their favorite bar tunes. Dramatic ivory-fueled combat comes further supplemented by vibrating bass, explosive drums, laser-guided keytars, and other musical weaponry. They'll take any request you like, and their repertoire spans from rollicking rock classics to modern noisemakers such as hip-hop wonder and minor character-actor Xcalade. t the spacious wooden bar for the duration of the party. An energetic, round-the-clock live show encourages hip shaking and feet shuffling under the dim lighting, where the concrete floor lays beaten and defeated from years of foot poundings.
401 N Front St.
Columbus
Ohio
Wonder Bar delights patrons with delicious drinks, delectable gastropub fare, and the promise of frequent live music. The comprehensive drink menu boasts a meaty assortment of 30 beers and 15 wines, including selections from the local Great Lakes Brewing Company. Palates craving a sip of something stronger can patrol a list of Wonder Bar's inventive cocktails, such as marriage of red rice sake and sparkling wine known as the Sake-Tini, or the debauched childhood favorite known as the Root Beer Float (Three Olives root-beer vodka, Bailey's, and Coke). Channel the romantic potential of a retired Pog designer while drinking absinthe La Louche —served traditionally with water and sugar cube—or pair the herbal elixir with sparkling wine for a Death in the Afternoon.
2044 E 4th St.
Cleveland
Ohio
216-298-4050
---