Things to Do in Galion
---
Recommended Things to Do by Groupon Customers
---
Since 1985, Trolley Tours of Cleveland has shuttled more than one million riders around the city aboard its fleet of open-air, bright-red trolleys. Winding along an approximately 20-mile route, the city tour showcases some of Cleveland's most iconic sights, including the Victorian homes of Ohio City, the Rock and Roll Hall of Fame, and downtown, where an eclectic mix of modern and historic architecture stretches skyward to amaze passersby and to high-five low-orbiting superheroes. Personable, professionally trained guides accompany the nationally known tour with Cleveland-centered facts and stories.
Aside from untangling urban avenues with informational junkets, Trolley Tours of Cleveland also makes its wheels available for conventions, weddings, and more, enabling businessmen and bridesmaids alike to avoid having to hitch rides on vigorously tossed bridal bouquets.
2000 Sycamore St.
Cleveland
Ohio
It is no secret that Cleveland native, autodidactic historian, and self-proclaimed people person Karl C. Johnson loves his city. After learning everything there is to know about the Sixth City's rich history, he decided to put his newfound knowledge to use by crafting his own distinctive tours that replace standard architectural jargon with vibrant yarns involving history, politics, and personal experiences. He leads his jaunts on segways, buses, limousines, or on foot. During segway tours, Karl gives his guests a choice in the amount of narration he performs, from moderately narrated tours that cover more ground to fully narrated tours that progress more slowly. If guests prefer to travel by bus or automobile, Karl will highlight specific areas of the city that his guests desire to see, such as Public Square or the rack where they hang the key to the city.
230 W Huron Rd., Level M3- Suite 100.31
Cleveland
Ohio
216-548-9193
When owners Nancy Kanter and Julie Byrne founded Clay Café more than 14 years ago, they wanted to establish a cozy, unpretentious environment where families could spend quality time pottery-painting and embarking on other art projects. Describing what they envisioned to the Columbus Dispatch, Byrne stated, "We kind of wanted a grandma kitchen—something homey." At Clay Café, visitors might forget they're not relaxing in their own homes amid the studio's popular mismatched chairs, flower tablecloths, and resident father yelling at a sports game on TV. The hospitable owners invite guests of all ages to let their artist instincts run wild during open-ended potter-painting sessions, and they host an array of special events including baby showers and birthday parties.
1431 West 3rd Avenue
Columbus
Ohio
The 4,000 square feet of climbing space at Vertical Adventures encompasses terrain for top roping, bouldering, and lead climbing under the watchful supervision of a trained staff. The gym challenges wall scramblers to test both their physical endurance and problem-solving skills as they take on the top-rope courses, which represent the majority of the routes and tower as high as 25 feet. Rather than let new patrons become overwhelmed by the variety of courses or get stranded at the top without reading material, the gym's instructors also conduct lessons for all climbing levels to help climbers improve technique and conquer fears.
6295 Busch Blvd.
Columbus
Ohio
The Columbus Museum of Art dazzles eyes and tickles imaginations with a broad collection of 19th- and early-20th-century American and European artwork, as well as a cavalcade of traveling exhibits. Wear a realistic beast-man costume to the current exhibition Fur, Fins, and Feathers, which spotlights animal motifs within the museum's collections, from Inuit carvings to live armadillos posing as statues (runs through June 5). The permanent exhibit Old Masters captures subtleties of shadow, 19th-century American works encompass vast landscapes, and the extensive Late Modernism and Contemporary assemblage implodes luminous colors in twisting, spiraling transformations. Meanwhile, the museum's 18,000-square-foot Center for Creativity includes a technology lab and hands-on, kid-centered artistic projects to get children interested in fine art at an impressionable age, keeping them from becoming work-a-day doctors and lawyers.
480 E Broad St.
Columbus
Ohio
Great Lakes Theater's rich history dates back to 1962, when an English professor and his traveling Shakespearean theater troupe finally found a home to regularly perform classic plays. Today, the theater continues its mission to ignite a passion for the performing arts throughout the community by revisting celebrated theatrical works for as as wide of an audience as possible. In its eight-month seasons, Great Lakes' resident theater company stages an array of productions, including Shakespearean plays and Broadway classics, in its recently renovated theater, which was originally built in 1921. Inside, wide-eyed audiences marvel at the structure's marriage of modern and vintage elements, such as state-of-the-art lighting equipment operated by technicians who only speak in iambic pentameter.
1519 Euclid Ave.
Cleveland
Ohio
---
---
Things to Do Deals - Recently Expired
---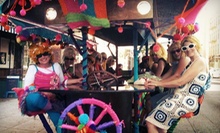 Central Business District
This fun pedal-powered adventure on a 15-person party bike tours Columbus's Short North and stops at four watering holes
---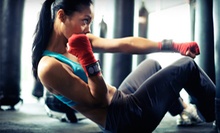 In 45-minute sessions, trainees push themselves at various stations during timed intervals
---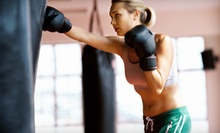 Master proper form for jabs, crosses, and hooks—the boxer's basic punches—before toning up with an intense core workout
---
---