Gallatin, TN Outdoor Activities
---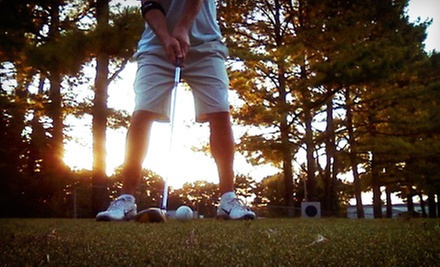 ---
Recommended Outdoor Activities by Groupon Customers
---
Calico Jacks Boat & RV Rentals supplies pontoons that skitter across Old Hickory Lake as well as motorboats and RVs that up the entertainment and convenience ante of outdoor getaways. The stable of land and water vehicles, available to rent or to buy, suits day trippers and serious boaters combing the water's depths for first-edition copies of Moby Dick. After collaring a seaworthy boat, customers can venture out with a professional fishing guide to find an ideal angling spot.
2001 Lakeshore Dr.
Old Hickory
Tennessee
615-881-4457
Though the staff at Honeysuckle Hill Farm cultivates livestock and crops of seasonal produce, its other chief resource is outdoor adventure. Through their seasonal tours, farm staffers teach adults and children about farm operations, the basics of agriculture, and which fabrics scarecrows find itchy. They also give visitors a chance to work their way through labyrinthine corn mazes. At birthday parties, younger visitors can pet the resident animals, pan for gemstones at an artificial stream, and race each other in pedal-powered carts. Away from the fields, Association for Challenge Course Technology–certified guides and their guests soar down a one-mile zipline course designed and built to ACCT standards. The guides lead tours through the course's three elevated towers, three canopy-level bridges stretched across Battle Creek, and eight ziplines, which they maintain daily to chase away loitering vigilantes. Along the way, guides showcase their knowledge of the creek's history while pointing out local flora and fauna.
1765 Martins Chapel Church Rd.
Springfield
Tennessee
615-382-7593
Meadows of wildflowers and towering trees border the Caney Fork River on both sides, providing a refuge for deer, herons, turkeys, and hundreds of other bird species. With a fleet of canoes and kayaks as well as shuttle service straight to the riverbanks, Canoe the Caney makes it easy to explore this river's natural beauty. Though the current bustles along at a slow and steady pace and the banks are usually 30 yards apart, Canoe the Caney staff still holds safety as its highest priority. The staff provides everyone with life jackets and review safety guidelines before giving paddlers permission to depart.
In addition to 6-mile and 9-mile trips down the river, Canoe the Caney also facilitates more playful adventures, including romantic picnic outings and a pirate adventure that invites paddlers to hunt for Captain JaBez's long lost contact lens.
17055 Smithville Hwy.
Silver Point
Tennessee
931-858-2628
Across Xtreme Paintball's two outdoor fields, colorful salvos paint the sky as opposing gunsmiths duke it out during simulated battles. Red-and-black inflatable cover peppers the speedball field, guarding teams from enemy fire. The warzone field sets the stage for intense scenarios such as capture the flag and team elimination, during which players attempt to mark each opposing paintballer or stick a Kick Me sign to their back. Both open-air arenas play host to casual paintball outings, special events, and league play.
Xtreme Paintball's safety-focused experts monitor each 3–10 minute skirmish. The staff also checks over equipment between each game, whether players rent their gear or airdrop it in from home.
205 McCown Dr.
Lebanon
Tennessee
615-617-0201
Professional sportsman Chris Nischan chaperones the curious through the majesty of local nature as a wilderness, hunting, and fishing guide. A previous winner and many-time selected competitor of the Field & Stream Total Outdoorsman Challenge, he has mastered knowledge of diverse ecosystems from North Carolina to Belize. After earning a degree in wildlife management years ago, Chris moved on to a stint in the retail sporting goods industry before becoming a full-time guide and teacher. His guiding resumé now stretches 30-plus years and includes escorting big game hunters and Ernest Hemingway impersonators through the woodlands of Montana for 11 years. Upon touching wading boots down in Tennessee, he promptly decoded the way of the state's trophy bass, trout, and other warm- and cold-water species and now puts that knowledge to use for his clients. All these years as an outdoorsman have given Chris many soul-sustaining encounters with Mother Nature, including a life-changing encounter with Leisha, his wife of 14 years, whom he met on a guide outing.
5211 Maryland Way
Suite 1080
Tennessee
615-385-1116
For more than 20 years, Juro Stables' husband-and-wife owners—Sara and Roger West, riding enthusiasts with backgrounds in the entertainment industry—have been instilling equestrian ardor in their students with guided trail rides and horseback-riding lessons. Dedicated to granting visitors of all ages and experience levels a chance to saddle up, the dynamic duo maintains a fleet of friendly horses that vary in size and temperament to ensure that each rider is paired with a suitably matched steed. Sage guides lead trail rides around the scenic landscapes surrounding the stables, wending past sites including active 6-foot-high creeks, ruins of old 19th-century homesteads, and wagon wheels carelessly left behind by litterbug pioneers. A cadre of expert instructors imparts their horse sense upon students during group and private lessons, and outdoor enthusiasts can continue to commune with nature during post-lesson revelries amid onsite primitive camping and cooking facilities.
735 Carver Ln.
Mt. Juliet
Tennessee
615-773-7433
---