Garden Acres, CA Outdoor Activities
---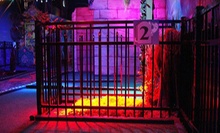 Graveyard-themed mini-golf holes wind through gothic architecture, crypts, and skeletons peppered across indoor course
Use Monday 2:00pm - 9:00pm
---
---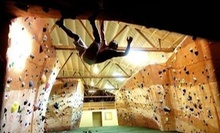 12 inches of seamless padding cushion any falls as climbers scale 18-foot-high top-out boulders and hang from an indoor cave
Use Monday 9:00am - 7:00pm
---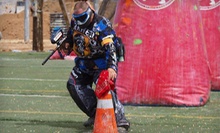 Three hours for two in a field with obstacles and bunkers; each person gets a marker, a mask, a barrel cover, 500 paintballs, and air
Use Today 8:00am - 12:00pm
---
Recommended Outdoor Activities by Groupon Customers
---
Today's Groupon rents you a way to see the world without using your walkingwheels or automolegs. For $30, you can float or pedal with $60 worth of boat and bike rentals at Shoreline Lake Aquatic Center and Café. Shoreline Lake Aquatic Center provides equipment to explore Shoreline Lake, a safe and scenic waterway that was built for sporting on the doorstep of sunny Mountain View.
3160 N Shoreline Blvd.
Mountain View
California
US
Flying chromatic spheres splatter across the turf and cover of Midway Paintball's six fields situated on 22 acres of woodlands and open spaces. Protective rental gear and paintball markers aid games of elimination, capture the flag, and save the king. The western field's buildings shelter tactical retreats, and the hyperball field's huge prone cylinders of corrugated piping allow for cat-like surprise attacks or intimidating sudden naps. Dotted with inflatable cover, the astroturf-covered NPPL–regulation field presents an ideal arena for professional-grade matches.
4901 Midway Rd.
Vacaville
California
707-399-9400
Founded in 1978 out of a love of the plentiful whitewater rafting around Sacramento, W.E.T. River Trips has been outfitting rafters and leading trips continuously for the last 34 years. They maintain a ratio of one guide per six to eight guests on their trips to ensure less crowded boats and to make each trip more intimate and personal. W.E.T.'s tours explore more than 18 rivers' rapids ranging in difficulty from Class II to V. Trips often include camping, meals, river stories, and musical entertainment provided by the staff.
5461 Bassi Rd.
Lotus
California
To Action Whitewater Adventures' guides, setting is everything. During their full-day excursions, guides and groups mounted in rafts battle Class III and IV rapids just to make their way to a gourmet deli lunch set against the backdrop of the lush Lotus River Valley. Of course, they might argue the fun part is getting there.
They lead excursions down both the South and Middle Forks of the American River, some of the most popular rafting waters in the nation. On the South Fork, they conduct the "Chili Bar" run, a trip that covers up to 21 miles favored for its rough-and-tumble class III rapids and stellar countryside. The Middle Fork provides even rougher-and-tumbler Class IV rapids, the 18-mile journey punctuated by clear-flowing stretches populated by trout and adorable baby Poseidons.
5461 Bassi Rd.
Lotus
California
Surrounded by craggy peaks, three men in bright-red helmets stand in the midst of wilderness, surveying the mountains around them as the group of hikers they're leading breaks for a snack on the rocky ground. This interface with the majesty of nature is all in a day's work for this trio of adventurers—Paul Mangasarian and Jakob and Daniel Laggner—and yet their passion for open-air exploration grows with each expedition they lead. Paul, Jakob, and Daniel cofounded Treks and Tracks with the dream of orchestrating excursions into nature that combine ancient means of travel, such as sailing, horseback riding, and hitchhiking on a centaur, with modern sports ranging from surfing to rock climbing. Though they focus on introducing novice outdoorsfolk to unspoiled wilderness around the world, Treks and Tracks' cofounders also strive to leave the awe-inspiring surroundings they visit as pristine as they found them by rigorously upholding practices of environmental stewardship on each expedition.
15000 Skyline Blvd.
Los Gatos
California
AeroDynamic Aviation owner and chief pilot Zdravko took his first flight at the ripe old age of 2 months. As his baby eyes looked out the window of the DC-3 airliner, watching the houses grow smaller and smaller and the clouds become his companions, the idea of flight bored itself into his mind. Zdravko has now racked up more than 7,000 flight hours—most of them as a flight instructor—and completed taildragger and acrobatics training with Amelia Reid, a pioneer of female flying and the 1960 founder of the location's original flight school.
Together with his fellow FAA-certified instructors, Zdravko shares his passion for flight via sport, private, commercial, and aerobatics training. The staff is dedicated to educating pilots on tailwheel aircraft and teaching true stick-and-rudder flying, which is much more reliable than using leather reins attached to each wing.
2650 Robert Fowler Way
San Jose
California
---