Things to Do in Garden Acres
---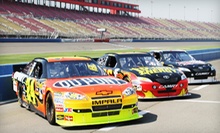 Professional drivers sate passengers' need for speed in stock cars during exciting ride-alongs and racing experiences
---
Recommended Things to Do by Groupon Customers
---
A charter member of the MLS, the San Jose Earthquakes played their first four seasons as the Clash before claiming the MLS Cup in 2001 and 2003. Though the team moved to Houston in '05, the franchise was reinstated in '08, bringing professional soccer back to the Bay Area. Buck Shaw Stadium serves as the team's current home, though a new stadium will shoot skyward in 2014, complete with luxury suites for fans and exhausted referees alike.
500 El Camino Real
Santa Clara
California
Poised briefly on the edge, jump-suit-clad guests gaze down at Northern California's rolling landscape as it sprawls out thousands of feet below. The whir of the 850-horsepower Cessna Grand Caravan drowns out the sound of a deep breath before a small jump transforms the mechanical din into a constant, enveloping whoosh as adventurers rush toward the ground in free fall. Established in 1987, Skydance Skydiving has engineered such peerless adrenaline rushes for thousands of thrill seekers, ensuring safety through training and expertise. Tandem jumps keep newbies in the able hands of attached professionals, who deploy the 'chutes and prevent their charges from realizing that all humans possess the power of flight. Prospective solo jumpers can enroll in classes that gradually work up to an unassisted jump, following thorough classroom training and assisted jumps.
24390 Aviation Ave.
Davis
California
US
A chalky hand swings over the top of the wall, grasping onto the red hold embedded in its surface. After a tense moment, a second hand swings up, pulling the rest of the climber's body up with it. Having successfully scaled 18-foot top-out boulder, the climber scurries back down the wall she has just conquered, swapping places with her spotter below.
This cycle repeats throughout the day at Bridges Rock Gym, spurred on by a crew of climbing enthusiasts and instructors who initiate people into the low-altitude sport of bouldering. That form of climbing emphasizes solving climbing problems and chasing archaeologists through ancient caves. The gym unleashes visitors' inner mountain goats with their well-maintained climbing facilities, including an overhanging indoor-climbing cave that thoroughly punishes muscles into growth and top-rope climbing walls that help beginners get the hang of scaling the crag.
While specializing in the art of ascents, Bridges also bolsters patron fitness. Yoga and fitness classes, as well as a fleet of cardio equipment, facilitate heart-strengthening workouts. Waves of free WiFi allow mountaineers uninterrupted access to videos of their pet rocks, best enjoyed with a grilled sandwich or all-fruit smoothie in the gym's organic café and lounge.
5635 San Diego St.
El Cerrito
California
US
510-525-5635
Led by former NBA point guard and first-year head coach Mark Jackson, the Golden State Warriors charge into the second half of the season. Veteran guard Monta Ellis blows by defenders with an average of 22.2 points per game while forward-center David Lee muscles out under-the-basket rivals for an average of 9.7 rebounds per game. Rookie guard Klay Thompson keeps opponents guessing with the ability to drop shots from all over the court and the inexhaustible supply of riddles he declaims during commercial breaks.
7000 Coliseum Way
Oakland
California
510-383-4982
---