Restaurants in Garden City
---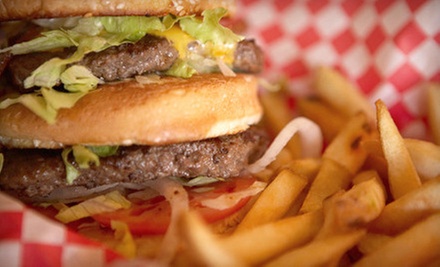 ---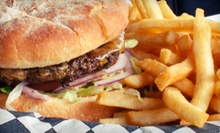 Juicy burgers, fish 'n' chips, grilled sandwiches, and other classic eats, plus creamy milk shakes in 19 flavors
---
Recommended Restaurants by Groupon Customers
---
The aroma of freshly baked bread fills Souper Salad, and a rotating buffet nourishes diners with wholesome fare such as handcrafted soups and an expansive salad bar. Vegetarian, vegan, gluten-free, and sugar-free labels guide eaters of every ilk as they peruse deli favorites, including Tuna Skroodle pasta salad brimming with rotini noodles. Salads are created with more than 30 toppings, from zucchini to hot-and-spicy peanuts. Ladles fill bowls with different varieties of soup every day, including broccoli-cheese soup seasoned with white pepper. After dinner or before it even begins, a dessert buffet sates sweet cravings with gingerbread rolls, and oreo crumbles, caramel, and other toppings to cap soft-serve ice cream.
3327 N Eagle Rd , Suite 170
Meridian
Idaho
208-884-4490
Johnny's Pizza massages dough into puffy pizza crust before arranging toppings such as bacon, green peppers, pineapple, and fresh tomatoes. Heaps of curated toppings pile on to Johnny's specialty pizzas, which include the spicy hawaiian with pineapples and jalapeños or the garlic chicken with bacon and white garlic sauce. On the side, orders of breadsticks come with a choice of cheesy garlic, italian herb, or spicy Cajun marinara sauce, a hybrid created with tomatoes grown in New Orleans's spicy soil and watered with Italian olive oil.
1526 N Main St.
Meridian
Idaho
208-888-4857
The Brickyard's dining room is dominated by dueling grand pianos that often tinkle under the touch of jazz musicians. Like jazz, the restaurant straddles casual and sophisticated tastes. Lunch is a more laid-back affair of booths, burgers, and sandwiches. In the evening, the restaurant glows from Boise's historic 6th & Main area as well-dressed patrons dine and sip cocktails. Piano tunes complement the textures of executive chef Drew Ledger's signature steaks, certified Angus slabs centered on wide-rimmed plates. Ledger puts a premium on local ingredients, provisioning his cooks with chicken, potatoes, and ocean halibut raised in Idaho.
601 W Main St.
Boise
Idaho
208-287-2121
Every day, Asiago's kitchen staff crafts fettuccine, gnocchi, and linguine in-house to form the basis of their Old World–inspired pasta dishes. These dishes share menu real estate with made-to-order entrees spotlighting flavorful italian cheeses, fresh herbs, and succulent cuts of meat, poultry, and seafood. The chefs also strive to accommodate special diets, purging their food of everything from carbs and gluten to the color orange.
Old World inspiration infuses the restaurant's decor as well. Early 20th century posters hang on the dining room's exposed-brick walls, and Italian tile floors glisten beneath an aged plaster mural of the iconic boot-shaped geography of Italy.
1002 Main St., Boise
Boise
Idaho
US
208-336-5552
Following family recipes passed down for three generations, the chefs at Jalapeno's Bar & Grill assemble meaty fajita platters and original chicken, vegetarian, and seafood dishes simmered in homemade sauces. Using only fresh ingredients and certified Angus beef, chefs create meals that feed many of the senses, especially diners' hungry, hungry eyes. Daily happy hours from 3 p.m. to 6 p.m. encourage patrons to sample the bar's vast selection of premium tequilas blended into their margaritas, as well as well liquors, wines, and bottled and draft beers.
8799 W Franklin Rd.
Boise
Idaho
208-375-2077
Mobilizing more than 25 years of catering experience, Rachel Hurn— owner of Seasons Bistro, Wine Bar & Catering—blends a Cajun-influenced eatery with a door-to-door catering service that earned a Bride's Choice Award from WeddingWire in 2010. Within the bistro, paninis and salads incorporate flashes of Louisianan flair, such as spiced shrimp, remoulade sauces, and improvised jazz steps. As diners nab forkfuls of Cajun shrimp buerre blanc, occasional live music wends its way through the dining room, complementing the complex notes of an extensive range of hand-selected wines. Alternatively, multicourse catered meals add a splash of elegance to both corporate and private events with formal place settings and French- and Italian-themed menus.
1117 E Winding Creek Dr.
Eagle
Idaho
208-939-6680
---