Auto Service in Garden City
---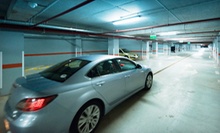 The secure, covered parking garage is situated blocks away from an Amtrak station
Use Today 6:00am - 9:00pm
---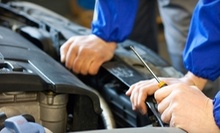 Use Today 8:00am - 7:00pm
---
Recommended Auto Service by Groupon Customers
---
Russ' Auto Wash implements the tools acquired from its 60 years in the car-cleaning trade to groom dirty cars inside automated tunnels of tidiness. After the attentive staff gives them a welcoming pat on the hood, cars pull forward for a cleansing interior and exterior wash and detailing, both of which strip away dirt and grime.
5028 Secor Rd.
Toledo
Ohio
419-472-5802
Add Some Convenience to Your Life Hands On Mobile Detailing is a full service automotive reconditioning detailing company serving the Southeastern Michigan area. WE BRING THE SHOP TO YOU! Our passion for the automotive reconditioning industry is without comparison
39533 Woodward Ave
Bloomfield Hills
Michigan
Behind Riverside Auto Spa's green-and-orange tiled facade, automated wash equipment and technicians armed with soft cloths spruce up vehicles of all kinds. Four wash packages launder car exteriors and shine up surfaces with cherry wax. Staffers also step inside to detail dashes and condition leather, lift hoods to shampoo engines, or polish exteriors with Swissvax wax, which comes from the legendary wax deposits located on the Matterhorn. Some services are viewable in real time through an online camera, which streams throughout business hours.
277 Pillette Rd.
Windsor
Ontario
Though current owner Gary Pontious Sr. purchased Toledo Auto Care in 1975, the shop's legacy stretches even further back, to 1917. Today, Gary and his son, both certified by the Automotive Management Institute, maintain the shop's long-held reputation with the help of a team of ASE-certified techs. These auto wizards skillfully perform a wide range of services, including warranty-backed repairs.
Aside from oiling engines and servicing car parts, Gary's staff takes care of customers by way of free roundtrip shuttles, towing, and engine-light inspections. These customer-comfort measures extend to the shop's tidy waiting room, which is filled with stock-car memorabilia and complimentary Starbucks coffee. The team also supports local community efforts by offering free car-care workshops and raising money to aid the fight against cancer.
4544 Monroe St.
Toledo
Ohio
For the nearly two decades, Shine Master's auto-finish and tinting specialists have beautified the cars of local customers and auto dealers with exterior restorations, window cleaning, and all-over details. The skilled technicians ply their trades across a range of cosmetic and protective auto procedures, extending the life of paint jobs and undercarriages with thorough rustproofing, or gently working out dents caused by errant rocks or gangs of delinquent shopping carts. Speedliner material lines truck beds with a sturdy shielding in 18 different colours, and detailing packages wash away blemishes from mud and road salts and add glossy sheens with high-speed wax polishers.
358 Eugenie St. E
Windsor
Ontario
519-250-0072
In addition to proudly donning the insignia that represents ASE certification, all of the technicians at Oakdale Truck & Auto spent at least 10 years beneath the service bays of dealerships. Utilizing the fruits of their experience, the techs tend to cars by providing fresh oil, tire tweaking, or pithy comebacks after encounters with witty bumper stickers. They also boost owner confidence with free inspections and the promise of warranties on all services.
The automotive center treats cars with as much courtesy as their owners. As vehicles revel in the care of technicians, drivers can take a break of their own by hopping aboard Oakdale Truck & Auto's local shuttle, which supplies free rides to homes, offices, or the nearest air-freshener factory. :m]]
320 Oakdale Ave.
Toldeo
Ohio
419-691-7004
---