Yoga in Garden City
---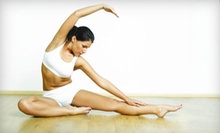 Instructors help students carve fitter frames and pump up focus as they focus on cores, hips, arms, and backs in a Pilates-inspired class
Use Wednesday 6:00am - 6:30pm
---
Recommended Yoga by Groupon Customers
---
Embarking on a mission to enhance the quality of life for each student, the instructors at Premier Pilates & Yoga lead a full schedule of fitness classes that launch participants toward their fitness goals. Instructors with more than ten years of experience, lead groups of up to six students stretch their limbs and synchronize their breathing while practicing either Ashtanga, Restorative, Gentle, Kripalu, Hatha or Vinyasa yoga techniques, which improve strength, balance, flexibility, and the ability to limbo under a closing garage door. 55-minute Pilates mat and circuit classes focus on toning muscles and strengthening the core through a series of controlled elongated movements that work on stretching various joints. For more intense muscle building and a healthy dose of variety, the studio also hosts Get F.I.T. boot-camp classes, kettle-bell, and TRX training. Workout sessions run seven days a week during the day and the evening.
200 North Ave., Suite 6
New Rochelle
New York
914-235-1250
Soothing music, soft lights, and the trickling drops of a waterfall reveal The Yoga Sanctuary as just that—a safe and peaceful place where guests can cast stress aside. The studio's nationally registered instructors weave their global teaching experience into each asana as they strive for—and teach the importance of—inner peace and tranquility. They work individually with guests of all ages and fitness levels, unlike the NFL and most quilting circles. With this inclusive approach, the team helps clients unite mind, body, and spirit during Yin yoga's deep stretches, Vinyasa's restorative postures, and the core-strengthening exercises of Pilates. When they're not helping guests carve out toned muscles and spiritual paths, they forge tight bonds between mother and child during prenatal and Mommy and Me yoga classes. To further the restorative effects of yoga, the studio also hosts yoga therapy sessions to help alleviate such health issues as back pain and insomnia. 
The Yoga Sanctuary's onsite massage therapist intuitively customizes her kneads and strokes to reduce stress and fatigue. This can also improve joint flexibility so that guests may easily slip into complex postures or cast-iron wetsuits. The Yoga Sanctuary further upholds its dedication to wellness with nutrition and health counseling, and customizes wellness plans that help guests identify and commit to positive lifelong changes.
951 E Boston Post Rd.
Mamaroneck
New York
914-381-9642
Kashmir Hands' owner, Dina M. Giugliano, possesses an unending fascination with the abilities of the human body. She fosters her enchantment through three primary avenues: massage, yoga, and doula services, a Greek tradition that combines the duties of a pregnancy counselor with those of a midwife. Her thumbs relieve patrons' tension and coax out toxins during therapeutic deep-tissue massage, a soothing avenue to injury recovery, particularly when paired with a gentle form of yoga. There are more gentle and more intense forms to choose from, as Giugliano offers 17 types of yoga classes, each developed for a certain age group, level of athletic ability, or species.
917 Hempstead Tpke.
Franklin Square
New York
Gabriel Hall, owner of Yoga World Studio, discovered yoga at the age of 19 while pursuing his degree in philosophy. Dr. Allen Arnette—already the clinical director of the Acupuncture and Oriental Medicine Department—began studying yoga as a way of researching the role mental well-being plays in healing physical ailments. Katherine Ostrout studied dance science at Cal State Long Beach and turned to Pilates after a ballet injury laid her low. These three weave their diverse backgrounds into the rich tapestry of talent made up by Yoga World's team of yogis.
Having studied extensively in particular schools of yoga, instructors bring their individual training into the studio, focusing on disciplines that range from the physically challenging to mentally reflective, and include Iyengar, Ashtanga, Viniyoga, and Anusara. In addition to their regular yoga lessons, the Yoga World team also leads mat-Pilates classes, workshops, and private instruction. They use the art of yoga for healing in one-on-one sessions of Thai yoga therapy, which blends shiatsu massage with acupressure, or they coordinate beachside retreats full of yoga, surfing, and yoga-surfing.
54 W Park Ave., Floor 2
Long Beach
New York
US
516-889-0808
The sultry air in Bikram Yoga of Carle Place's studio sinks deep into muscles, wrapping around limbs and permeating joints, warming bodies in preparation for 90 minutes of spectacularly challenging yoga. Students of all fitness levels either learn or perfect the 26 poses and two breathing exercises created by celebrated yogi Bikram Choudhury as an instructor guides each standing or seated motion with demonstration, verbal cues, and physical adjustments. While the intense heat may cause new students to feel a little lightheaded and long for the return of January during their first class, over time, practicing in elevated temperatures helps safely loosen muscles for balances, twists, and binds while expelling harmful toxins from the body through sweating.
143 Voice Rd.
Carle Place
New York
516-385-6787
As Ananda learned sutras near his temporary home on the banks of the Ganges River, he was adding to a lifetime of yogic training that began in his youth. He grew up in a traditional Indian family that practiced yoga everyday. Though he eventually became a personal trainer and focused solely on improving physiques, Ananda always felt true fitness was fueled by both physical and spiritual strength. 
After Ananda traveled the world with famed author Dr. Deepak Chopra and scaled the Himalayas on an expedition to India, he created Ananda Yoga Sangam. Using his years of experience, Ananda assembled an eclectic program of classes for the mind and body. Classes address issues such as increasing range of motion, diffusing muscular tension, and instilling flexibility. The schedule boasts classes six days a week.
56-10 Marathon Pkwy.
Douglaston
New York
718-352-9642
---