Beauty & Spas in Garden Grove
---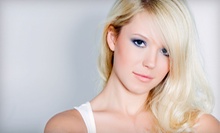 Use Saturday 9:00am - 7:00pm
---
Recommended Beauty & Spas by Groupon Customers
---
Huntington Beach's Ambiance Med Spa has successfully blurred the line between and brought together two realms: the spa and the medical center. On the one hand, an abundance of elegant amenities such as a shag rug, impeccably designed decor, and calming lights underscore the relaxing side of the business. A full beauty bar and five different types of massage further point to a stress-relieving general purpose. But inside handsomely decorated private treatment rooms, a host of medical-quality aesthetic services goes beyond calming and soothing guests. Treatments including clinical chemical peels, microdermabrasion, and dermaplaning use many of the latest tools in scientific and medical technologies to augment each client's natural beauty and make their skin healthier.
Ambiance Med Spa is owned by Michelle Armenteros, who graduated from aesthetics school in California—Einstein himself wouldn't have gained admission to this kind of school because his hair had more split ends than the NFL.
5075 Warner Avenue
Huntington Beach
California
714-846-3010
Since 2009, Eyebrow Beauty's stylists have created clean, sharp brow lines with threading, a hair-removal technique that originated in India. They twist loops of organic cotton thread to remove hair without irritating the skin surrounding follicles. Patrons can also opt for threading on the chin, upper lip, arms, and other areas.
409 South Associated Road
Brea
California
714-674-0300
Eyebrows are meticulously shaped into graceful, well-defined arches during each session at Pretty Threading. Here, the stylists pull hair from delicate facial areas using a single length of thread, in a process that's less tedious than using tweezers, neater than using wax, and more precise than using a magnifying glass to burn off each hair individually under the hot sun. Keeping with ancient Indian tradition, stylists also decorate hands with intricate henna and glitter designs, as clients watch them work in mosaic-framed mirrors hung on mottled bronze walls.
24000 Alicia Parkway, Suite 10
Mission Viejo
California
949-436-5786
Amoderm Cosmetic and Wellness Medical Center president and medical director Dr. Elham Jafari has a background in neurology, which gives her a keen insight into the workings of nerves and muscles beneath the skin. She and her medical staff apply this expertise to perform brief Botox or Juvéderm injections and accurately target veins during sclerotherapy sessions. IPL photofacials pulse beams of light into the skin, stimulating the production of collagen to produce youthful elasticity without strict spandex diets. Microdermabrasion sloughs away sun damage, scarring, and fine lines without any type of abrasive spray, and is followed by a rejuvenating serum rich in ceramides and vitamins A, C, and E. Laser vein-removal treatments cause blood vessels to fade rather than growing into unwanted tattoos. Amoderm Cosmetic and Wellness Medical Center keeps flesh looking youthful with their own line of skincare products, including an anti-aging sunscreen that fights free radicals as it protects skin from further damage.
62 Corporate Park, Suite 140
Irvine
California
949-266-7346
The clinicians at Renaissance Medical Aesthetics help clients wipe away skin imperfections with an arsenal of laser treatments and dermal fillers. Using ThermaFrax treatments, Cutera lasers, and Juvéderm fillers, the team blots out blemishes ranging from acne and rosacea to wrinkles and brown spots. Committed to beauty from head to toe, staffers also help clients fit into skinny jeans with lipolaser treatments and vitamin B12 injections.
1122 E Lincoln Ave., Suite 211
Orange
California
714-282-2482
Educated in London, Making Faces founder Georgia Vlanti has been using her certification in skin and body care and specialization in anti-aging treatments to foster healthy, crease-free faces since 1987. Vlanti chooses each aesthetic treatment and product carefully, whether designing an acne-clearing facial or slimming body wrap, and both Georgia and her staff continually attend skincare seminars, classes, conventions, and pool parties to stay up to date on the latest industry trends. Because the Making Faces staff believe the quest for beauty is a journey that should be enjoyed, tranquil treatment rooms welcome souls to luxuriate in the soothing sounds of a cell-phone-free atmosphere and provide ample amenities including relaxing music, warm herbal teas, and cool water with lemon.
747 Dover Dr., Suite B
Newport Beach
California
949-646-5009
---