Restaurants in Gardendale
---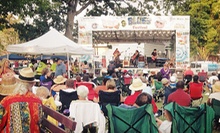 Stop in for a daylong festival of ribs, barbecue sandwiches, live blues music, inflatable slides, and face painting
---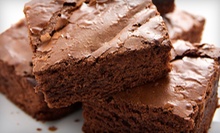 Brownies, cakes, and scones in flavors that rotate regularly including red-velvet cakes and toffee-almond scones
---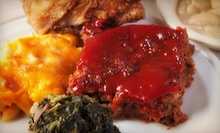 Grilled-chicken dinners, baked oysters, crab cakes, steaks, and pasta in industrial-chic restaurant
---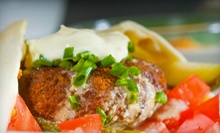 Hookah lounge conjures Mediterranean tastes with falafel plates, fresh-baked baklava, and chicken-kebab wraps
---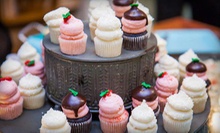 Mini cupcakes made fresh daily and packed by the dozen; flavors include white cake, chocolate, or a variety pack
---
---
Recommended Restaurants by Groupon Customers
---
Offering more than 30 healthy handheld eats prepared with super-fresh produce and high-quality ingredients, Roly Poly's menu has something to fit any discerning taste. Lunch on tongue-torpedoing sandwiches rolled in tortillas, hot-pressed panini-like sandwiches, soups, and fresh salads. Sandwiches, such as a cold Cobb chicken salad roll, chicken Caesar roll, or hot-pressed hickory chicken, are served in 6" or 12" varieties (usually $3.75/$5.95). The hot-pressed French Twist with melted brie and swiss cheese, mushrooms, tomato, spinach, and scallions ($3.50/$5.50) soothes any veggie lover's grumbling food sack.
313 20th St. N
Birmingham
Alabama
Pizza providers at Rocky's destroy hunger and mutilate snack cravings with a barrage of crust jabs and sauce hooks. The 14-inch Power Punch pizza piles on 13 lucky toppings—Italian sausage, pepperoni, Canadian bacon, chicken-breast strips, bacon crumbles, mushrooms, banana peppers, green bell peppers, yellow onions, black olives, green olives, diced tomatoes, and an extra layer of Rocky's signature three-cheese blend, all above the tender, hand-tossed, oven-kissed crust and traditional rosso sauce. Lifting a slice is a workout for the arm and the face, so if you'd rather lighten the load, you can eliminate less-favorite toppings or ones that clash with your eye color.
715 Richard Arrington Jr. Blvd. S
Birmingham
Alabama
Founded in Harahan, Louisiana, by a trio of restaurateur pals in 1997, Zea Rotisserie & Grill champions the tastes of the American South across its 11 locations. Barbecued ribs and étouffée join the restaurant's signature rotisserie entrees, which slow-roast chicken, rib eye, and a rotating selection of pork, veal, and beef slathered with herb glacés or au jus. A specialty menu takes Zea's roots-centric recipes even further, revisiting classic New Orleans meals of pasta jambalaya, fried catfish with remoulade, and battered Mardi Gras beads. Zea Rotisserie & Grill also caters special events.
595 Brookwood Village Mall
Homewood
Alabama
In an interview with the Birmingham News, concert promoter Brian Teasley explained the vision behind Bottletree Café: "We wanted to open a place that would serve food we wanted to eat, show films we liked to see, and play music we wanted to hear." It turns out Teasley, along with co-owners Merrilee and Brad Challiss, has pretty good taste: according to Esquire, which ranked the café as one of the country's best bars, "This place is already stealing thunder from every small music venue in the region." FlavorWire backed up this endorsement by ranking Bottletree Café as one of The 10 Greatest New Music Venues of the 21st Century. Since opening in 2006, the venue has hosted Rogue Wave, Band of Horses, and other indie-leaning rock groups.
But the accolades don't stop there. The venue also has attracted praise for its vegetarian-centric menu. Birmingham Weekly rated the café's brunch among the city's best and devoted a full-out love letter to the lunch menu, which was reintroduced in August 2012. The award-winning vegetarian chili ranks among house favorites and makes a repeat appearance in cheese-smothered nachos. Tofu plays a centric role in entrees and desserts, and black-bean patties made a fiber-rich substitute for beef in burgers, or a biodegradable substitute for frisbees in games of disc golf.
3719 3rd Ave S
Birmingham
Alabama
Whether amongst the cantina's chandeliers, the saloon's rustic surrounds, or the outdoor patio's crackling fire, guests at Fuego Cantina can savor a bevy of Mexican cuisine seven days a week—and until 2 a.m. on Monday through Saturday. Seasoned chefs cover hand-rolled enchiladas in house-made sauce, mix house-marinated meats into fajitas, and fill quesadillas with fixings such as grilled Portobello mushrooms and caramelized onions. Along with Mexican items, the inventive kitchen captains also smother half-pound hot dogs with relish and sauerkraut and top burgers with house-made chili and sharp cheddar cheese.
To wash down feasts, bartenders at Fuego Cantina's two bars keep 14 beers on tap and pour more than 30 wines by the glass. They also mix up specialty mojitos, margaritas, and martinis, such as the combined chocolate ganache and Godiva liqueur of the Death by Chocolate. In addition to tasty treats and drinks, Fuego Cantina enlivens evenings with karaoke on Tuesdays, pin-the-tail-on-the-cacti on Thursdays, and live music throughout the week.
1101 20th Street S
Birmingham
Alabama
Plucking their name from the American Indian nickname for the Cahaba River's swampy banks, Mudtown's owners and staff strive to embody their neighborhood, serving a menu of dishes prepared with fresh, locally sourced seafood, meat, and produce. In their intimate dining room, they cloak tables with hearty portions of new york strip steak with bacon mashed potatoes, grilled mahi mahi with fried green tomatoes, and Cajun po' boys with shrimp or catfish. Their bartenders liven up the southern-inspired American cuisine by shaking signature cocktails, such as their lemon-lime-drop martini, into glasses and pocket protectors. The staff also delivers meals through a catering service for special events such as corporate lunches and birthday parties.
3144 Green Valley Rd.
Birmingham
Alabama
---