Beauty & Spas in Garland
---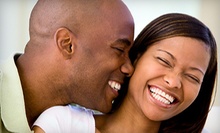 Dental exams and x-rays scrutinize mouths for issues, and cleanings and fluoride treatments help protect teeth
---
Recommended Beauty & Spas by Groupon Customers
---
Each of the independent beauty therapists stationed within Suite Escape Salons of Forney boasts at least eight years of experience in the rejuvenating arts. After offering guests a cup of coffee or tea from the beverage bar, spa technicians perform myriad treatments—they tidy nails and cuticles on all 20 digits with OPI polish and refresh faces with hydrating facials, which deploy Biomani or Dermalogica products.
Massage therapists knead knotted muscles in a quiet massage chamber, surrounded by appropriately relaxing music or photographs of your childhood gecko. The suite staff can also beautify bodies with laser hair removal, permanent makeup, skin tightening, and airbrush tans or style hair while wielding products from Redken, Biolage, or Rusk to infuse locks with a rich hue that accents the soft geometry of a new cut.
724 Hwy. 80, Suite 200
Forney
Texas
817-442-9494
Executive Smiles' cosmetic technicians grant their clients a full-body glow with teeth whitening, spray tans, and glitter spray within their nook at the Firewheel Salon. Executive Smiles employs two different whitening products, using the one best-suited to remove a client's stains, or both if that will produce the best results. For a boost to the rest of the body, their FDA-approved, DHA-based spray tans last 5–10 days when combined with exfoliation and moisturizing lotion treatments. Glitter sprays can also be added to tanning sessions to leave a glimmer with super-fine mica.
4280 Lavon Dr., Suite 280
Garland
Texas
214-840-3980
Star Nails' aestheticians have been pampering locals inside their full-service salon and spa for a decade. Their mani-pedis come with hot-towel treatments and an option for gel color polish from Shellac or OPI. When they're not beautifying digits, they're revivifying complexions during facial treatments, alleviating stress with hot-stone massages, and preempting mascara and dry-erase markers with permanent-makeup applications.
1125 E FM 544, Suite 200
Wylie
Texas
469-878-8831
Advanced Skin Fitness's Laser 360 treatment caught the attention of CBS 11's Health Watch crew, which covered it during a 2011 segment. The trio of laser-based treatments—fractional laser, IPL photofacial, and radiofrequency—is scheduled over a 60-day period to reduce what the clinic considers to be the top three signs of aging: texture, tone, and cravings for prunes. "These treatments provide a noninvasive way of keeping up that youthful appearance," said patient Amy Brubaker, who underwent all three procedures as news cameras shadowed her.
All of Advanced Skin Fitness's treatments use this high-quality technology to reverse epidermal imperfections, such as unwanted hair, age spots, veins, and overzealous curves. The 2,700-square-foot spa houses six treatment rooms and a private consultation room where patients and skilled staffers work together to decide which treatment will be most effective.
2928 Oak Lawn Ave.
Dallas
Texas
214-521-5277
Led by owner Kimberly Thompson, an entrepreneur, mother, writer, and former model, the clinical staff at Shangri-la Medispa helps busy clients to look and feel their best. A physician tends to both their inner and outer needs by administering cosmetic fillers and overseeing the weight-management program. An experienced medical aesthetician fine-tunes appearances with laser and microcurrent treatments, chemical peels, and waxing. The medispa has also developed its own product line, Shangri-La Skin By Kim. The team also includes a registered nurse who can advise patients on their treatment options or answer any questions, from "how much downtime is required?" to "is the human appendix an extraterrestrial tracking device?"
The crew performs services in whimsically themed treatment rooms filled with shabby-chic tables and dressers. Clients can relax in spaces decorated with such touches as a colorful London sign and lamps that resemble the Eiffel Tower and an antique streetlamp. In the black-and-white facial room, a picture of Marilyn Monroe glamorously oversees skincare treatments.
8710 Greenville Ave., Suite A
Dallas
Texas
214-340-7720
The artists at Chi Ro Makeup Studio are in their element when their clients most need to look their best—at weddings, photo shoots, and television and film gigs. That much is clear, because they've earned the trust of actress Tamera Mowry, who has to look her best a lot. The key is breadth. The artists can handle both airbrush and traditional makeup, and their hair services include everything from updos to extensions. In addition, a tanning stylist uses Natural Glow products to cover legs or entire bodies with a bronzy glow so that clients don't have to brown themselves in a pan slicked with Crisco.
17618 Davenport Road
Dallas
Texas
972-333-4971
---