Stores & Markets in Garland
---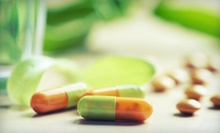 Natural food options, including allergy-free groceries, protein powders, and organic juices, along with body-care products and vitamins
Use Today 10:00am - 7:00pm
---
Recommended Stores & Markets by Groupon Customers
---
Scardello's nearly 150 artisan and farmstead cheeses from America and Europe clamor for inclusion in each Cheese of the Month Club package, the chosen few varying in style, texture, and region to delight mouths with unique seasonal flavors. Hand-selected each month, three artisan cheese breeds, many handcrafted on the same American or European farms where each cheese's milk was produced, weigh a combined 1.5 pounds and boast a collective IQ of 126. Selections also spotlight Texan cheesemakers such as Caprino Royale, a sustainable microdairy in Waco that specializes in farmstead goat cheese. In-store pickup begins the first Friday of each month, with cheeses packaged with pairing notes that enable customers to complement each nibble with a profile-appropriate sip, snack, or lute-accompanied sonnet.
3511 Oak Lawn Ave.
Dallas
Texas
US
With an empire stretching across 100 stores in 24 states, Nutrishop fuels bodies all over the country with scientifically formulated supplements, vitamins, and optimizers. Tasty Clif Bars and nutrient-filled protein concoctions rebuild muscles after workouts, and weight-loss formulas from Lipocor or Thyrostim even out erratic metabolisms. Teams of certified sports nutritionists staff each store, ready to guide patrons through the shelves of Muscle Milk and fruit extracts or demonstrate which pills help to detoxify livers, target hard-to-slim midsections, or activate latent mutant abilities.
2633 McKinney Avenue
Dallas
Texas
214-880-9638
First, a stop at Rush Patisserie for flaky, buttery croissants, then off to Holy Ravioli for arrabiata sauce and freshly made spaghetti. At La Duni, small-batch apple pastries await, stuffed with caramelized apples and streusel, and at Hirsch's Specialty Meats, there's beef brisket ready for roasting.
With Dallas's butchers, chocolatiers, beekeepers, fishmongers, and other merchants, there's plenty of fresh, local food to be found—but driving around to pick it all up can be exhausting. Fortunately, Artizone's staff of locavores wants to make the process easier. After customers shop online to make their grocery lists from Artizone's sizeable group of artisans, they'll pick everything up and drop it all off at customers homes or not-so-secret underground lairs.
Much has changed in the health-and-wellness arena since Richardson's Health Foods was founded more than 40 years ago. However, the family-owned store has stayed steadfast in its dedication to bolstering patrons' well-being by keeping abreast of current research and new trends. A knowledgeable crew champions all things natural and organic—from supplements to beauty supplies—and helps shoppers navigate aisles of earth-friendly wares to unearth products that are suitable for their specific ailments or health needs. Along with their vast inventory of goods, they also provide natural health services and therapies, such as cardiovascular screening to test the ticker's condition and deep-tissue massage to ease muscle aches caused by extreme piggybacking.
5804 S Hulen St.
Fort Worth
Texas
817-294-1180
Part-time personal chef Steven Bailey was growing tired of bland, industrially processed food. As detailed by D Magazine, Steven was determined to do something about his frustration, so he hit the road one weekend in his Volkswagen Rabbit and began scouring Texas farms and markets for fresher ingredients. The more organic, locally grown food he brought back, the more friends and neighbors started requesting some for themselves. The growing demand led Steven to start Urban Acres, where customers can track down organic produce, dairy, and grass-fed meats from local farmers and artisans who never use pesticides, hormones, artificial flavoring, or shoddy magnetic force fields.
Through the co-op, members pick up 15 or 30 pounds of organic fruits and veggies every other week at one of Urban Acre's 12 locations around Dallas-Fort Worth. Steven also sells locally grown grub to members and nonmembers alike at his Oak Cliff store, which D Magazine says "brings a bit of country to the big city." There, visitors can find shelves and counters fashioned from reclaimed wood, a bee colony on the roof, and produce snuggled in boxes of hay.
1301 W Davis St., Suite B
Dallas
Texas
Matthew and Heather Hamilton believe in local beef. Trading in corporate jobs to raise their own cattle in 2009, the couple began Genesis Beef, and eventually opened Local Yocal Farm to Market, a butcher shop selling free-range beef and pasture-raised pork, chicken, and eggs. The two haven't looked back since.
Local Yocal Farm to Market's grass-fed cattle meander across the Hamilton family farm, where their caretakers swap out growth stimulants and antibiotics in favor of fresh air. At the shop, an in-house butcher with more than 25 years of experience ages and cuts beef to customer specifications. Visitors can partake in some of this expertise during classes that teach beef lovers the difference between a sirloin, a filet, and a rubber steak covered in dog drool. In addition to top cuts of meat, the shop's shelves also bear the fruits of other locally sourced businesses, including Full Quiver Cheeses and Drinkable yogurts, Aduro Bean coffees, and AP's Apiaries Honey.
213 N Tennessee St.
McKinney
Texas
469-952-3838
---