Garner, NC Beauty and Salons
---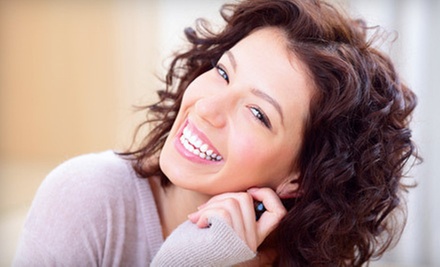 ---
Recommended Beauty by Groupon Customers
---
The motto of New Era Skin and Body is a simple one: "Look better. Feel better. Live better." Tom Donofrio and Iris Cheu believe that each of these leads to the next, so all the massages and skincare services performed in their boutique-style day spa are geared toward the ultimate goal of bettering their clients' lives. Cheu uses products from ABI Dermaceuticals to help skin breathe, glow, and ditch freeloading blackheads, and Donofrio's massages soothe muscles to relieve tension, instill calm, and preempt daydreams of swimming in a vat of pudding.
519 Keisler Dr., Suite 101
Cary
North Carolina
919-521-4954
Wielding skincare products from Gly Derm, the savvy aesthetician at the physician-directed Coastal Skin Rejuvenation revitalizes visages with noninvasive med-spa services. While improving overall skin clarity and elasticity for the face, chemical peels can also help boost epidermal elasticity, improve texture and smoothness, provide more uniform pigmentation, and reduce pore size and the appearance of wrinkles, fine lines, or faux dimples created with permanent marker. Coastal Skin Rejuvenation's line of customized facials hydrate and brighten visages, while body wraps relax clients from head to toe.
600 New Waverly Pl., Suite 100
Cary
North Carolina
919-890-5301
Staffers at The Spa at Riverwood perform a variety of pampering services with top-shelf beauty products. Patrons kick back in leather pedicure thrones as nail techs adorn feet with OPI nail polish and CND creams. Meanwhile, aestheticians wax away unwanted facial and body hair, lengthen lashes with extensions, or cleanse pores during facials.
451 Athletic Club Blvd.
Clayton
North Carolina
919-585-2606
Dr. Grant Koher and his staff of savvy technicians, who share more than 140 years of experience between them, have treated patients who've lost hair as a result of genetic or medical conditions for three decades. The doctor primarily performs hair transplantations, but his roster of solutions also includes nonsurgical methods, such as cold-laser therapy, noninvasive grafting treatments, and a variety of wigs and hair-integration methods. He and his team also work to restore eyelashes and eyebrows lost to overplucking, hormonal imbalances, or overzealous consumption of saganaki.
5520 McNeely Dr., Suite 203
Raleigh
North Carolina
919-787-2401
The three surgeons at Specialists in Plastic Surgery call upon more than 60 years of combined experience as they transform patients' faces and bodies. The physicians—Roger Russell, Don Oschwald, and Richard Carlino—also boast recognition by professional organizations, with certification by the American Board of Plastic Surgery and ranks as Fellows in the American College of Surgeons (FACS).
At The Museum Spa & Laser Center, an adjacent facility that focuses on nonsurgical procedures, registered nurses certified to handle cosmetic lasers beautify bodies with noninvasive treatments such as hair removal and skin resurfacing. The team's licensed medical aestheticians also use the Visia computerized skin-analysis system to recommend the appropriate services for issues such as sun damage, wrinkles, or the inability to smile during driver's-license photos.
3633 Harden Rd.
Raleigh
North Carolina
919-785-9696
Dr. Lanford Peck has had as much success as you would expect of an Ivy League med-school grad. Since earning his degree from Yale School of Medicine and completing his residency training at Yale Hospital, the board-certified doctor has accumulated more than 12 years of practice experience and has ascended to the position of owner and medical director of Laser Aesthetics and Liposuction. Along with his team of medical aestheticians and permanent-makeup artist Lynn Keenan, Dr. Peck makes a point to learn about cosmetic technologies as they emerge. His philosophy is the same one that inspired Nietzsche to take up cardio kickboxing: the better you look, the better you feel.
The selection of treatments available at the center is vast. Microdermabrasion, peels, and lasers resurface complexions with varying degrees of intensiveness, sometimes to diminish acne scarring and sometimes to restore a dewy glow. Patients can play up their favorite features with lip augmentation, permanent makeup, or lash-fortifying Latisse, or they can cause hair and spider veins to wither in the glow of specially designed lasers. Laser liposuction is also available to reduce fat and enhance figures.
1021 West William Street Suite 104
Apex
North Carolina
US
919-387-3374
---