Beauty & Spas in Garner
---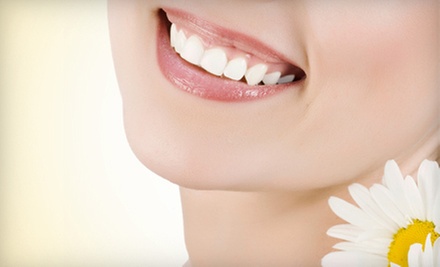 ---
Recommended Beauty & Spas by Groupon Customers
---
Alter Ego's talented technicians primp and polish customers' fingers. The 40-minute Shellac manicure provides the durability and zero dry time of gel nails with the ease of application and smooth, slick finish of traditional polish. Once applied, the wet Shellac polish takes a trip underneath the special UV lamp, hardening into a chip-defying, ultra-shiny finish and eliminating smudges from purse rummaging and plugging differential equations into a graphing calculator. The finish can last up to two weeks without degrading, and is removed easily with no harm to the natural nails, unlike acrylic removal, which uses tiny, club-wielding trolls to bash away unsightly remnants.
119 E Hargett St.
Raleigh
North Carolina
Owner Melissa Smith, a licensed aesthetician, opened the space with the intent to tranquilly restore a sense of balance comparable to that of clearing four lines simultaneously in Tetris. A massage with master back patter Shere Caricini ($45 for 30 minutes) can improve sleep, reduce stress, and decrease blood pressure. For those who never outgrew the thrill of homemade volcano building, the ash mask ($40) can help brighten the temperamental under-eye area, decrease crow's-feet, and banish puffiness. Elite also offers a full menu of chemical peels, facials, and laser hair removal.
3900 Barrett Drive
Raleigh
North Carolina
The Ion Magnum treatment hooks clients up to a safe, muscle-manufacturing machine that boosts stamina and core strength without strenuous workout routines such as piano presses and medicine ball shot put. During each session (a $99 value), clients lay comfortably on a bed as a Velcro-like belt is strapped around a chosen target area (biceps, thighs, etc.). Pacemaker technology then targets buffness-building nerves that send cunning current to motor neurons in the brain, fooling them into believing that the body is enduring a vigorous fat-burning "workout." This massage-like treatment can help patrons achieve many of their physical goals, from losing a couple of inches from their waists or gaining a competitive advantage in forehead-flexing competitions.
201 Shannon Oaks Circle, Suite 200
Cary
North Carolina
Treatments must be used on the same area and must be scheduled 6-8 weeks apart. For a list of the treatment areas, click here.
614 W Peace St.
Raleigh
North Carolina
919-833-8484
At Design Gallery Salon, clients can expect to receive top-notch salon services that mold coiffures into vibrant follicle piñatas filled with high-quality hair-care products. With nine years of experience and extensive training from the International Institute of Hair Design, Heather Summers coordinates this hair-nurturing abode while focusing on providing unmatched services. Forming alluring scalp farms since 2005, Design Gallery's talented snippists have been trained in geometric cutting techniques, color theory, and lassoing unrestrained manes. Paired with brightening Paul Mitchell products and 100% vegan Pureology products, a bevy of services will apply gobs of striking sheen and precision-trimmed panache to hair foliage. Clients can opt for a women's ($30–$40) or men's ($20–$25) haircut, full head highlights ($75–$90), or a hydrating hair treatment ($15). Additionally, mugs may be spiffed up with an eyebrow shaping ($10–$12) or lip waxing ($6–$8) that will transform faces into fetching facades. Unlike haunted-house employees and hockey goalies, normal people benefit from an appealing appearance that doesn't reduce little children and rival fans to tears. At Design Gallery Salon, clients can acquire expert beautifying services that accessorize countenances with a look more eye-catching than a top hat crafted from dragon scales. Call ahead to schedule an appointment.
2524 Hillsborough Street
Raleigh
North Carolina
A new tanning salon in the Raleigh area, Coral Reef Tanning provides a welcoming atmosphere where visitors can darken their pelts for hunting season and acquire an alluring shine for fishing season. The helpful melanin-manipulating experts at Coral Reef help customers assess their skin types and provide instruction on how to maximize each tan without leaving the Earth's atmosphere. One month of unlimited tanning includes the use of a traditional low-pressure bed, a high-pressure stand-up booth, and a powerful anti-gravity bubble chamber that harnesses the lava power of Mount Vesuvius. Low-pressure beds allow tanners to relax in a cocoon of brilliance, while high-pressure booths deliver deeper tanning in a quick and convenient stand-up scenario. The skin designers at Coral Reef will help you choose the best method to achieve your desired results. Additionally, body-bacon broilers will enjoy a convenient location that's near Raleigh's colleges and spontaneously accumulating crowds of pasty-skinned admirers.
3801 Hillsborough St. , Suite 153
Raleigh
North Carolina
---