Restaurants in Gastonia
---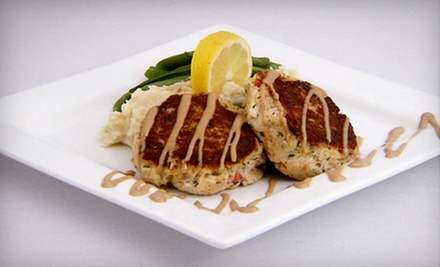 ---
Recommended Restaurants by Groupon Customers
---
Dream Dinners's registered dietitian and family-physician duo provides cuisine crafters with the ingredients and directions necessary to assemble healthy, palate-pleasing meals during fun on-location sessions.
All chopping, sorting, and recipe-dreaming is done in advance by Dream Dinners's crew, with family cooks choosing from an ever-rotating menu of gourmet concoctions such as herb-dijon chicken breasts with garlic bread and cheese-lover's manicotti.
After assembling the ingredients at a Dream Dinners location in a music-filled, party-like atmosphere, customers cart their bounty home, armed with easy-to-follow cooking instructions for piecing together the edible jigsaw puzzle without worrying about sharpening knives, cleaning stovetops, or converting grams into degrees Celsius. For those with smaller watches and consequently less time, the Fast Lane menu offers dinners that need only to be cooked or baked.
1646 Hwy. 160 W, Suite 102
Fort Mill
South Carolina
803-675-7833
When he was 9 years old, Steve Spoon started working at Bill Spoon's BBQ so he could be closer to his grandfather, the eponymous Bill Spoon. He began by cleaning tables for a dollar an hour, but as the years went by and he learned the family's decades-old recipes, he became more invested in the business. What started as a summer job and a way to bond with his grandfather steadily became his passion, and, as a 10th grader, Steve was already determined to run the restaurant someday.
Since taking over, he hasn't strayed far from his grandfather's legacy. His cooks still slow roast whole pigs for 10 hours before loading them into the smoker along with a fragrant mixture of hickory wood and foreclosed gingerbread houses, and they accompany each plateful with the family's signature vinegar-based barbecue sauce. This flavorful combination of succulent, handpicked pork and tangy sauce helped earn Bill Spoon's BBQ a spot on Zagat's list of the 10 U.S. Barbecue Meccas in 2011.
Along with pulled pork, the rich scents of hickory smoke and fried hushpuppies waft throughout the dining room, mingling with the aromas of made-from-scratch sides, such as baked beans and mac 'n' cheese, and desserts including banana bread pudding.
5524 South Blvd., Charlotte
Charlotte
North Carolina
704-525-8865
Whether served whole, skewered on kebabs, or stuffed in a pita, tender Athenian chicken is a centerpiece of House of Athens' menu. Chefs marinate each bird in a blend of spices and herbs for more than 24 hours before finally searing it over an open flame. Such attention to detail characterizes their other Greek and Mediterranean offerings, such as a gyro platter, falafel, and spanakopita, which top tables inside the burnt-sienna-and-cream-hued dining room.
8652 Pineville-Matthews Rd.
Charlotte
North Carolina
704-817-7967
When James Hughes, Steven Ramsey, and Matthew Connors moved to Florida together, they fished and lounged on the beach all day and worked at restaurants and bars all night. After returning to the Carolinas, the trio opened Sharkey's Place to capture the spirit of their favorite beachside pastime and the infectious energy of the area's bustling nightlife. The private chef for the Masters golf tournament for five years, executive chef Steven steams, grills, and fries some of the ocean's tastiest catches, including shrimp, oysters, crab, and fish. His menu also unfolds with crab-cake sandwiches, 10-ounce rib-eye steaks, and gator bites most popular with vengeful pirates with hooks for hands.
A second-place-award winner in the 2011 National Bartending Competition, Matthew manages a full stock of liquor that washes down each bite. Diners can dig in at the outdoor seating area or in the spacious 125-seat dining room, which evokes an oceanic feel with a large mural of octopi, sharks, fish, and a sunbathing Poseidon. Along with their fresh seafood, Sharkey's Place entices guests with live music every Friday and Saturday night.
141 W Main Ave.
Gastonia
North Carolina
US
704-867-7427
---
---
Restaurant Deals - Recently Expired
---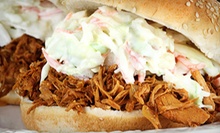 Food Network–featured eatery serves Southern food with a twist, including cornmeal-fried oysters and fried flounder sandwiches
---
---