Golf in Gatineau
---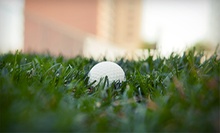 Ponds lined with stately stone faces come into play on 7 holes at scenic par 72 course that overlooks scenic expanse of Ottawa River
---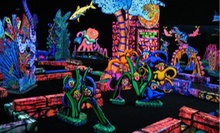 Golf balls tumble down turf in 18-hole indoor glow-in-the-dark course themed around various settings such as medieval times and rain forest
---
Recommended Golf by Groupon Customers
---
After a three-year renovation by renowned course architects Graham Cooke and Stan Brigham, Gatineau Club de Golf unveiled a sleek new course layout in 2010. The site boasts championship-calibre credentials, including a total distance of more than 7,000 yards from the back tees and large bent-grass greens that punish poorly struck approaches with treacherous putts. Generous fairways reward precise bifurcation with excellent lies, but players guilty of errant drives will be pleasantly surprised to find plenty of room to make a bold go at the green. Water makes its omnipresence known as early as the 395-yard second hole, where players must tee off over a pond, negotiate with a creek that crosses the fairway 100 yards in front of the green, and avoid the water that buttresses the green to the left and rear. The 18th hole makes a 90-degree dogleg right around a massive reservoir and a pond stretching alongside the entire right length of the fairway, demanding the same precision as the moat around a driveway.
255 Rue Chemin Edey
Aylmer
Quebec
Canada
819-557-4411
Glowing monkeys scamper toward a neon waterfall, and a knight bearing a radiant yellow lance rides past a bright orange octopus emerging from the ocean. What appears to be a time-traveling session gone awry is really the evolving environment within Putting Edge's indoor black-lit mini-golf course, which whisks players to deep seas, Aztec jungles, and medieval times. Since opening its original location in Canada, Putting Edge has now expanded to 18 North American locations, all of which invite guests onto its challenging 18-hole courses to seek victory over opponents and the forces that keep their teeth from not glowing as brightly as they could. Elsewhere, the facility houses private party rooms, concessions, and an arcade filled with gamer favorites such as air hockey.
5 Roydon Pl.
Nepean
Ontario
613-224-4887
The championship golf course at Château Cartier Hôtel Conférence Golf & Spa sidles up to the Ottawa River, letting swingers soak in views of rapids rushing beneath the Champlain Bridge and gaze out to the Peace Tower and stately parliament buildings. Since 1923, this breathtaking scenery has inspired athletes as they drive, putt, and bite their golf balls to endow them with the regulation number of dimples. To gear up for the course's water hazards and sand traps, golfers visit the driving range and putting green or sign up for lessons. They can also drop in at the pro shop to pick up equipment from TaylorMade and Titleist.
Before days on the course, players fuel up with luxurious continental breakfasts at Table 20 Restaurant Lounge Bar. Ekko de Brasil takes over for lunch and dinner with grilled meats served by gauchos and entertainment provided by samba brazilian dancers. These contemporary eateries nestle in the Château Cartier Hôtel, a sprawling edifice whose peach brick and sloped green roof enclose epicurean accommodations, as well as a health centre and spa where workouts and massages push and then relax muscles.
Course at a Glance:
18-hole, par 72 course
USGA course rating of 68.7
Slope rating of 117
1170 Aylmer Rd.
Gatineau
Quebec
819-777-8870
Club De Golf Tecumseh incorporates the Gatineau countryside's diverse topography into the design of its 18-hole, 6,466-yard golf course that sits on the north side of the Ottawa River. A quick jaunt from downtown Ottawa, the course caters to players of all abilities who are looking for a respite from the workday doldrums or an excuse to use their dueling golf glove against fellow competitors. The par-72 layout boasts tree-lined fairways, a multitude of sand traps, and several water hazards that will put golfers' swings to the test.
475 Rue Saint Louis
Gatineau
Quebec
819-663-5630
Whether trading groundstrokes on the tennis courts, hunting birdies on the golf course, or practicing cannonballs in the swimming pool, guests make the most of the summer sun at Amberwood Village Golf and Country Club. On the nine-hole, 2,387-yard executive golf course, golfers are presented with three par 4s, five par 3s, and one 463-yard par 5 that prevents drivers and 3 woods from napping in their head covers all day. The whooshes of ace serves and forehand winners echo above the club's three hard-surface tennis courts, where players can schedule open court times or register for lessons.
Appetites piqued by outdoor recreation can be sated at bistrofiftyfour, where chefs put their spin on European bistro classics with an expansive menu that features jumbo shrimp linguini, open-faced smoked salmon sandwiches, and thin-crust pizzas. Guests can unwind amid granite countertops and straight-backed leather chairs in the indoor diner or bestow pet names on every club in their bags from the outdoor patio, which overlooks the golf course.
_
54 Springbrook Dr.
Stittsville
Ontario
613-836-2581
Golfers encounter ponds, streams, and diverse marshland throughout the grounds at The Meadows Golf and Country Club, which provide a sense of scenic continuity to its sprawling 36-hole golf complex. The four nine-hole courses can be played interchangeably for a variety of 18-hole combinations, all of which weave fairways through rows of mature willow trees on their way to large, bent-grass greens. Golfers can warm up for rounds at the full-length driving range or head to the 40-yard short-game range to work on approach shots, such as chipping, pitching, or threatening to replace underachieving sandwedges with flagsticks.
In addition, golfers can seek out inventive ways to improve their swings with lessons from The Meadows' staff of CPGA instructors or decorate their golf bag at the pro shop full of rental clubs and equipment from top brands including FootJoy and Top-Flite. The Meadows Golf and Country Club also offers a club card complete with special perks and savings for frequent visitors.
4335 Hawthorne Rd.
Gloucester
Ontario
CA
613-822-2582
---