Restaurants in Gatineau
---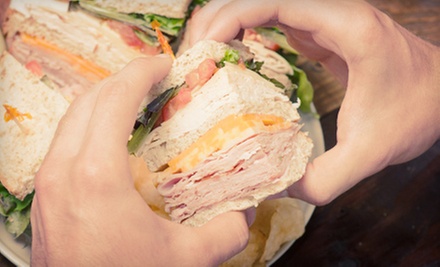 Carlingwood West - Glabar Park - McKellar Heights
---
Recommended Restaurants by Groupon Customers
---
Sushi is best served chilled, but Kinki serves it up with a steamy side of tasteful erotica. The staff fosters a club-like atmosphere with DJs spinning records on the weekends and burlesque dancers spinning around poles on Friday nights. None of this overshadows the sushi, which the chefs roll into specialty maki with fiery names, such as Sandra's Naughty Tiger with panko-breaded shrimp and spicy mayo, and the El Diablo, with smoked salmon and jalapeno presented on the tines of a still-glowing pitchfork. Specialty cocktails help wash it all down, pairing well with sushi or entrees with Asian flavors such as lychee, wasabi, and ginger.
41 York St.
Ottawa
Ontario
Head chef Pablo Robaina is out to change minds. "Many people think Latin American food is just beans and rice," he said in a 2008 interview with the Ottawa City Guide, "but there are so many other ingredients that can blow your mind with flavour." Though the restaurant's small plates, such as rollos de pollos, tacos del norte, and chorizo tostado, stay true to the chef's Mexican and Venezuelan roots, Robaina also looks to other continents for culinary inspiration in such dishes as the Spanish-style tapas and the curried rack of lamb. Since being opened by the creators of Kinki Asian Fusion in 2007, Mambo Restaurante Nuevo Latino has embodied a multicultural culinary tradition as if it were built on the international date line.
77 Clarence St.
Ottawa
Ontario
613-562-2500
At Pelican Fishery & Grill, "the walls serve as a gallery for humorous shots of the owner, his family and the rest of the staff posing with seafood," according to the Rachelle Eats Food blog, but the staff is serious about sustainably sourced fresh seafood. That's why they stock the icy shelves of their fishery and the sizzling plates of their eatery with wild fish delivered in four shipments throughout the day. Lobster, mussels, scallops, and fish serve as the centrepieces of both gluten-free and standard menu items that can also be eaten at home or in the 3-D infospace inside your computer, thanks to the store section of Pelican Fishery.
1500 Bank St.
Ottawa
Ontario
613-526-5229
After a few years in the Mediterranean, chef Nick Shallal had gleaned some of the best ways to cook traditional Italian dishes such as frutti di mare and wood-fired pizza. Since his time abroad, he has developed and expanded his business to accommodate clients clamouring for what are now considered some of his specialties: mediterranean seafood platters and pizzas loaded with surprising ingredients such as mangos, lamb, scallops, or Alaskan king crab. To add a sweet accompaniment to each savoury meal, the restaurant offers a full wine list and classic Italian desserts such as tiramisu, biscotti, and chocolate-dipped soccer stars' autographs.
356 Preston St.
Ottawa
Ontario
613-749-7490
Vibrant paintings by local Canadian artists speckle the orange and yellow walls of Carmen's Veranda, gazing down on the tabletops that bear plates of eclectic international fare. These dishes, which may include roasted chicken in mushroom and truffle sauce and bruschetta with brie, are, like a Gelatin mold of Rodin's The Thinker, often referred to as "edible works of arts" by customers. The menu switches items every month, and each new dish is made from fresh ingredients picked daily by local producers. On Tuesdays and Wednesdays, customers can bring in their own wine, and on Wednesdays, they can devour various small plates inspired by different international cuisines.
1169 Bank St.
Ottawa
Ontario
613-730-9829
Since 1999, the culinary team at Biagio's Italian Kitchen has strived to stay true to its founding "al momento" cooking philosophy by prepping each authentic dish on its menu to order. Angus steaks and veal dishes in delicate sauces float out of the chef's quarters alongside pastas saturated in a choice of three sauces and packed with grilled chicken, shrimp, or spicy sausage.
A half wall weaves through the main dining room, just like the larger one that divides Italy's vegetarians and carnivores, splitting feasting quarters between a larger area filled with tables and booths and semi-private section that accommodates up to 40 guests. The savvy Biagio's Italian Kitchen staffers assist patrons in planning and catering business or social events within its private dining rooms, banquet room, front room, or outdoor patio.
1394 Richmond Rd.
Ottawa
Ontario
613-828-0770
---