Things to Do in Geneva
---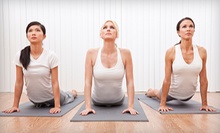 Body-toning poses and stretches promote inner peace and the long-term benefits of the mind-calming exercises
Use Thursday 3:00pm - 6:00pm
---
Recommended Things to Do by Groupon Customers
---
Opening weekend is a time for renewed hope, reordered batting lineups, and refreshing scents of glorious gunpowder in the sky. Catch the Flyers on May 28 for post-game fireworks after the hometown bats light up the Gary SouthShore RailCats, or pay homage to babies named Ruth as you run the bases with the kids on Family Day May 30. On May 31, remix Memorial Day grill-outs by downing two dogs off the bat, and score dollar dogs throughout game. Armed with a starter kit of ballpark eats and ballgame spheres, show the youngsters how to properly grip a fastball, a frank, and a cardboard sign that irrefutably proves fanmanship.
1999 S Springinsguth Rd.
Schaumburg
Illinois
In 1987, Louise Beem and Dorothy Carpenter were early-childhood-education specialists. Based on their combined experience—gained from teaching preschool, founding the College of DuPage's early-childhood-education program, and being grandmothers—the two friends felt that traditional methods of teaching youngsters were less than optimal at the time. Their brainchild, the DuPage Children's Museum, began that same year. The pair designed the museum's colorful exhibits to incorporate interactive and open-ended elements, which they believed more closely matched the way kids learn and naturally process information, a discovery they say has now been corroborated by findings in neuroscience research.
In that vein, the three-story museum engages young neurons with interactive art, math, and science-themed attractions. Giving little hands the chance to explore, the AWESome Electricity exhibit bridges the gap between the electric-powered gadgets and lights families use every day to where all that nonbreakfast-based energy comes from. Kids learn how electricity gets from one place to another and what its basic units are while at play in the museum's signature hands-on spaces. Elsewhere, the Young Explorers exhibit is designed for children aged 2 and under, who develop math skills by learning concepts such as sorting and patterning and express their creativity by experimenting with color and light.
301 N Washington St.
Naperville
Illinois
The T-6 Texan isn't like most of the airplanes you see on the runway. For starters, it only has two seats. Then there's the US Military aircraft crest stamped on the side of its mustard-yellow frame—a reminder of the warplane's years of service, from the 1930s to the '50s, when it carried three 30-caliber machine guns and a 400-pound bomb-load. A 1944 T-6 Texan is part of the fleet of fliers at Gauntlet Warbirds, a flight-instruction center that specializes in warplanes and aerobatic aircraft.
Chief pilot Greg Morris has been flying for more than 15 years and teaching for 10. He has a degree in aerospace engineering from USC and was awarded Master CFI-Aerobatic by the National Association of Flight Instructors. He continues to teach the T-6 to aspiring Air Force test pilots and flight-test engineers at test-pilot school as part of the Qualitative Evaulation program. Morris and his team of seasoned instructors copilot joyrides and offer training programs for mastering each aircraft in their fleet, which, in addition to the aforementioned T-6 Texan, includes the 1942 Boeing N2S Stearman, the L-39 Eastern block military jet, as well as aerobatic stunt planes such as the Yak-52, Extra 300L, Bellanca Decathlon, and Super Decathlon, all of which credit their thrill-seeking ways to strict upbringings.
43W514 US 30
Sugar Grove
Illinois
630-999-2044
The Chicago White Sox have some truly dedicated fans. In 1994, the team decided to reach out to the youngsters who worshipped their footwear. They sought to provide kids with the same conditioning and training they honed their skills with, so they started a sports-training summer camp. In a mere seven years, demand for the trainers' services necessitated that the program conduct year-round sessions in all types of sports, and the Bulls/Sox Academy was born.
Taught by the trainers who spend their life making sure that the Sox and Bulls are ready to hit the field or court, Bulls/Sox Academy's lessons bring professional techniques to aspiring athletes. Baseball programs teach functional speed movements for high-speed base stealing and help kids build the upper-body strength to knock balls out of the park and through the windshield of their least favorite neighbor's minivan. The basketball course divvies up training between shooting, skills, and defensive play. The fast-pitch softball teachers—both former professional players and longtime coaches—arm students to beat back high-velocity pitches without hurting the ball's feelings.
6200 River Bend Dr.
Lisle
Illinois
Ghastly horrors prowl The Massacre Haunted House in search of new victims and fresh screams. Inside, 40 actors in full makeup startle wary explorers navigating more than 35 rooms strewn with gruesome scenes that would strike fear into the heart of any adult, teen, or amnesiac zombie. Unsettling mazes and living nightmares stand between brave souls and the exit, where a second haunt––Fear Factory 3-D––awaits to pull them deeper into the madness. Where the haunted house may have turned hairs white with the help of live actors, the factory coaxes screams with 3D special effects made possible with specialized glasses.
3440 Odyssey Ct.
Naperville
Illinois
847-867-7777
Located on the shores of the Fox River, Fox Paintball has numerous fields suited for chromatic combat, along with a fully stocked pro shop. The Stonehenge field is comprised of a wooded area marked with ancient-styled barriers—ideal for both close exchanges and long shots—and is inhabited by a druid who officiates each match. The new Gauntlet field puts players among wrecked cars, a trench, sandbag bunkers, and a makeshift "power plant" building. Bunkers and two-story structures dot the other woods fields, and geometric inflatables provide protection from pigment projectiles and low-flying pigeons on the regulation XBall! field. Offering a respite between operations, the pro shop and concessions booth are stocked with eats, drinks, markers, and equipment by makers such as Empire, Tippmann, and Kingman. The park plays host to numerous tournaments and scenario games throughout the year.
1891 North Farnsworth Ave.
Aurora
Illinois
630-585-5651
---