Georgetown, TX Beauty and Salons
---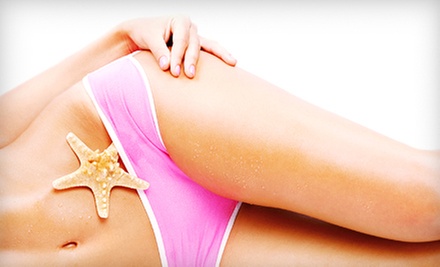 ---
Recommended Beauty by Groupon Customers
---
During eight years of practice in aesthetics and pain management, Leslie Escalante concluded that natural remedies could enhance the practice of Western medicine. She left her position as an assistant to a board-certified physician to open Balanced Health & Beauty, where she melds medical practices with natural solutions to combat physical aging. She recruited Dr. J. Scott Gaertner, a board-certified family practitioner and graduate of The University of Texas Medical School, to oversee the center's more involved procedures. These include FDA-cleared cosmetic injections that require absolute precision to create firm, smooth skin, and personalized hormone-replacement regimes that mitigate the fatigue caused by winding the town clock daily.
Representing Escalante's interest in holistic wellness, the center also fosters proper nutrition with Xymogen vitamin supplements and a variety of diet plans. Multitalented lasers can gently clear detritus from pores, evict unwanted hairs, or diminish visible sun damage or spider veins. Traditional facials target conditions specific to each patient's skin type with chocolate antioxidants and pumpkin enzymes, and peels rely on serums from PCA Skin and Obagi to reveal healthy, youthful complexions.
13343 Hwy. 183 N, Suite 230
Austin
Texas
512-913-7007
Beautiful Solutions helps whittle away at bodily imperfections with laser treatments, injections, and traditional facial services. The spa's armory of lasers targets specific epidermal ailments, such as unwanted hair, forehead wrinkles, and skin pigmentation that forms in the shape of embarrassing middle names. An array of injectable wrinkle reducers, ranging from Juvederm filler, to fine-line reducing Belotero, to nerve-blocking Botox, rewinds the clock on clients' faces. The staff also performs noninvasive skin treatments, such as microdermabrasions and facials.
2500 S Lakeline Blvd. , Suite 201
Cedar Park
Texas
512-343-7546
Diet and exercise don't always slim down trouble spots, and they rarely do so with any measure of speed. Georgetown Lipo Laser Treatment Center expedites the weight-loss process with noninvasive Zerona body-sculpting treatments, which have been featured on The Doctors. During the treatments, cool light from Zerona lasers target problem areas to shrink inches off bodies, often yielding visible results after one treatment. Aestheticians offer other services, such as the all-natural Herbalogica contouring body wrap, which slims bodies while flushing toxins with gentle pressure, the same kind of pressure UN diplomats put on other UN diplomats when they tickle each other for the sake of economic policy.
7600 W Hwy. 29 , Suite 7A
Georgetown
Texas
US
512-868-6625
Repeat customers to Austin Nails & Spa, which is under new ownership, will notice something familiar during their second visit: the nail file, sanding block, and manicure stick that the nail technician uses. That's because after an initial visit, the staff stores the tools used in a nail kit with your name on it to ensure that they're used only for you or Meryl Streep playing you with uncanny accuracy. This is just one of the ways that Austin Nails & Spa's new owners, a group of sisters, have made their salon stand out during their 10-plus years in business. They also make sure to give abundant training to each of their staff members in their area of expertise. The team, in turn, plies skilled hands to perform manicures, pedicures, facials, and waxing services, among a whole smorgasbord of services.
11066 Pecan Park Boulevard, Suite 407
Cedar Park
Texas
US
512-401-8800
NovaLash-certified eyelash artist Lyndsay Armstrong began her career by enhancing the eyes of friends and family in the upstairs loft of her home. As her reputation as a beauty expert grew over the next few years, Armstrong was eventually able to open Southern Charm Lash Co., a private studio where she outfits natural lashes with NovaLash extensions. She individually applies the synthetic strands with a medical-grade adhesive—a two-hour process that requires the meticulousness of an art restorer polishing grains of sand. Armstrong also offers clients a long-lasting mascara alternative via the waterproof LashDip formula.
1335 E Whitestone Boulevard, Suite 500-0
Cedar Park
Texas
US
Alite Laser Hair Removal & Skin Rejuvenation's three locations act as upscale sanctuaries where clients can go to lose spider veins and unwanted fat, but their specialty is hair removal. A trio of hair-removal procedures—waxing, laser removal, and electrolysis—fight follicles more effectively than scaring hair away like it's a case of the hiccups. When they aren't performing laser hair-removal procedures, technicians harness the power of light to brighten skin during facials.
3000 Joe DiMaggio Blvd., Building 600 Unit #19
Round Rock
Texas
US
512-467-4656
---