Restaurants in Georgetown
---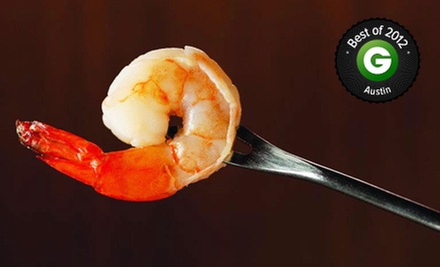 ---
Restaurant Rewards Deals - Use Anytime
---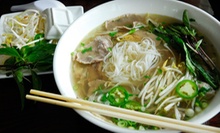 North Austin Civic Association
Dungeness crab cooked with tamarind sauce and blue lobster steamed with beer
---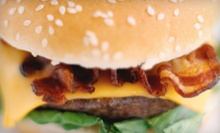 Burgers capped with bacon and jalapeño jack, pecan-crusted tilapia, Southern-style meatloaf, and fish tacos with cilantro aioli
---
Recommended Restaurants by Groupon Customers
---
Start your tour of Texican's massive menu by slinging your jaw around spinach, mushroom, and onion quesadillas ($7.99) or clearing your taste buds of impurities with spicy cream-cheese-stuffed jalapenos ($5.49). The plentiful options let you supplicate at the altar of a traditional dish such as cabrito—a platter of tender goat roasted with mysterious spices and topped with tomato and bell pepper ($14.99)—or head straight for the grill with a 10 oz. rib-eye steak tampiqueña ($14.99). To enter the mythical realm of "New Mexico," head northwest of south of the border for some Santa Fe enchiladas in smoky red chile ($9.49), or fly straight up into space instead with a deadly delicious chile relleno plump with chicken, beef, shrimp, or cheese and legally drowned in red tomatillo sauce ($8.99).
11066 Pecan Park Boulevard
Cedar Park
Texas
512-506-9900
Rudino's expansive menu excels in the pie-making and baked-sandwich departments, making its pizza dough daily from a molecularly unstable yet surprisingly delicious substance known as scratch. Indulge in a specialty pizza (12"–16") such as the vegetarian delight, packed with fresh mushrooms, onions, green peppers, black olives, and cheese ($13.69–$18.29), or the aptly named meat monster (pepperoni, sausage, ham, meatball, and cheese, $14.89–$19.79). For the best of both worlds, head straight for the Rudino's royale ($16.05–$21.29).
1335 E Whitestone Blvd., T-150
Cedar Park
Texas
Inspired by the artists living around him in Laguna Beach, Sid Fanarof sought to do something creative in the kitchen. The result was zpizza, which now has locations across the globe, each filled with bustling chefs experimenting with ingredients traditionally associated with Indian, Californian, and Mexican cuisine. Pizzas use organic vegetables and skim-milk mozzarella, and their organic wheat flour bakes over an open flame to a crisp finish. "If you don't hear the crunch, it's not a zpizza," Fanarof says of the crusts on his website. Chefs first slather the crusts with sweet basil pesto, roasted-garlic sauce, or organic tomato sauce. Their hands flutter across, sprinkling on fistfuls of toppings such as MSG-free pepperoni, additive-free sausage, three types of mushrooms, roasted eggplant, and pine nuts. Vegan cheese and gluten-free crusts allow everyone to enjoy the pizzas except for those trying to hide the fact that they superglued their mouths closed.
200 University Boulevard, Suite 350
Round Rock
Texas
512-863-8118
When Roger Diaz puts together a meal in his kitchen at Vivo Tex Mex, he's not just tossing fresh ingredients into handmade tortillas. He draws on three generations of family cooking, taught to him by his mother and grandmother before he could even reach the stovetop. These family recipes include tricks to puff up a tortilla by lightly frying it, as well as the ingredients to make the tortilla itself from scratch.
Roger's colorful dining room and patio celebrate his heritage as well. Huge, colorful canvases bedeck the interiors, bright lanterns hang from the ceiling, and a portrait of Frida Kahlo surreptitiously tries to steal sips of frosty margaritas. Al fresco, the constant burble of fountains chatters beneath diners' conversations while ample potted plants and flowers create a fresh bouquet of scents to complement meals.
12233 Ranch Road 620, Suite 105
Austin
Texas
512-331-4660
Chola Indian Restaurant's menu sends diners on a whirlwind tour of culinary traditions from across the entire Indian subcontinent. The kitchen's clay tandoor oven roasts skewers of succulent lamb or chicken, and the chefs create southern-Indian dosas by filling rice and lentil crêpes with aromatic combinations of ginger- and onion-based fillings. Meanwhile, dishes from the Indo-Chinese border earn their own space on the menu, tempting diners with orders of fried rice or chili-spiced cottage cheese.
Although steaming entrees emerge from the kitchen, the dining room's mint-green walls help to create a cooler ambiance. Intricate archways divide the space in two, separating the buffet's steaming tables from the restaurant's abominable-snowman section.
2601 S I-35, Suite B-400
Round Rock
Texas
512-244-2222
Because cravings don't often wait for convenience, the cooks at Texas Steak Out take care of the leg work: They deliver their all-American dinners to diners' front doors. Relieving patrons of the task of hunting a steer, they grill rib eyes, sirloins, and steak tips, complemented by philly cheesesteaks and a horde of hoagie sandwiches. Their hearty meals come with classic steak-house sides such as steamed broccoli and mashed potatoes.
251 North Bell Street, #114B
Cedar Park
Texas
512-258-7575
---