Things to Do in Germantown
---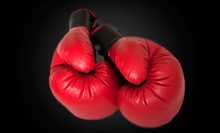 Hour-long workout incorporates drills designed for professional fighters, cardio & strength conditioning to challenge major muscle groups
Use Monday 3:00pm - 6:00pm
---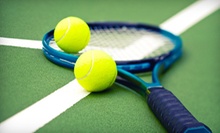 Rackets and other tennis gear from brands such as Wilson and Slazenger from well-stocked tennis and golf shop founded in 1975
Use Monday 10:00am - 7:00pm
---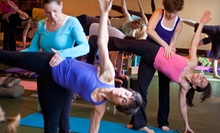 Hatha, Pure Bliss, Vinyasa flow, and hot Vinyasa classes invite students of all levels to peaceful sessions led by seasoned instructors.
Use Today 6:00pm - 9:00pm
---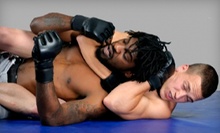 Day pass grants access to krav maga, muay thai, boxing, and wrestling classes led by seasoned instructors
Use Saturday 10:00am - 4:00pm
---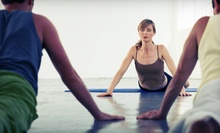 Yoga practice tailored to beginners focuses on basic poses, breath control, and proper alignment
Use Saturday 8:00am - 11:00am
---
---
Recommended Things to Do by Groupon Customers
---
Families can choose to paint ceramics ($15 and up), such as a piggy bank that will one day be priceless, or at the very least exceed the value of its contents. Mosaic projects ($18 and up) are a disciplined way to practice for future bathroom-tile touch-ups, while glitter-awaiting painting projects ($17 and up) use colorful acrylics to introduce children to the rainbow without the false hope of pots of gold. Parents who don't really understand how glass is made can bypass the awkward silence by introducing themselves to a glass-fusing project that utilizes pre-made materials ($19 and up).
205 Boardwalk Place
Gaithersburg
Maryland
301-355-6830
Cardio Tennis fulfills the shameless dream inside all tennis pros and amateurs: furiously smashing hundreds of balls in a row while cranking powerful, grunt-inspiring music. Over the course of an hour, you and your cardio-mates will undergo the rigors of various fast-paced drills. While some technical tennis instruction may occur, the primary focus is placed on the aerobic movement and discovering the uninhibited side of tennis. The friendly instructors at Georgetown Prep will keep class-goers motivated throughout the hour, helping to burn calories, increase endurance, and improve ability to smash things.
10900 Rockville Pke.
Rockville
Maryland
For more than 20 years, the FAA-certified flight instructors at Washington International Flight Academy have safely guided pupils skyward and imbued them with the skills necessary for numerous licenses and certifications. Under an instructor's watchful eye, guests control a Cessna 172 on a 30-minute airborne trek during discovery flights, which can later be applied toward courses for a private or commercial pilot's license with optional multiengine rating. A commercial pilot's license qualifies more seasoned flyers for instructor certification, where they learn how to teach essentials, including how to tell the difference between a landing airplane and a diving roc.
Along with in-depth courses, Washington International Flight Academy accommodates patrons with rentals of its massive fleet, charts and piloting supplies from its fully stocked shop, and lodging for out-of-state students.
7940 Airpark Rd., Hangar M
Gaithersburg
Maryland
At TennisTopia, staffers help players optimize their thwacking abilities with a large inventory of rackets, balls, and other gear from brands such as Adidas, Nike, and Wilson and a variety of tennis-oriented services. Restringing keeps rackets in taut, top-notch shape, and the shop also equips male or female teams with the weapons and matching uniforms to wage battle against gophers popping up through the clay in the middle of matches.
1701 Rockville Pike, Suite B-10
Rockville
Maryland
301-230-9195
It was supposed to be a utopia. When Professor Angelica D. Ream painstakingly planned her Dream City, she failed to anticipate the demonic intentions of her own family, who twisted the peaceful community into Scream City, a hellscape terrorized by werewolves, bill collectors, and other evil beasts summoned from the underworld. Snaking throughout Scream City is the Trail of Terror, which reaches deep into a haunted forest where a power-hungry werewolf notoriously slaughtered a Dream City farmer. The path is known to shape-shift from year to year, keeping even regular travelers on their curled toes.
Elsewhere, Hades's Hayride creeps through cornfields menaced by packs of brutish monsters and, allegedly, the most fear-inducing demon ever spawned. Towering over the grounds is Lusion Manor, where Professor Ream concocted Dream City and her evil family now plots their continued reign. Entrants wander each room of the house—including an attic rumored to imprison many of the villagers—which was just expanded to five times the size of the original structure to stave off noise complaints filed against howling werewolves.
Once wanderers have been sufficiently terrified, they can fight back against roving zombies in Paintball Apocalypse. From aboard a double-decker steel cart, battlers shoot glow-in-the-dark paintballs at unarmed zombies as they stagger past. Warriors can power up at the concessions area, where groups scorch marshmallows over open flames and annihilate plates of deep-fried Twinkies, pizza, and funnel cakes. Though the backstory remains in place at Field of Screams every year, each attraction takes on new twisted twists each fall.
4501 Olney Laytonsville Rd.
Olney
Maryland
301-570-7049
Nightmare Screamplex combines three haunted attractions at one terrifying location. Inside the Nightmare Forest, monsters wait beneath bushes and behind thick trees until guests venture too close. These depraved beings then herd survivors into the Field of Terror, where creatures spawned from the darkest parts of humanity lurk, ready to feast on human flesh. When visitors' minds have finally given in to the insanity around them, the sadistic doctors in the Lost Asylum welcome them with news that their stay won't be covered by insurance. In addition to this macabre collection of haunted attractions, Nightmare Screamplex also houses an outdoor theater, bungee run, and bonfire.
18031 Central Park Cir.
Boyds
Maryland
---