Professional Services in Germantown
---
Professional Service Deals
---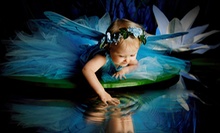 Children strap on wings amid fantastical scenery for a fairy-themed portrait, or up to seven subjects sit for one-hour shoot
---
Recommended Professional Services by Groupon Customers
---
University Park Cleaners has been in business since 1919. Under the new ownership of Mike Huey, the focus on helping customers and high-quality laundry service has been redoubled (a process similar to cloning twin Einsteins). Today's deal is good for all standard dry-cleaning items, including suit coats, pants, and shirts, all of which go for $6.50 per item. Get the mustard out of a prom dress for $12.50, and de-trench a trench coat for $16.50. Larger items, such as a comforter or bedspread, clock in at $30. In addition to dry cleaning, University Park Cleaners offer free butler service. With the staff as your personal valet, feel as privileged as a hot dog in a vegan restaurant. They'll pick up and drop off dry cleaning at no charge; just call ahead to confirm that you're in range. University Park typically services Downtown, Harbor Town, Germantown, Cordova, Midtown, and East Memphis.
613 N McLean
Memphis
Tennessee
Jaffe Studio's staff of expert professionals leverage more than 30 years of shutter-snapping experience to record visual replications of the picturesque unity of a loving family, the innocence of juniority, and the wonderment of bands of roving satyrs. Standard sessions take place in Jaffe's accommodating studio, or at personalized locations throughout the greater-Memphis area (call ahead with ideas for site-specific sessions). One to two weeks following the professional pose-a-thon, subjects return to the studio and are treated to an audio-visual presentation of their images, after which they can choose the finest specimen for immortality in the form of an 11"x14" mounted print.
4902 Poplar Ave.
Memphis
Tennessee
With a veritable cornucopia of laundry-related services at its disposal, Drake Cleaners will get your garments in running order, whether you're dealing with severe stains, soiled leather, or presumptuous hemlines. Dry cleaning is available for every article imaginable, from pants and shirts ($6.85 each) to sweaters ($7.25), afghans ($15.50), and suede or leather coats ($30+). Get cloth laundered in the traditional, wet manner, including including laundry shirts ($2.85), pants and jeans ($6.85), lab coats ($7), and tablecloths ($15.50+). Drake also specializes in stain removal, with a notable stain-related guarantee of "see spot, see spot go." An entire alteration department is also available to handle everything from the smallest button replacements to the largest rococo-gown rescaling. Call for adjustment prices and turnaround times, and be sure to mention your Groupon.
197 N Evergreen St.
Memphis
Tennessee
Merrick Photography believes worthwhile photography relies just as much on the empathy and compassion of the photographer as it does on his or her ability to handle a camera. Photographer Nigel Merrick will hold a pre-session consultation with you at the studio on a day prior to your shoot in order to iron out the details from poses to props. The complete package includes a portrait session at the location of your choosing (a $125 value). Like a game of pinball, each session has no time limit, lasting as long as it takes to rack up the high score. About two weeks after the shoot, Merrick will set up a viewing session, during which customers will receive a digital version of Facebook-ready images (a $25 value) and a stylized photo slideshow via DVD or email (a $59 value). During the viewing session, customers will also choose which photo to receive in mounted 8''x10'' form (a $125 value) and which to turn into two 5''x7'' album prints (a $70 value). Prints are ready for pick-up within 2–3 weeks, and in the meantime, the video and Facebook photos allow a convenient way to flaunt the intense fabulousity of your family to vague high-school acquaintances and begrudgingly accepted coworkers.
2735 Hwy 64, Suite 105
Eads
Tennessee
An orb of mauve and pale pink roses bursts from a thin glass vase. Hoops of lily grass and skinny stalks of equisetum frame fuchsia orchids. Such are the inventive components of Boggan's Florist's eye-catching and diverse collection of flowers, which can suit any occasion. The shop's floral experts are happy to guide customers through the vast selection, helping them hone in on their ideal arrangement.
In addition to exotic and classic blooms, the shop also stocks gifts and treats, from a dozen Belgian chocolate-covered strawberries to stuffed bears that play birthday songs or reminders to feed the fish. Additionally, the florists use their keen eyes to arrange gift baskets filled with gourmet food, fresh fruits, or spa products.
5253 Poplar Ave.
Memphis
Tennessee
After working for 13 years in the soft-drink industry, Dave Bunk shifted career paths and searched for an occupation that stirred his passion. Upon founding Real2Reel Photography, David assembled a staff of photographers, graphic designers, and touchup artists that snaps and produces headshots, wedding pictures, and portraits of families or pets. Clientele can pose within Real2Reel Photography's downtown Memphis studio or rendezvous with the shutterbug crew at locations such as the Main Street strip mall, the Memphis Botanic Gardens, a high-school sports arena, or wormholes that lead to the Taj Mahal. Viewings commence three to five days after every session, wherein participants can review their proofs and select which favored retouched shots would best befit digital images or prints. Models can also commission Real2Reel Photography's in-house designer to fashion custom albums, coffee-table books, or hand-crocheted needlework portraits to accompany their photography packages.
523 S Main St.
Memphis
Tennessee
901-508-7324
---