Restaurants in Germantown
---
Recommended Restaurants by Groupon Customers
---
At West Street Diner, retro swivel stools have served as a prime vantage point for watching line cooks fry up selections from a menu of traditional Southern comfort fare for 20 years. Fried seafood and slow-roasted meats make cameos in hot sandwiches and poboys, and nuzzle up next to 11 classic Southern sides. To answer yens for dessert, chefs bake pies on the premises rather than import them from nearby clown schools.
2076 West St.
Germantown
Tennessee
Originally invented during a cheese storm in Tacoma, the Philly cheesesteak piles lean slices of juicy steak, melted cheese, and grilled onions across an Italian roll to sculpt a gooey, savory sandwich. Philly Connection's menu offers several cheesesteak variations ($7.89 for a 10-inch sandwich; other sizes available), including a mushroomed cheesesteak and a chicken cheesesteak. All are brought to flavorful fruition through the use of quality meat and Philly Connection's secret marinade, the ingredients of which were found in a George Clymer–penned early draft of the Declaration of Independence.
420 S Germantown Pkwy., Suite 108
Cordova
Tennessee
Step off the elevator and into the window-laden interior of a sunset-soaked dining space. As you settle in, one of The Tower Room's many knowledgeable servers may suggest a properly paired plate to any waft-worthy glass on the extensive wine list. Each menu item is hand selected by resident executive chef and culinary sage Kevin Rains, who holds membership in the American Culinary Federation and The Wine Guild. While most established chefs run their kitchen remotely via cup and string, Kevin opts to personally prep dishes nightly with detectable flavors of passion and discreetly disguised dustings of sea salt.
5100 Poplar Ave., Suite 3300
Memphis
Tennessee
As barbecue season ignites the lawns of America, even un-aproned cooks can grill more than their suspicious enemies with hearty options from Super Suppers such as blue-cheese bacon burgers or grilled Indian chicken. Super Suppers pairs a no-nonsense, rotating menu with no-nonsense pricing. Regular-sized entrees ($14) are intended for 3–4 diners, and full-size entrees ($28) feed six or more. Start a new tradition in the kitchen with mom's marvelous meatloaf, composed of lean ground beef with savory bell peppers, onions, breadcrumbs, and a boldly spiced tomato sauce. Though known for its featured entrees, Super Suppers also carries sides, appetizers, and desserts that can fill out an otherwise-exposed dinner table.
2130 West Poplar Ave.
Collierville
Tennessee
Mexican cuisine's signature spices help create the first spark on a blind date or the spicy excitement of a night out with friends. Cozy up to someone as intense as cumin-coated chiles within the courtyard-like interior of Abuelo's, where column-flanked archways divide seating sections into intimate nooks, with private booths tucked away in the glow of wall sconces. Lean back and twirl an imaginary conquistador 'stache while perusing the battle plans, which bear a suspicious resemblance to the menu. A wide variety of enchiladas ($8.99–$10.99) and fajitas ($9.99–$14.99) are available for savory grasping. Properly begin your delicious journey with a mountain of layered dip ($6.49), a stratified feast of chile con queso, roasted chiles, guacamole, refried beans, seasoned ground beef, sour cream, and diced tomatoes. To balance the indulgent dip with a fresh, light lunch that doesn't skimp on taste-bud stimulation, try the tilapia Veracruz ($9.49), sautéed with shrimp, scallops, tomatoes, roasted poblanos, and olives. Dessert will cleanse spice-saturated palates with traditional sweets such as flan ($4.99) and margarita pie with tequila sauce ($5.49).
8274 Highway 64
Bartlett
Tennessee
Like a Choose-Your-Own-Adventure novel, Pizza Pro's menu presents patrons with a plethora of cheese-topped avenues to pursue. Choose from hand tossed or thin crust, ranch or marinara, and finally a topping for each rotund mealwheel. Surprise your spice buds with a deluge of jalapeños, or rely on an old standby of the pizza vanguard, such as pepperoni or mushrooms, to form a peaceful alliance with cheese in pie-covering deliciousness. As the proud creator, you can either make your pizzas identical twins or bring fraternal siblings forth from the flaming womb of the Pizza Pro oven. Each 14-inch pizza has 12 slices, enabling you to assume the mantle of Kronos and gleefully devour your pizza-children whole.
9330 Poplar Pike, Suite 101
Germantown
Tennessee
---
---
Restaurant Deals - Recently Expired
---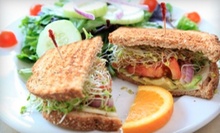 Cooper Young Community Association
Ten types of sandwiches include a chunky chicken salad, a cheesesteak panini, and a veggie sandwich called "Dixie Delight"
---
---