Germantown, WI Health and Fitness
---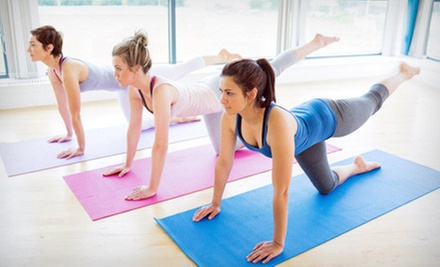 ---
Recommended Health & Fitness by Groupon Customers
---
Ronda Arndorfer began exploring Pilates in 2001 at the age of 40, when she was trying to recover from the multiple running injuries she incurred while training for her first marathon. Her rehabilitation was so successful that she decided to learn how to share the experience with others. She became a certified Pilates instructor and—after opening a studio out of her home—eventually founded The Movement Center, a place where students can restore both body and mind in a positive, lighthearted environment. Arndorfer continues to attend workshops and teacher trainings with master instructors throughout the country, and some of her staff members have trained in Pilates via Arndorfer's teacher-certification program.
Arndorfer's passion for movement has paid off: the center has been featured in numerous television and magazine media outlets and was voted the Best Pilates Studio by CityVoter in 2009, 2010, and 2011. In addition to traditional yoga and Pilates classes, the crew offers innovative and challenging techniques such as aerial yoga—in which students "float" on a trapeze-like swing—and yoga performed on open water using a standup paddleboard. Barre classes require students to hold onto a ballet barre or the outstretched arm of a handsome stranger while strengthening muscles with a mix of yoga- and Pilates-inspired moves.
The center's team includes massage therapists, a nutritionist, and a physical therapist and certified Feldenkrais practitioner who continue the healing that begins within each class. They also offer childcare for guests' convenience.
161 W Wisconsin Ave.
Pewaukee
Wisconsin
262-695-2262
Designed by golf legend Arnold Palmer, The Bog's 7,221-yard layout sprawls across 297 acres of tree-lined fairways, wetlands, and rolling , mounded terrain. The well-bunkered course incorporates all of the native surroundings into one seamless, award-winning layout, in which golfers must send balls somersaulting over intervening water hazards, avoid sprawling thickets of native tall grasses, and resist the urge to forsake humanity in favor of the vibrant ecosystem of the Cedarburg Bog, which forms a natural border on multiple fairways. Hole 17—a par 5 that forms the longest and most demanding hole on the course—embodies many of the course's distinct characteristics, as stick-flickersclubbers drive from a low, water-kissed tee-box before climbing an uphill, 593-yard split fairway that doglegs left around sprawling waste hazard areas and into a green fortified by six bunkers and mounded rough. A duo of PGA-certified instructors roam throughout the course and its adjacent driving range, imparting score-shaving advice in lessons and fending off rogue windmills hoping to upgrade from their mini- golf residences.
Course at a Glance:
Designed by Arnold Palmer
18-hole, par 72 course
Length of 7,221 yards from the farthest tees
Course rating of 75.3 from the farthest tees
Slope rating of 143 from the farthest tees
Five tee options
View The Bog's scorecard, course flyover, and course layout
Site of the 2013 WSGA State Amateur Championship
Rated one of the top-50 public facilities in America by GRAA
Golf Digest course overview
3121 County Hwy. I
Saukville
Wisconsin
800-484-3264
After working in her father's pharmacy since the age of 14, Monica Zatarski earned her doctor of pharmacy degree to open her own business and continue the family tradition of providing patients with innovative, personalized health care. MD Custom Rx works with both physicians and patients to fashion custom prescription packages, balance bodies with hormone assessments and consultations, and boost circulation with infrared-sauna sessions. As specialists with the seal of the Prescription Compounding Accreditation Board, the chemical technicians tailor medications to fit the allergic and digestive needs of each patient, from altering a medicine's strength to rendering it into easy-to-ingest lozenge, transdermal-gel, or brain-wave form. In addition to easing discomfort and imbalances with compound prescriptions and sauna sessions, patients visit onsite vitamin expert Daniel Zatarski, PharmD, RPh, for one-on-one vitamin and nutrient consultations that treat common disorders and supplement health regimens.
19035 West Capitol Drive
Brookfield
Wisconsin
262-373-1050
Fluent in Romanian, English, and German, holistic practitioner Eugenia Otilia Mariana Paul worked in veterinary medicine and medical research for years before graduating magna cum laude from the Midwest College of Oriental Medicine. With degrees in Chinese nutrition, acupuncture, and Oriental medicine, she founded Blue Lotus Acupuncture Clinic to provide preventative treatments to patients of all ages, lifestyles, and aura colors.
Inside Blue Lotus's relaxing space, decorated with coral walls, swaths of colorful fabric, and scads of flourishing plants, Eugenia helps relieve common bodily ailments. She restores inner balance using acupuncture, herbal therapy, and other techniques that include sound therapy, foot detoxification, and Chinese body work.
3305 North 124th Street
Brookfield
Wisconsin
414-841-4246
First a teacher, and then a stay-at-home mom, Melissa Spredemann turned to indoor cycling to help her get into shape. With 12 years of experience under her belt, she decided to become certified to teach others the exercise form she loved so much. Just one year into teaching, she knew she wanted to pursue her passion full-time, so she opened Velocity Cycling Studio to share stationary cycling's benefits with others. She handpicked a team of instructors, each chosen for their commitment, enthusiasm, and innate ability to bike while not covering any distance. Melissa made the conscious decision to open a niche gym, focusing on indoor cycling and only indoor cycling. In the studio, an army of Spinner NXT bikes with SPD clips seats students as they bike through poses, drills, and movements designed to mimic outdoor riding. Thumping tunes pump up pupils as they ride, keeping them motivated to pedal to the upbeat tempos. Unlike big-box gyms and arranged friendships, Velocity Cycling Studio never requires a contract—guests simply pay per ride.
15032 N Port Washington Rd.
Mequon
Wisconsin
414-688-3807
After studying chiropractic at the University of Wisconsin-Milwaukee and the Palmer College of Chiropractic in Iowa, Doctor of Chiropractic Brian W. Kurth took over a thriving clinic, then parlayed his success there into his own practice. Now at Kurth Chiropractic, he uses state-of-the-art technology to diagnose spines and help put them aright. Dr. Kurth scans patients' spines for muscle tension, misalignment, and vertebrae playing musical chairs before he develops a custom chiropractic plan. He then enlists massage therapists to ease away patients' pain and discomfort. Their strokes boost circulation and cause muscles to slowly uncoil.
320 W Brown Deer Rd.
Bayside
Wisconsin
414-434-0268
---