Things to Do in Gilbert
---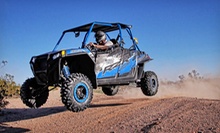 Off-roading rental company puts patrons on quads and in utility vehicles to traverse local sand dunes and dirt-paved paths
---
Recommended Things to Do by Groupon Customers
---
Before East Side Art was officially founded in 1971, its first inhabitant was the visionary artist Benhardt Michelson, who used the location as an artist community in the 1930s. Today, art instructors and students flock to this oasis of beauty for summer and winter courses in painting, drawing, sculpture, and meditation. After pupils practice in the classroom, they can pop into the art-supply store, where wooden walls and ceilings shelter rows of shiny new supplies. East Side Art also has the ESA Gallery, where artists display Southwest-inspired paintings and prints, as well as sculptures made out of bronze, clay, and chewing gum. Outside, a lush courtyard and water garden provides an idyllic location for poetry readings and performances. While guests lounge in the shade after a hard day's painting, they can catch a glimpse of the Superstition Mountains, where the government stores its good luck.
9919 E Apache Trl.
Mesa
Arizona
US
480-986-5450
Tempe Airsoft & Paintball's 24,000-square-foot indoor arena hosts rounds of rec ball—military-inspired play among ruined buildings, oil barrels, and other obstacles. Arriving at the compound, paintballers lease markers, face-protecting masks, and pigment-loaded pellets for friendly combat or for spraying Kick Me on enemies' backs. As referees oversee the game, players search for vantage points among ruined buildings or take part in skirmishes between oil barrels. For an additional fee, shooters can rent supplementary equipment such as a chest or neck protector or can hoard extra paintballs to finally settle old sudoku scores.
1401 S McClintock Dr.
Tempe
Arizona
US
480-966-1900
Today's side deal gets you three classes at A Scrappin' Affair for $25 (a $45 value). At the end of the three-part craft course, students will take home a 6"x6" book. You also get eight hours of cropping time (a $15 value), meaning you can come in and use all the non-consumable tools in the scrapbooking lab without having to invest in expensive equipment. You can schedule the crop whenever you want, but it can't be split between multiple days.
9911 E Baseline Rd., Suite 104
Mesa
Arizona
US
GolfTEC has three convenient locations in the Phoenix area and one in Tucson, all staffed by experienced golfing professionals and computers who've sworn allegiance to the Three Laws of golfing robotics. Motion sensors and high-speed cameras monitor the golfer's swing and break it down on a high-definition video display. GolfTEC's PGA specialists point out golfers' flaws and strengths, and coach them on how to permanently improve their game, from tee to green. Sensors chirp with approval when golfers execute a perfect stroke or crack an especially witty golfing joke. Customers will also benefit from a $10 gift certificate to Golfsmith, the golf equipment superstore housing GolfTEC's Chandler, Scottsdale, and Tucson locations. Each of Golfsmith's four Arizona locations is stocked with cutting-edge equipment and custom-fitted clubs.
880 North 54th Street
Chandler
Arizona
At Yoga Kamala, each invigorating class in infused with a positive affirmation, sending students back into the real world with confidence, responsibly rose-colored specs, and a fresh flush in their cheeks to match. Yoga combines challenging, low-impact stretches and sequential poses with strategic breathing and meditation, making it a holistic way to increase strength and flexibility, release stress and anxiety, and promote overall body-mind smelting. Yoga Kamala offers instruction in a wide variety of popular techniques to suit all skill levels and yogaspirations, including group classes in traditional Ashtanga Flow, modern-dance-infused Creative Vinyasa, and gently meditative Mantra Flow—extreme meditation classes are also available to those who know the secret exhaled pass code (hint: it rhymes with "orange"). Classes are generally scheduled in the morning, midday, and evening Monday–Saturday, and last anywhere from 40 to 75 minutes.
4821 N Scottsdale Rd. , Suite 105
Scottsdale
Arizona
Descending from three generations of dairy farmers, siblings Casey and Alison Stechnij carry on their family's legacy by maintaining Superstition Farm's 30 acres. The brother-and-sister duo regularly shepherd informative tours through the landscape, summoning horses, chickens, goats, and sheep to greet guests and share their perspectives. The four-legged residents also assist in horseback riding lessons and appearances at the onsite petting zoo.
Every Thursday, local food trucks flock to Superstition Farm for a weekly market, where they vend fresh produce, breads, and meats alongside the farm's own dairy products, including the house-made Udder Delights brand of ice cream and artisanal cheeses. Superstition Farm further disseminates its farm-fresh cuisine via a 30-foot-long food truck that makes appearances at local events and defends cattle against the persistent threat of monster trucks.
3440 S Hawes Rd.
Mesa
Arizona
602-432-6865
---