Beer, Wine & Spirits in Gilroy
---
Beer, Wine & Spirits Deals
---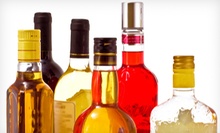 A five-course flight and two pints from a list of 22 rotating draft beers by brewers such as Stillwater Artisanal Ales and Firestone Walker
Use Today 11:00am - 11:45pm
---
Recommended Beer, Wine & Spirits by Groupon Customers
---
The Grapevine, a tasting bar with a rotating menu of boutique wines and cheeses, has a charming tasting room as well as a petite, elegant outdoor garden. Much like the sun in most medieval Italian conceptions of the cosmos, the wine bar's wine and cheese menu changes two to three times a month. The sort of fare you'll find is consistently savory and runs the gamut from gourmet grilled cheese sliders ($5 for three) to savory olé flatbread with basil, prosciutto, a balsamic reduction, and manchego cheese ($7), as well as the sweet marriage of imported brie and homemade fig sauce ($6).
1389 Lincoln Ave.
San Jose
California
1933 was a banner year for Phillip and John Bargetto. Prohibition finally ended, and the brothers were able to reopen their winery in the Santa Cruz Mountains. Originally from Piedmont, Italy, Phillip and John embraced their passion for growing northern-Italian varietals, twining their hillsides with vines of dolcetto, nebbiolo, and refosco grapes.
Now run by the Bargetto family's third generation, the winery continues to cultivate these same grapes as well as two of Santa Cruz's more well-known varietals, chardonnay and pinot noir. Its most heralded wines hail from the 40 acres of trellised vines at Regan Estate Vineyards, which produces balanced yet concentrated fruit thanks to its sunny hilltop location, loamy soil, and cool breezes from thousands of naturally occurring ceiling fans.
Controlled aging in new-French- or American-oak barrels imbues some of the winery's reds with lingering finishes and toasty sweetness, and stainless-steel barrels ensure that the whites retain their vibrant acidity. Although most of the wines display a more approachable style, the La Vita line embraces the family's Old-World routes, featuring complexly tannic and age-worthy blends of Phillip and John's favored dolcetto, nebbiolo, and refosco grapes.
3535 N Main St.
Soquel
California
831-475-2258 x14
In 1975, Ken Burnap established Santa Cruz Mountain Vineyard with one goal in mind: to produce one of the best pinot noirs in California. Four years later he hired his protégé, Jeff Emery, who now runs the vineyard and ensures that it continues to produce award-winning pinots along with complex cabernet sauvignons petite sirahs. The staff makes the rounds of seven vineyards, where it cultivates traditional Californian grapes as well as varieties that originated in Spain and Portugal for its Quinta Cruz label.
334 Ingalls St., Suite A
Santa Cruz
California
After 16 years spent with Kona Coffee, MJA Owner Marin Artukovich took up residence in Napa Valley, where he renovated an idyllic estate on the side of Howell Mountain before opening the MJA Tasting Room in March of 2010. With the help of local winemaker Mikael Wargin, Marin's vineyard produces cabernets, sauvignon blancs, and pinot noirs reflecting the terroir of Napa Valley and the Santa Cruz mountains, with bottles for sale through its very own Serene and DaVine cellars. Cups of house-roasted Hawaiian Kona Coffee cap off each tasting, warming hands and souls inside MJA's gorgeous brick-walled estate or on a heated patio overlooking the Santa Cruz mountains.
328 Ingalls St., Suite A
Santa Cruz
California
831-421-9380
Born and raised in the Santa Cruz Mountains region, winemaker Mica Raas spent his childhood soaking up knowledge of the hills around his home—many of which were speckled with vineyards and small wineries. After working for years in wineries up and down the spine of California's wine country, Mica returned to those familiar hills to make his own wine.
Today, all grapes used in Mica Cellars' wines come from small, family-run vineyards around Monterey Bay. In order to instill each wine with character and a "sense of place," the winemakers only blend grapes that grew together in a single vineyard. Mica describes his approach to creating wine as "careful management of microbial chaos," treating it as an art that requires him to be attuned to the strengths of the grapes as well as their common weaknesses, such as chocolate and men in cowboy boots.
Mica Cellars keeps production small—no fermentor is larger than one ton—and blends techniques from Old and New World winemaking to craft each vintage. The winery use oak barrels for aging, which allows for a light touch of the wood's personality to enter the grapes, and they steer clear of the 1980s experiments that led to raisins coming to life and starting their own musical groups. Among their current wines is a 2009 cabernet franc from Babcock Winery in the Suisun Valley, with a nose of stone fruits that leads into a full-bodied dance of chocolate and coconut and a finish with hints of allspice and licorice.
18 Hangar Way, Suite C
Watsonville
California
831-288-5921
The wine enthusiasts at Signaturewines.com—a group of professionals from various industries—foster a community for other wine and food lovers to connect and share their oenophile experiences. They regularly notify their members of tours, tastings, and wine-related events at more than 20 Northern California wineries. They also orchestrate special deals that immerse visitors in settings such as the opulent gilded decor of Domenico Winery, the rustic wooden architecture of Guglielmo Winery, and the verdant vineyards and 200-horse stables of Cooper-Garrod Estate Vineyards.
Keeping abreast of local and national food events,SignatureWines.com also introduces members to regional wine bars, wineries, and restaurants, and provides an online community where members can read reviews and share wine experiences. VIP cards let customers take part in complimentary tastings and avoid standard hassles such as corkage fees and general-admission mosh pits. Proceeds for such events often go to charities involved in various initiatives.
1480 E Main Ave.
Morgan Hill
California
---