Restaurants in Glassboro
---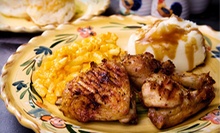 Broiled pork choles, delmonico steak, and deviled crab fill bellies as lakeside views and quaint, country furnishings treat eyes
Use Tuesday 4:00pm - 7:00pm
---
Recommended Restaurants by Groupon Customers
---
Now in its third year in business, The Rat Pack Cafe couples classic American fare with an homage to the Rat Pack greats, paying tribute through music, murals, and a hearty menu. Lunchtimers can overwhelm waves of hunger with freshly made specialty sandwiches, ranging from the Political Peter, properly dressed with white tuna, melted american cheese, and a tomato slice woven into a USA tie, to the Chairman of the Board's kaiser roll overflowing with layers of fresh italian roast beef drizzled in handmade bistro sauce. Thwart sandwich stealers with the infamous Copa Room's namesake salad, a lineup of crisp bacon, black olives, hard-boiled egg, and chicken breast lounging on a bed of organic mixed greens. A fountain drink, such as Coke or Sprite, rounds out afternoon meals along with a homemade cookie of choice, served up in black and white, red icing, or danish-shortbread forms. If screaming sweet tooths rebel against lunchtime savories, diners can opt to ditch the main dish and snatch up one dozen jumbo-sized cupcakes baked in one tooth-soothing flavor instead.
The Rat Pack Cafe's red and yellow dining room greets eaters with '60s-esque furnishings and flat-screen TVs. Guests can craft up a cup of joe at the self-service coffee bar backdropped by football-size coffee-bean wallpaper, or tuck away in the corner lounge, filled with black leather couches, plush red carpeting, and a step-by-step mural of the Rat Packers performing secret handshakes.
300 Delaware Ave., 1st Floor
Wilmington
Delaware
302-651-9500
Marco Rizzo regularly strolls local markets, handpicking ingredients for Ristorante Marco's kitchen. He learned to cherish fresh food as a child, when growing up in a small Italian fishing village meant his family had to grow and harvest much of what they ate on a small farm plot. He also learned from his mother, a chef herself, how good food can bring people together—Marco's house regularly erupted into activity at dinnertime, with conversations and Xbox tournaments carrying well into the night.
Now, at Ristorante Marco, the Italian native draws upon these memories as he crafts the dishes he grew up with, from housemade pastas to seafood. Valuing entertaining as much as he does cooking, Marco relishes chatting with guests and recommending a drink from the restaurant's list of more than 100 wines, including a selection from his hometown, Santa Maria di Castellabate. Such touches earned Ristorante Marco the 2010 Critics' Choice award for Best Upstate Italian Restaurant in Delaware Today.
1847 Pulaski Highway
Bear
Delaware
302-392-2244
For the past 25 years, a single family has passed Ristorante Attilio from parent to child. Now helmed by the second and third generations, the eatery specializes in housemade pastas shaped into manicotti, linguini, and gnocchi, with gluten-free options available. The hand-crafted noodles come drenched in a choice of sauces, which run the gamut from meat- and clam-infused varieties to meat-free options for pastatarians. Other classic dishes, such as veal parmigiana and the cheesesteak sandwich, round out the kitchen's offerings, which staffers can infuse with hot peppers or smelt for a burst of Italian flavor.
1900 Lancaster Ave.
Wilmington
Delaware
One glance at the Volcano roll and you know why it was bestowed with such a name. Clusters of fried tuna, crabmeat, and cucumber form a pyramid with bright red roe at its peak and spicy sauce oozing down the sides. This isn't the only creative endeavor of Kenny's Pan Asian Cuisine & Sushi Bar. Each of the eatery's Chinese, Thai, and Japanese meals seems to be transformed into visually enticing masterpieces. Even, the spicy mama pizza—which consists of a tortilla-chip base laden with tuna and a latticework of sauces—looks like, well, a pizza.
But the masterminds behind Kenny's menu don't just stop there. Inside the contemporary restaurant, a black-topped bar sidles alongside high-backed bar chairs and dining-room tables receive a backdrop of rich, red and golden-orange walls. Modern metal sculptures, affixed with sporadically positioned lights, cast luminous glows across indulging diners as Asian-inspired paintings provide a solid canvas for creating midmeal shadow puppets.
1255 Quintilio Dr.
Bear
Delaware
302-838-1725
The culinary traditions and ingredients of Northern Italy inform many of the dishes at Floga Bistro. Chefs there scatter fennel sausage and prosciutto across regular and gluten-free pizza crusts bound for the rippling warmth of a hearth. They ladle spoonfuls of sun-dried tomatoes, wild mushrooms, and marsala wine cream sauce over tangles of thick, sunshine-hued pappardelle made in-house. With a sharp sizzle, panini presses shut on halved ciabatta rolls hiding rib-eye, caramelized onions, and fontina cheese like the backpack of a totally unprepared secret agent. In the cozy dining room, festive booths and stone accents surround diners, and paintings of cityscapes, flowers, and abstract prints dapple the sage and pumpkin walls.
826 E Baltimore Pike
Kennett Square
Pennsylvania
Neither Henry nor Carol Huffman, the founders of Cheese Chalet, had any idea that their future careers would be in gourmet dairy products when they first married. Henry was teaching Spanish at the University of Delaware when their local cheese shop closed down in 1976. Though the two began joking about opening their own shop, jokes soon turned to discussion, discussion turned to planning, planning turned to knock-knock jokes, and within a few months, the pair officially opened their first shop. Today, with Henry and Carol still at the helm, their staff of seven seasoned employees prepares fresh deli-style takeout meals and catering trays as they maintain the store's stock of bulk and prepackaged cheeses from around the world.
5337A Limestone Rd.
Wilmington
Delaware
---